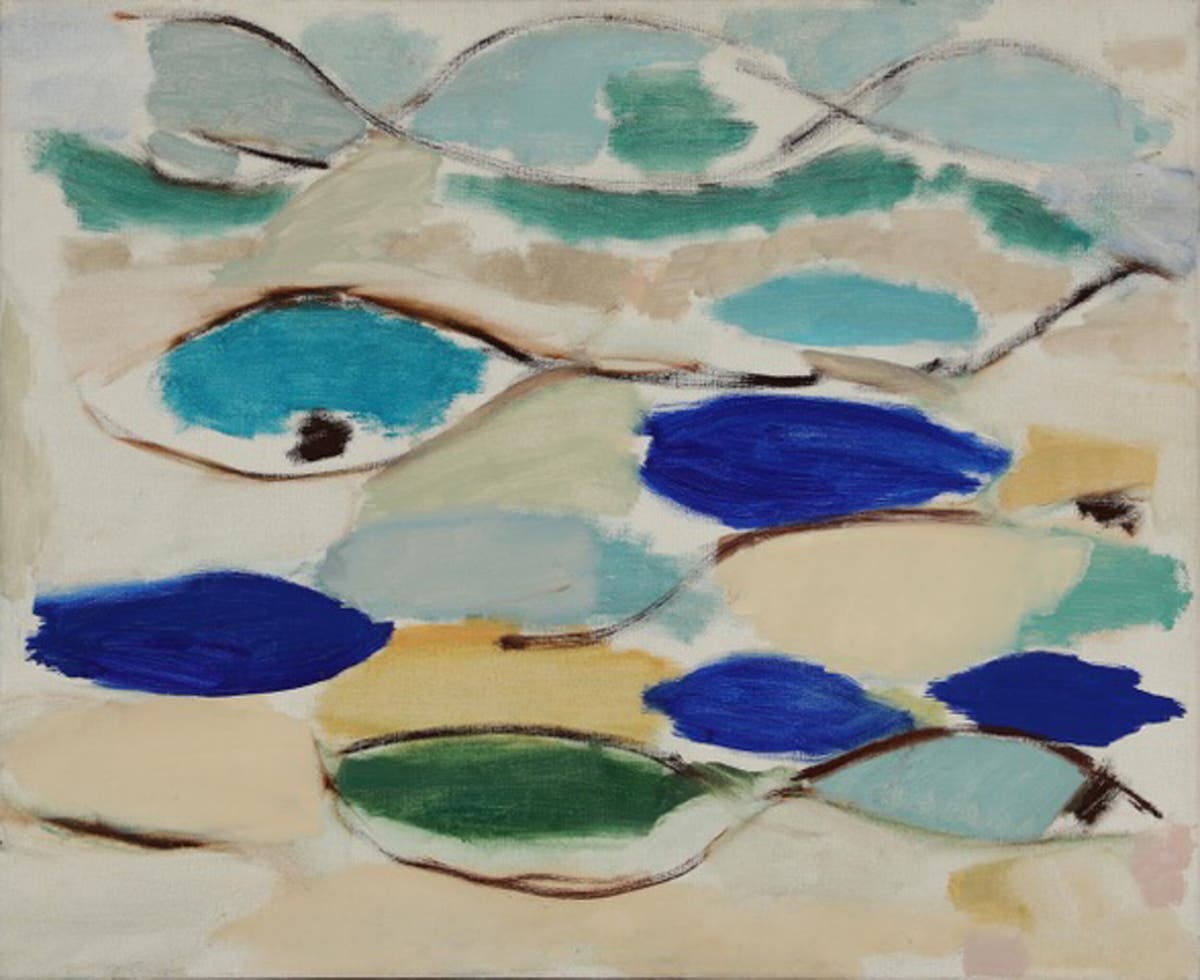 London Art Scene Heats Up with Annual Gallery Weekend
London Gallery Weekend is an annual event where London's galleries open their doors for extended hours and put on exhibitions, special events, and talks.
The event grew out of the pandemic and has become a staple of London's art calendar.

Some of the exhibitions not to miss include "The Power of She: A Tribute to Women in the Arts" at Bowman Sculpture, featuring works by Camille Claudel, Elizabeth Frink, and others, and "Callum Innes: Untitled Lamp Black / Deep Purple Dioxazine" at Frith Street Gallery.

"To Bend the Ear of the Outer World: Conversations on Contemporary Abstract Painting" at Gagosian Davies St and Grosvenor Hill features over 40 new and recent works from artists from the Americas, the UK, and Germany.

"Thomas Struth: EHN 1, CERN" at Galerie Max Hetzler presents photographs of the European Organisation for Nuclear Research.

Finally, "Charles Avery: The Nothing of the Day" at James Cohan presents the work of Scottish artist Charles Avery, known for his fictional parallel realm, The Island, which explores philosophy and asks questions through iridescent eels and more.

The article discusses several art exhibitions happening in London.

"Hazlitt Holland-Hibbert" presents self-portraits by the 92-year-old German-British painter Frank Auerbach, including both paintings and works on paper.

This is a rare opportunity to see new works from Auerbach since 2015.

"Leila Al-Yousuf: Watermarks" exhibits the British artist's exploration of emotional states through depictions of water and landscapes.

"Matter as Actor" is a group exhibition featuring artists who visualize the changeable form of matter in their work, which explores the relationship between matter and humans.

"One and J.

Gallery" and "Vadehra Art Gallery" are the summer pop-ups at Frieze No.9 Cork Street.

"One and J.

Gallery" presents "Acquainted with the Night," where three Korean artists explore the human experience of the night, while "Vadehra Art Gallery" presents "Arpita Singh: Meeting," featuring canvases, watercolours, and drawings exploring "cartographical autobiographies." "Pace Gallery" presents "Encounter," a show featuring abstract works by Lee Ufan and Claude Viallat, two artists who have dedicated decades to their practices and founded major artistic movements.

"Pi Artworks" presents "Tête à Tête: Cherry Aribisala and David Olatoye," a dialogue between two emerging Nigerian artists exploring the future of contemporary African art.

Finally, "Qualeasha Wood: TL;DR" brings together traditional craft techniques and contemporary technology to explore racial, sexual, and gender identity through jacquard tapestries and tuftings at her first European solo exhibition.

The Pippy Houldsworth Gallery is currently showing new installations, sculptures, canvases, and works on paper by multi-disciplinary artist Florence Peake, which complement her major solo exhibition at Southwark Park Galleries from March 18 to July 2.

The gallery's focus is on the possibilities of painting, rooted in the body, political, and intimate.

The Hardcore White Bread exhibition at Sadie Coles HQ, running from March 18 to July 8, is all about sex and power dynamics, featuring artists such as Carolee Schneemann, Joan Semmel, and Cindy Sherman who test the parameters of human experience.

Olivier Debré's work is on display at Simon Lee from March 18 to August 5.

Olivier Debré was a seminal figure within European lyrical abstraction, known for his vivid color fields painted to express emotions inspired by natural phenomena.

Rudolf Stingel's paintings from his estate are on display at Skarstedt from April to August 4.

Stingel is a resolute interrogator of the notion and method of abstract painting.

Alchemy, featuring works from major European and American artists including Joseph Beuys, Anselm Kiefer, Sigmar Polke, Robert Rauschenberg, Sturtevant, Emilio Vedova, and Andy Warhol, is on display at Thaddaeus Ropac from March 18 to July 29.

Southern Somebodies, a curated response to the Royal Academy's exhibition Souls Grown Deep like the Rivers, is on display at The Gallery of Everything from March 18 to July 30.

The show features work from a dozen Black artists from the American South who have not been formally trained and draw on generations of self-taught art tradition.

Caragh Thuring's first career survey, The Foothills of Pleasure, was recently presented at Hastings Contemporary and is now showing a selection of new large-scale paintings and portraits of people throughout history who share Thuring's interest in volcanoes at The Gallery of Everything from March 18 to July 30.

The article highlights several art exhibitions currently taking place in London, including solo shows by Alexandre da Cunha at the Thomas Dane Gallery and Sahara Longe at Timothy Taylor.

Maisie Cousins is showing at TJ Boulting, and British artist Phoebe Unwin is exhibiting at Amanda Wilkinson Gallery.

Jonas Lund is presenting an installation at Annka Kultys Gallery, and Lisa Milroy is showing at Kate MacGarry.

Rhys Coren is exhibiting at Seventeen, and Tom Allen is showing at The Approach.

Finally, Isaac Julien is presenting a new installation at Victoria Miro.

The article highlights several art exhibitions taking place in various galleries across London, including Victoria Miro, White Cube Mason's Yard, Cooke Latham Gallery, Copperfield, Hannah Barry Gallery, Sid Motion Gallery, and The Sunday Painter.

The exhibitions feature the work of Isamu Noguchi, Lisa-Marie Harris, Larry Achiampong, George Rouy, Max Wade, and Emily Kraus.

The artists draw inspiration from a variety of sources, including African art, body shaming, Christianity, video games, and yogic and somatic practices.

The exhibitions showcase a range of mediums, including sculptures, film, wall-mounted objects, and paintings.

Some of the exhibitions are part of London Gallery Weekend, which takes place from June 2-4.