From celebrating Dame Vivienne Westwood to baby bumps at Sinead O'Dwyer and a Di Petsa rebirth… here's what you missed
September's London Fashion Week was, following the death of the Queen, a uniquely subdued affair. Parties were off, shows scaled down or cancelled, streetstyle peacocking dialled right back. This season's shows take place in the aftermath of another queen's passing: Dame Vivienne Westwood. At the memorial held in her honour in Southwark Cathedral on Thursday, loved ones paid moving tribute to her as a woman, as an activist, and as a designer. Her clothes made people feel something, they provoked. And in them, as Helena Bonham Carter relayed in her eulogy, those who wore them felt like their best selves.
There will never be another Westwood. But on the official opening day of London Fashion Week (a prelude came the day before, with Harris Reed's collection), there was something of her spirit. The opening day belonged to young women designers, executing clothes that were intended to expose and embolden the wearer. Like Westwood, there was a democracy in their designs, achieved without kowtowing to a safe aesthetic. See Sinead O'Dwyer and Fashion East's Karoline Vitto. With their tight and slashed pieces, rambunctiously sexy and totally unapologetic, they are moving fashion's look-at-me narrative onwards. And how about Di Petsa? Her debut catwalk show – which saw her engage in a spoken-word performance quite literally centre stage – was brilliant. Those wet look dresses, her signature, are poetically beautiful, as if born of another realm, yet skillfully executed so that they may function and breathe in the real world. All three of them showed on a diverse range of bodies, something that still feels shockingly novel in 2023.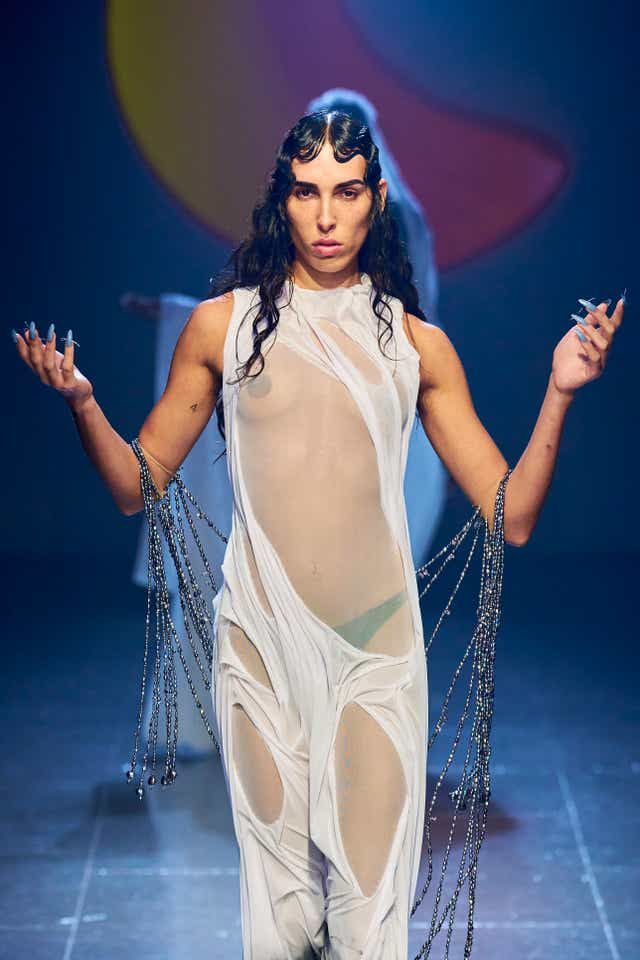 Di Petsa
Also on day one? Huishan Zhang, whose show opened with the ominous strings of the Vertigo soundtrack. His polished Hitchcock heroines testament to the growing might of his business. In the evening the terrific Conner Ives with a cool girl front row (Camille Charrière, Mia Regan and Ella Richards among them) who were delighted by the nouveau-nostalgia of fringed shawl skirts, hooded dresses and patchwork slips. In a word? Fun! And there is a lot of noise being made about Standing Ground, also part of the Fashion East roster. Designer Michael Stewart's accomplished, elevated simplicity, precise and uncompromising, was confident, cool and relevant. Testament to that, a gaggle fashion girls overheard lustily discussing which of the spare column dresses they would like to order ('That one! And that one! And that one!').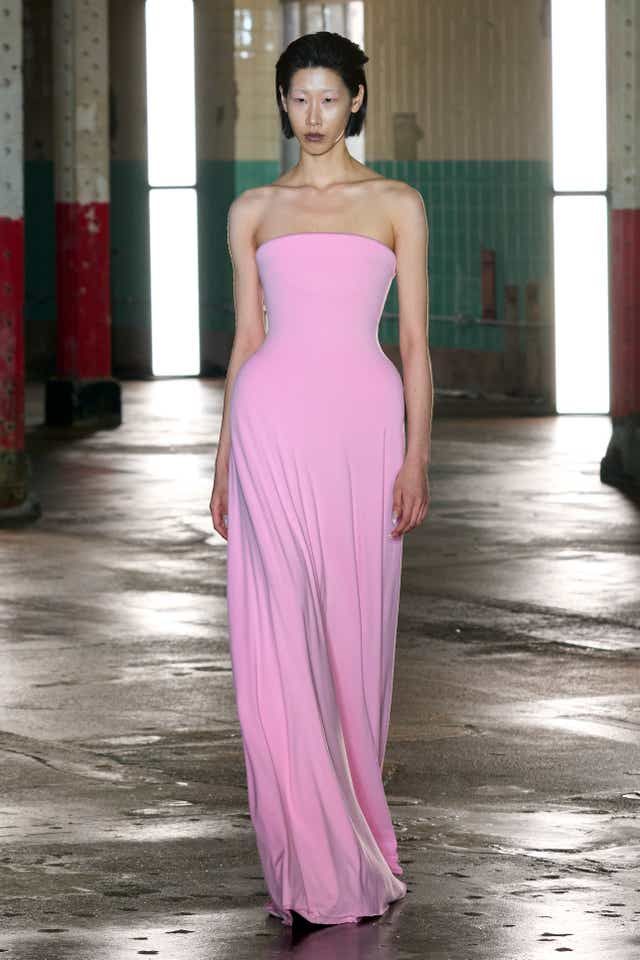 Fashion East

After dark, team EM magazine and a few (hundred) friends took to the Dorchester (see who took note of Westwood's 'if in doubt, dress up' memo, here). Among the guests some of London's most exciting design talents: Supriya Lele and Chopova Lowena duo Emma Chopova and Laura Lowena. Both have wildly different visions yet are united in creating clothes driven by emotion and their innate, instinctive understanding of women. They aren't doing catwalk shows this season, a refreshing indicator that perhaps are younger names have the self-assurance to take things at their own pace and do it in their own way. It's a power move, and they are just further proof that capital has talent to spare.