Underground to effectively shut down on Thursday with walkout of over 10,000 staff
London is facing further travel chaos on Thursday with another Tube strike going ahead despite a failed 11th hour appeal from Sadiq Khan.

The mayor warned action by members of the Rail, Maritime and Transport union and Unite would have a "serious impact" on the capital's economy.

Mr Khan insisted he would "not support any unfair changes" to the Transport for London pension scheme — one of two issues at the heart of the strike in a bid to make the RMT call off the industrial action.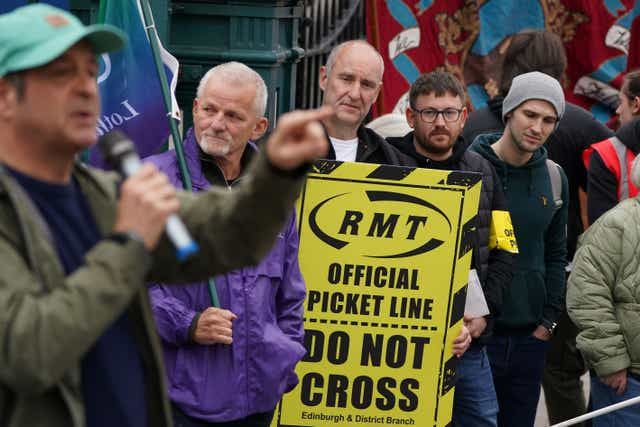 The RMT union will hold another three days of strike action in November
But the RMT said its 10,000 members had been left with no option but to continue their action, which will effectively shut down the Tube on Thursday.
A spokesperson confirmed on Wednesday evening the strike, the sixth 24-hour walkout on the Underground this year, was going ahead.
Picket lines will be mounted outside Tube stations across the capital, while buses are expected to be much busier than normal.
Overground trains and the Elizabeth line will run but may not call at some stations shared with the Tube. London Trams will be running a reduced timetable.
The RMT said a compromise deal that would have led to the strike being suspended had been rejected out of hand by TfL negotiators on Tuesday.
In a statement, Mr Khan said: "Nobody wants to see strike action and once again I urge the unions to call off this action and to work with TfL to find a resolution."
Business groups said they had "no confidence" the strike would be the last, while transport experts said it would force Londoners back into cars.
The requirement to review the TfL pension scheme and find £100million of annual savings was one of the conditions imposed by the Government in return for £6billion of
Covid
bailout funds.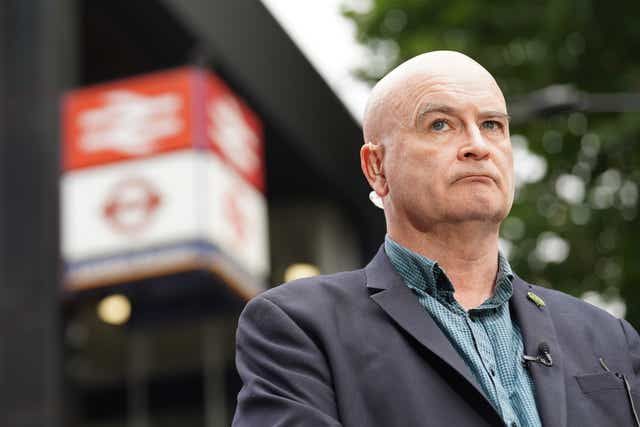 Mick Lynch, general secretary of the Rail, Maritime and Transport union

Mr Khan added: "I've been clear that punishing Londoners and London's dedicated and brilliant transport workers is wrong. This is not something I wanted in the deal and I will not support any unfair changes to pensions that attack the terms and conditions of transport workers.

"At this stage, no decisions have been made and any reform would be subject to extensive consultation with all stakeholders, including TfL staff and trade unions."

The RMT wanted TfL to pause the reduction in 500 to 600 staff posts until the end of the year and "make a clear statement" that it would not agree to "detrimental attacks" on pensions.

TfL says it has to cut staff numbers — by not replacing staff who depart voluntarily or retire — to help balance its books by next April.

The RMT has already held strikes on March 1 and 3, June 6 and 21 and August 19. Tube workers in the Unite union will also take action on Thursday.

RMT general secretary Mick Lynch said: "TfL have missed a golden opportunity to make progress in these negotiations and avoid strike action.

"Our members are resolute in their determination to see a just settlement to this jobs and pensions dispute, and they will continue their industrial campaign for as long as it takes."

TfL contributes about £330m a year to the staff pension pot — down from £400m when £100m of savings were first suggested.

TfL told the Government last month that seeking £100m of savings was "neither reasonable nor fair" and would lead to "an unacceptable level of detriment to members' benefits and result in options that are significantly less generous than those available in comparable public sector schemes".

The TfL pension fund had assets of £13bn and was in surplus by £179m at the time of last year's valuation. TfL insists the information in its 69-page "pensions option paper" submission last month "are not proposals for reform".

Under the bail-out terms, Mr Khan and TfL are required to reach an agreement with the Government on "a final detailed proposal for any recommended changes to both future service benefits and past service liabilities" by January 31 next year.

Glynn Barton, TfL's chief operating officer, said no proposals to change pensions or conditions had been made.

More than 1,000 Unite members will be on strike.

Unite general secretary Sharon Graham said: "TfL is needlessly attacking our members' pay and pensions, which Unite simply can't accept. The workers have the full support of their union in fighting these attacks. TfL must stop behaving like a race-to-the-bottom employer and put forward an offer that is acceptable to our members."

The Unite members are employed at London Underground, Compliance, Policing, Operations & Security, Victoria Coach Station, Network Management Control Centre, Croydon Trams engineering, Dial-A-Ride and Surface Operations.

Unite regional officer Simon McCartney said: "There is absolutely no need for TfL to press ahead with these attacks. The pension scheme is financially viable and in credit and the savings TfL were forced to make have already been found elsewhere. It is high time London's Labour mayor Sadiq Khan intervened."