Homeowners struggling to pay their mortgages amid rising interest rates should be able to apply for a £300-a-month grant, the Lib Dems have said.
Under the party's plan, the grant would be available to people whose mortgage payments had risen by more than 10%.

It could be paid for by reversing tax cuts for banks, the party has said.

Sir Ed Davey said: "No family should face losing their home because of the Conservative's reckless mismanagement of the economy."

The Liberal Democrat leader will give a speech in London on Sunday, after the death of Queen Elizabeth II led to his party's annual conference being cancelled in September.

He will attack the Conservatives for planning tax rises and cuts to public services, likening ministers to "bank robbers asking for a loan to buy the getaway car".

Chancellor Jeremy Hunt is due to deliver an autumn budget on 17 November, but has already warned of "eye-wateringly difficult decisions".

The decision to hold a budget was taken after the tax plans of Liz Truss sparked turmoil in financial markets.

Following a backlash, she was forced to sack her chancellor and reverse her proposals. She later resigned as prime minister, to be replaced by Rishi Sunak.

Sir Ed argued that Conservative actions had "added hundreds [of pounds] to people's monthly mortgages".

"The government has a responsibility to step in and fix their own mess, by providing grants to those struggling to afford eye-watering mortgage hikes."

Sir Ed will also use his speech to attack Mr Sunak's re-appointment of Suella Braverman as home secretary, less than a week after she had to resign for breaking data security rules.

"Johnson-like integrity, Johnson-like judgement - Nadhim Zahawi said it was time for Boris 2.0. With Rishi Sunak, it looks like he got his wish," he is expected to say.

Looking ahead to the Liberal Democrats' general election prospects, Sir Ed will argue that his party is well-positioned to win seats in traditional Conservative heartlands, dubbed "the blue wall".

In the past year, the party has had success beating the Tories in by-elections in Shropshire, Buckinghamshire and Devon. However it remains one of the smaller parties at Westminster with just 14 MPs.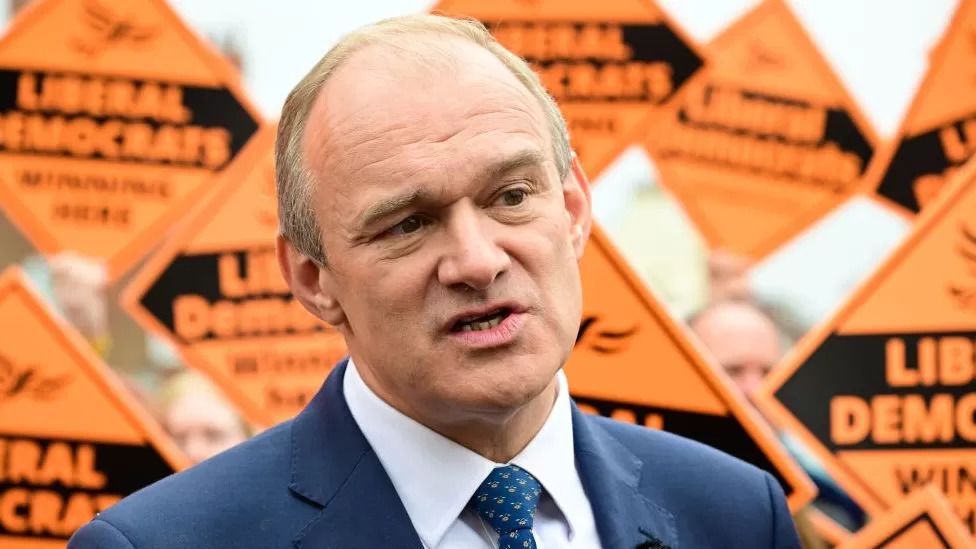 Sir Ed will argue that his party is well placed to win seats in traditional Tory heartlands

Under the Liberal Democrat's mortgage protection fund, grants would be offered to homeowners to protect them from losing their homes or falling into arrears.

The party estimates this would cost £3bn and says it could be paid for by reversing cuts to the bank levy and bank surcharge.

The average interest rate charged by mortgage lenders has hit its highest level for 14 years.

A homeowner is considered to be in arrears if they miss two or more months' repayments, However, lenders are required to make reasonable attempts to reach an agreement with those struggling to meet their payments.