"There are still shockwaves from seismic events," says a former cabinet minister - "that's what we're living through now." Boris Johnson might not have stitched prawns into the hems of his expensive curtains in No 10, but as we've seen over the past couple of days, the leftovers from his time in office can still cause a nasty stink.
We've been reminded of the early scramble over Covid, illustrated by former Health Secretary Matt Hancock's trove of WhatsApp chats - distressing for those who lost relatives, no doubt, and deeply embarrassing for those who pressed send.

There has also been more evidence of how No 10 struggled to get its story straight as the public reeled from revelations that there was booze and get-togethers in Downing Street during lockdown.

And there have been fresh conversations in the Conservative Party about the manner of Mr Johnson's exit. Labour's decision to hire the Whitehall sleaze-buster, Sue Gray, is catnip for his old allies who want to claim that he was stitched up.

Reminders of the pandemic, Partygate, and more howls of protest about how the former PM was treated. None of that was in Prime Minister Rishi Sunak's carefully designed script.

First off, the spectacle - for that truly is what it is - of the former health secretary's WhatsApp messages being carefully dropped day by day in the Telegraph newspaper. His colleagues are less than impressed.

"It's an eyeroll," says one Tory MP. "How much of a moron was he?" asks another. "Spectacularly bad judgement," remarks one of his former cabinet colleagues.

Much of the media has done what it does best - talk feverishly to itself about the rights and wrongs of the way the story emerged after Isabel Oakeshott, the journalist who co-wrote Mr Hancock's book, passed thousands of his messages to a newspaper without his permission.

The chats have illustrated, in sometimes toe-curling levels of detail, the way in which government figures communicate - described as "teenage with LOLS" by one Tory MP. They include sweary messages about Dominic Cummings, who was Mr Johnson's chief adviser, and reveal a love-hate relationship between Mr Hancock and his then-Cabinet colleague Michael Gove.

And it's given colour and context to the arguments that were raging at the top of government in 2020, during the first few scrambled months of the pandemic.

There is intriguing and seemingly perplexing detail in Saturday's information dump, where Mr Hancock seems to suggest the government was covering up rises in Covid cases as a result of then-Chancellor Mr Sunak's "Eat Out To Help Out" scheme. It was reported in October 2020 - after the scheme was up and running - that it could have contributed to the second wave.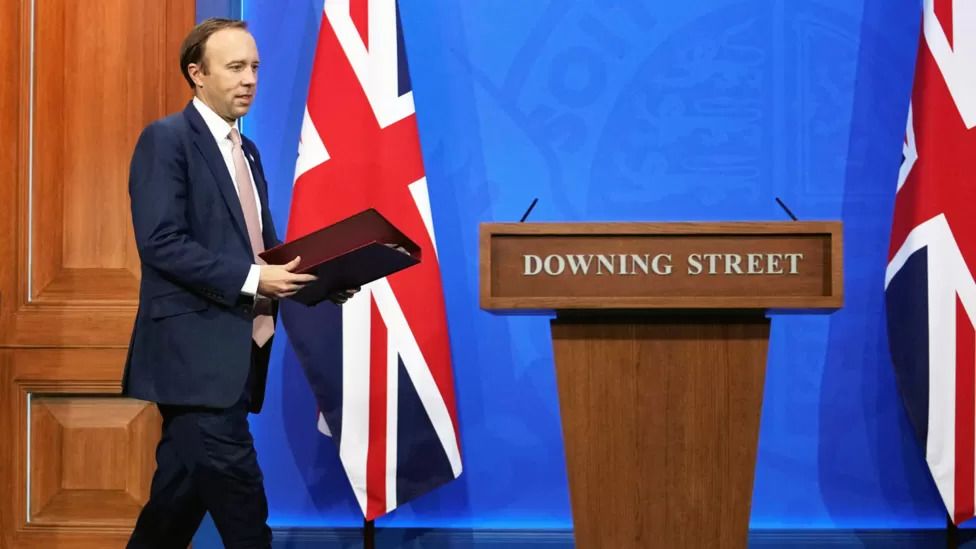 As Health Secretary, Matt Hancock gave regular Downing St media briefings during the pandemic

The opposition is already asking pointedly what the government knew at the time.

Given that the scheme had Mr Sunak's signature on it, those questions could prove awkward for the current administration - even though broadly, so far, the Telegraph's set of stories has not sparked a huge reckoning over whether lockdown was the right thing to do.

But the effects of the pandemic are still being felt in so many profound ways - these stories, the lasting effect on the economy, and the Covid inquiry that is likely to run for many, many months and is only just getting off the ground.

The latest findings from officialdom on Partygate have "revived the embers" too, according to a former cabinet minister. A committee of MPs has pinpointed several occasions when they believe Mr Johnson might not have told the truth in Parliament.

In Westminster, that's the sin of all sins - one that's punishable with an MP potentially having to fight for their seat again.

Let's spell this out. If this committee concludes the former prime minister knew he was not being straight, he might be suspended as an MP - and then possibly face a by-election.

The midway report from the Privileges Committee also contains gobbets of exasperation from Mr Johnson's staff as they struggled to contain the Partygate story that was crashing down all around them.

Mr Johnson used the publication of yesterday's report to claim it vindicated what he has said all along, that he never held Parliament in contempt, and that he never knowingly misled anyone.

To be crystal clear - that is not, not yet, what the committee of MPs says. This report does not provide that or any conclusions, as committee members have not yet finished their work. They will question Mr Johnson himself in a couple of weeks.

Even some Conservatives reckon the committee is likely to take a very dim view of what the PM did. "If he thinks he'll get a clean bill of health, he can think again," one says.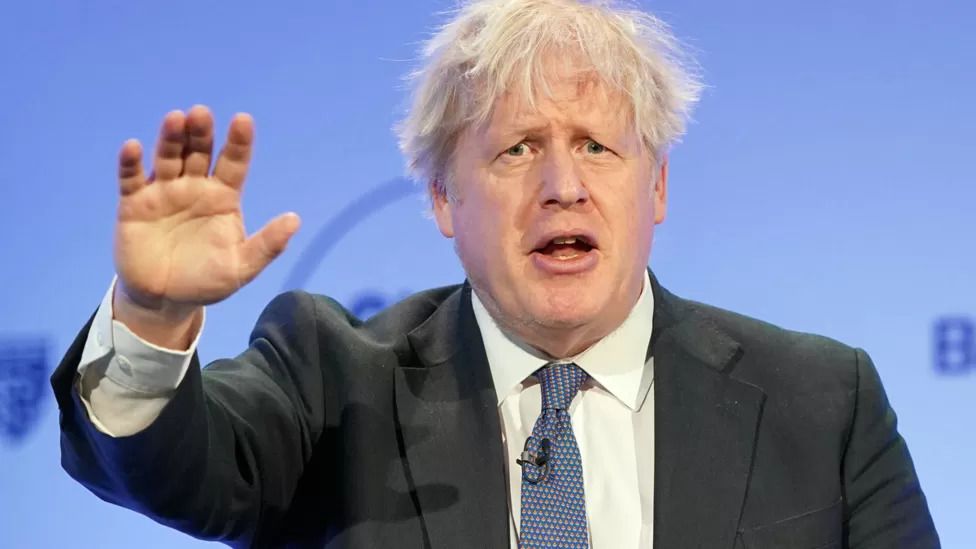 Reviving memories of Partygate, and the public upset and outrage that came alongside it, is hardly helpful for the Conservatives.

Mr Sunak was never painted as one of the dastardly villains of the saga - but having also received a fine for attending Mr Johnson's birthday in the Cabinet room, it's easy for the opposition to paint him as part of the mess too.

One Tory MP says that "the danger is that Partygate and privileges and everything - it just all damages us".

And there's been an unexpected and fraught added dimension to all this too.

The government, and Whitehall, were shocked when news broke that civil service enforcer, Sue Gray, was leaving government to work for the Labour Party. There was genuine shock, even among some of her former colleagues, that she would take that step. That's because it is vital that civil servants are, and are seen to be, totally fair and neutral.

Labour reckon it's a coup to have a "grown up person preparing for a grown up government", according to one source. There is no doubt Ms Gray is a hugely experienced operator.

Over the years, I've spoken to many people who have worked with her and I've heard almost universal praise. Nor is it unheard of for officials to leave, then go on to work for politicians. Both Tony Blair and David Cameron's chiefs of staff were both employed in Whitehall before moving into politics.

But the manner of Ms Gray's departure, and her reputation for holding all SW1's secrets, has caused uproar. Not just because, as one Conservative MP says simply, "it seems unfair" to many of their colleagues - but also because you might know Ms Gray's name, because she is the person who investigated Partygate.

Bear with me.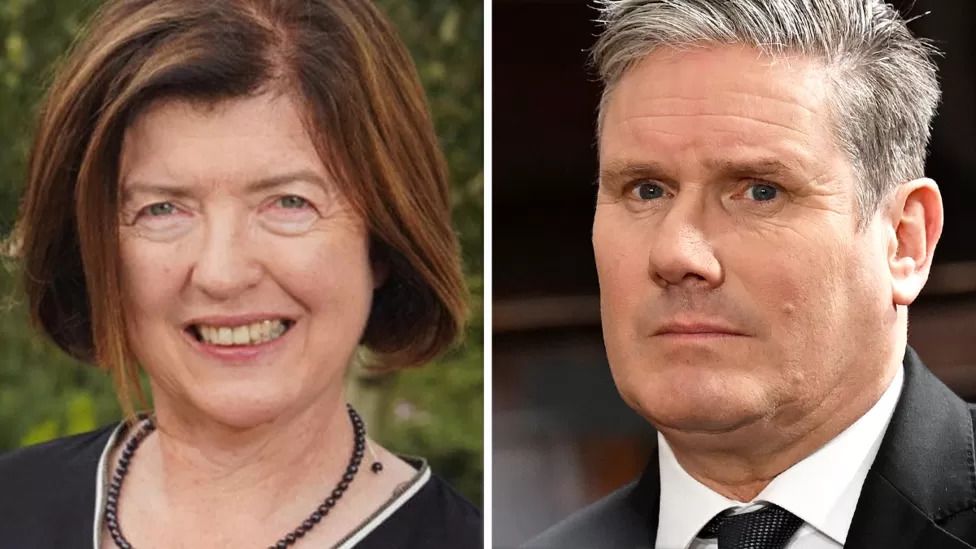 Conservative MPs have expressed anger that Sue Gray has been offered a job as Sir Keir Starmer's chief of staff

The fact that she carried out the Whitehall investigation into what happened in No 10, and now is leaving for opposition, gave immediate ammunition to Mr Johnson's supporters to cry foul, to claim that he was the victim of some kind of stitch up after all.

It is worth noting that Ms Gray's report did not, in fact, throw the book at the former PM personally. Mr Johnson's eventual resignation came some months later.

But - as another Tory MP, no fan of Mr Johnson, suggests - Ms Gray's decision fuels a sense of conspiracy heard among some constituents. "It makes Boris a victim, and fuels some of the stuff about Westminster stitch ups we see online."

There is a risk here for Labour, that they are presented as part of some kind of establishment plot. And by preparing for government like this, are they, as one former minister snipes, "measuring the bloody curtains"?

Whether it's the spat over the hiring of Ms Gray or the furore over his views on the new Northern Ireland deal, "the shadow of Boris Johnson looms", says the MP. It "defies logic", they claim, that a "disgraced former PM" still occupies so much of his party's bandwidth.

But the hangover from a once in a generation politician does not fade fast, even though there have been not just one, but two people who have moved into No 10 since he left. We've seen again this week - there are parts of the Conservative Party still preoccupied with his legacy, who still relish an argument about what went on.

The events of the past few years have been so intense, shaken things so fundamentally, that a clean break is extremely hard to achieve.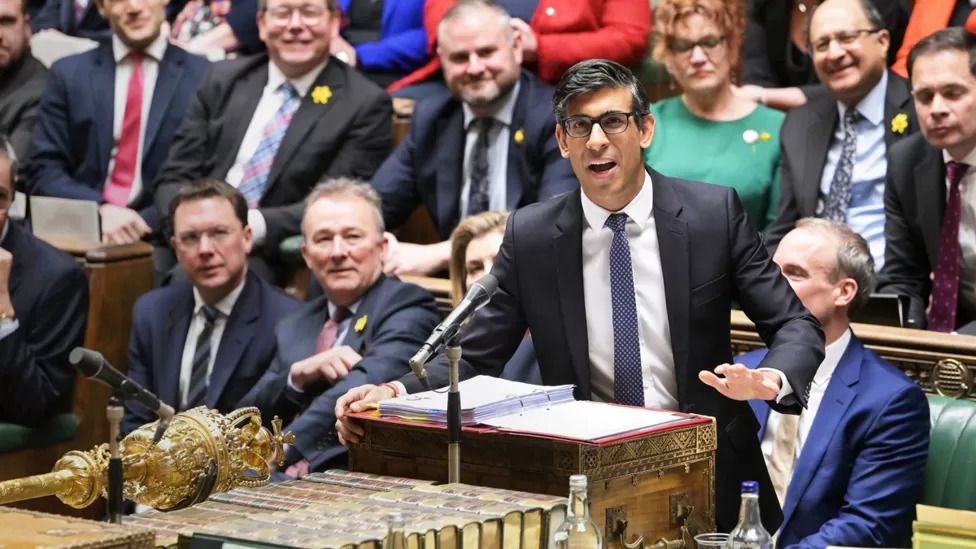 Rishi Sunak at Prime Minister's Questions on Wednesday

Mr Sunak wants to mark progress on Brexit, crack on with trying to solve the problem of small boats that cross the Channel (expect a tricky debate on that this week with the likely publication of more draft laws), pull off a smooth meeting with the French president, and look ahead to the Budget in 10 days' time.

The Brexit deal, which still hasn't been approved by the DUP, does show that his head-down, no-drama approach can bear fruit.

One Tory MP says that while "we won't get electoral credit, it does show he's competent, you can't see the foundations of a house, but you have to build them".

But the past few days have shown that the forces that have been at work in recent years still have the power to disrupt.

One Whitehall insider jokes, "who had 'strong and stable' in the sweepstake under Rishi?" - with the massive events of the recent past, that doesn't look like a safe bet.