Nurses in England, Wales and Northern Ireland have started a nationwide strike in the largest action of its kind in NHS history.
Staff will continue to provide "life-preserving" and some urgent care but routine surgery and other planned treatment is likely to be disrupted.

The Royal College of Nursing said staff had been given no choice after ministers refused to reopen pay talks.

The UK government said the RCN's 19% pay rise demand was unaffordable.

RCN general secretary Pat Cullen has called on the government to "do the decent thing" and resolve the dispute before the year ends.

Ms Cullen told BBC Breakfast the strike marked "a tragic day in nursing".

"We need to stand up for our health service, we need to find a way of addressing those over seven million people that are sitting on waiting lists, and how are we going to do that? By making sure we have got the nurses to look after our patients, not with 50,000 vacant posts, and with it increasing day by day," she said.

Health Minister Maria Caulfield, a former nurse, accepted "it is difficult" living on a nurse's wage, but said that a 19% pay rise "is an unrealistic ask".

The action will involve nurses in around a quarter of hospitals and community teams in England, all health boards in Northern Ireland and all but one in Wales. Nurses are not striking in Scotland.

Under trade union laws, the RCN has to ensure life-preserving care continues during the 12-hour strike.

Chemotherapy and kidney dialysis should run as normal, along with intensive and critical care, children's accident and emergency and hospital neonatal units, which look after newborn babies.

Beyond that, it will be up to NHS boards and trusts to negotiate services on a local level, with discussions likely to come down to the circumstances of some individual patients.

The biggest impact is likely to be in pre-booked treatment such as hernia repair, hip replacements or outpatient clinics.

The NHS has said it is "vital" people continue to come forward for emergency care during the strikes and anyone not contacted to reschedule an appointment should attend as planned.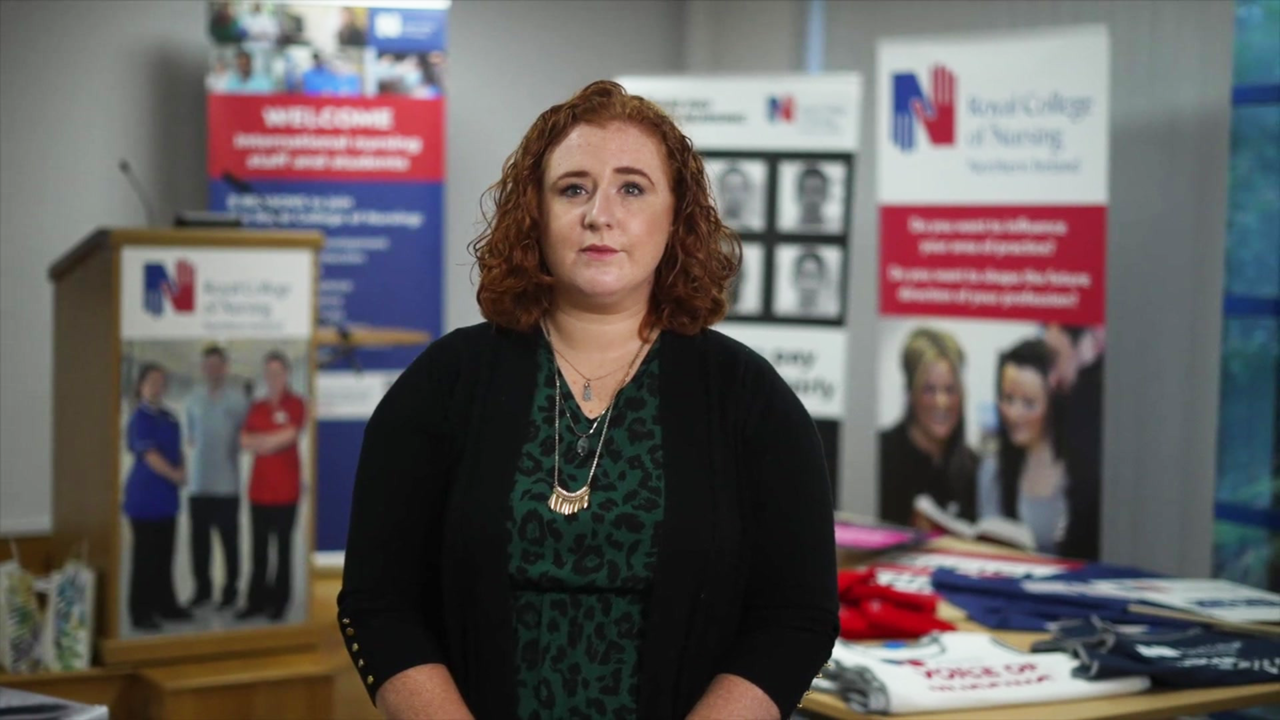 "There's no other option because the government isn't listening."
Lyndsay Thompson, nurse anaesthetist
"Nurses have had enough - we are underpaid and undervalued," nurse anaesthetist and local RCN steward Lyndsay Thompson, from Northern Ireland, says.
"Yes, this is a pay dispute but it's also very much about patient safety.
"The fact we cannot recruit enough nurses means patient safety is being put at risk."
Ms Thompson, who has worked as a registered nurse for 12 years, says her colleagues "absolutely do not want to strike" but feel the need to take action "to protect the NHS" after a period of below-inflation pay rises.
"We just feel we have no other option, because the government is not listening to us," she says.
The RCN balloted more than 300,000 nurses across individual NHS trusts and boards rather than in a single, national vote.
This means some nurses are not entitled to take industrial action, because the turnout in their local area was too low.
In England, the first round of strikes will go ahead in 51 of 219 hospitals, mental-health trusts and community services.
Strikes are also going ahead in all of Northern Ireland's health boards and all but one in Wales, the Aneurin Bevan.
Most GP services will be unaffected, as nurses working directly for practices were not entitled to take part in the vote, but the strike will include district nurses working in people's homes or community settings.
A second day of strike action will go ahead on 20 December, unless there is a breakthrough in talks.
How will patients be affected?

* People who are seriously ill or injured, and whose life is at risk, should call 999 as usual, or call 111 for non-urgent care

* Other services, such as some cancer treatments, mental health services or urgent testing, may be partially staffed

* More routine care is likely to be badly affected, including planned operations such as knee and hip replacements, community nursing services and health visiting

* Official advice is that anyone with an appointment which hasn't already been rearranged should turn up at their allotted time

* GPs, community pharmacies and dentists will not be affected

In England and Wales, most NHS staff have already received a pay rise of roughly £1,400 this year - worth about 4% on average for nurses.

The political situation in Northern Ireland meant there was a delay in processing the increase - but nurses should receive backdated payments before the end of the year.

The RCN wants a larger rise, of 5% above the RPI inflation rate, which currently stands at 14%, saying its members have received years of below-inflation pay increases.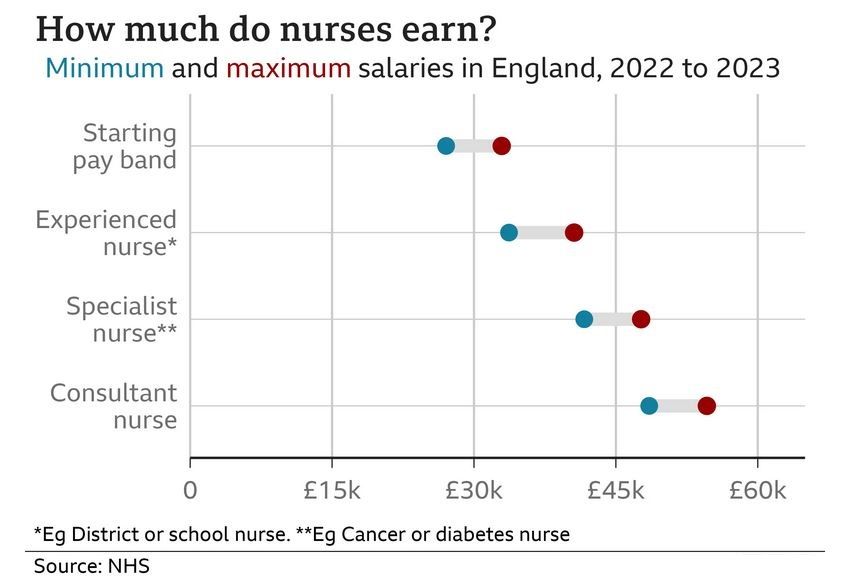 England's Health Secretary, Steve Barclay, said further pay rises would mean taking money away from other front-line services.

"I've been working across government and with medics outside the public sector to ensure safe staffing levels - but I do remain concerned about the risk that strikes pose to patients," he said.

Mr Barclay added that the government had followed the recommendation of the independent NHS Pay Review Body, which said in July NHS staff should receive the £1,400 increase, with slightly more for the most experienced nurses.

The body, made up mainly of economists and human-resources (HR) professionals, had been asked to base that recommendation on a range of factors, including:

* the need to recruit staff

* the funds available to the NHS

* the government's 2% inflation target

Welsh ministers said they were unable to enter pay talks without extra funding from the UK government.

In Scotland, the RCN's strike action has been "paused", after ministers made a fresh offer worth just over £2,200 a year for most NHS staff. Nurses have been asked to vote on that deal, with results due next week.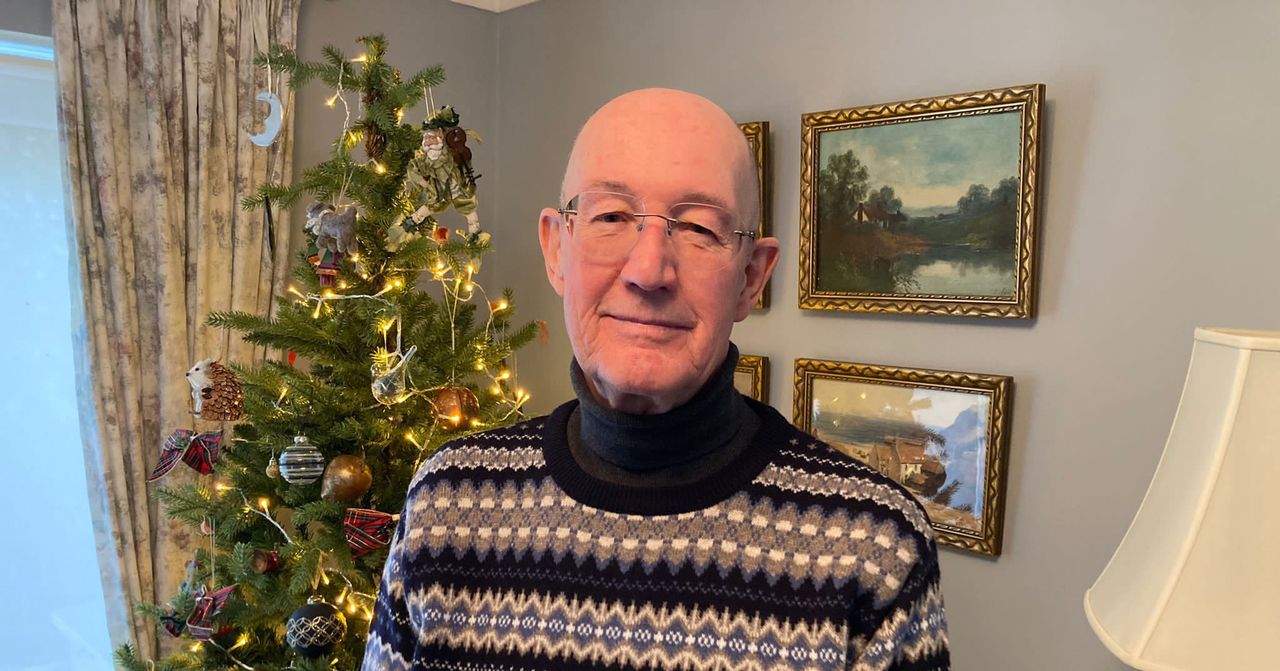 "If lives are at risk... it feels wrong to strike."
David, heart patient

David was meant to have a pacemaker fitted on Thursday at a hospital in Wales.

Since he had major heart surgery five years ago, his NHS treatment has been "second to none", he says.

But being called and told Thursday's procedure had been postponed has left him "frustrated and disappointed" - and he has not yet been given a new date.

"If you're [working] in a profession where lives are at risk, I feel [it is] wrong to strike," David says.

"Particularly at Christmas and when other people are striking as well, it's not a good time."

Union bosses have offered to suspend strikes if the UK government agrees to reopen serious discussions over pay.

But a face-to-face meeting earlier this week broke down, with the RCN accusing Mr Barclay of "belligerence" and having "too little to say".

This will be only the second time RCN members have walked out in its 106-year history. Until 1995, the union had a formal no-strike policy in its rulebook.

In 2019, nurses in Northern Ireland went on strike over pay. And in 2014, those in England who were members of Unison walked out - also over pay.

This winter, a number of other major health unions, including Unison, the GMB, Unite the Union and the Royal College of Midwives, have also voted to strike in different parts of the UK, with a series of walkouts planned over Christmas and the new year.
Watch this video quiz to test your knowledge of nurses' pay