The Commonwealth can be a force for good, promoting values of "tolerance, respect and solidarity", the King has told a service at Westminster Abbey.
King Charles was speaking at the annual Commonwealth Day service in London, the first since the beginning of his reign.

The King also recalled how much the Commonwealth had meant to his mother, Queen Elizabeth II.

When he arrived at the service, he received a traditional New Zealand Maori greeting of touching noses.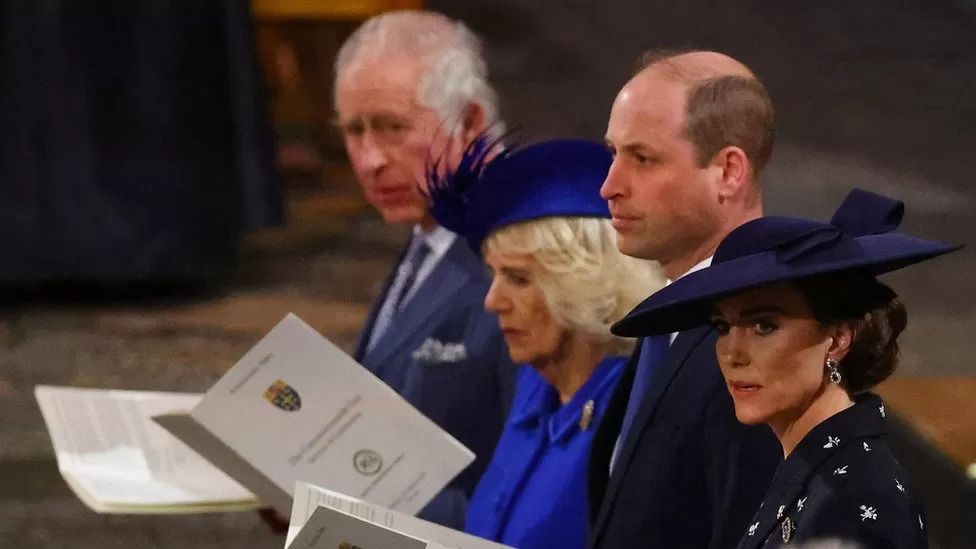 The Royal Family gathered for the annual Commonwealth Day service

King Charles highlighted the 56 Commonwealth countries had a combined population of 2.6 billion, about a third of the world's total.

Its collective efforts could advance its defining values, he said, "peace and justice; tolerance, respect and solidarity; care for our environment and for the most vulnerable among us".

The King addressed about 2,000 guests from the UK and Commonwealth, including Camilla, the Queen Consort, the Prince of Wales, Catherine, Princess of Wales, politicians, faith leaders and athletes who had competed in the Commonwealth Games.

The service put a strong emphasis on diversity, with a version of a Bob Marley song, readings from Muslim, Sikh and Jewish representatives, as well as Christian denominations, and performers from Rwanda literally dancing in the aisles.

But the King's new era as Commonwealth head is likely to see challenges, including over issues such as colonialism, the legacy of slavery and human rights within member countries.

Outside the Westminster Abbey service, Peter Tatchell held a protest criticising the lack of rights for lesbian, gay, bisexual and transgender people in many Commonwealth countries, while anti-monarchy campaigners also demonstrated as the Royal Family arrived.

In a speech to Commonwealth leaders in Rwanda last year, King Charles spoke of the importance of acknowledging the past and his "personal sorrow" at the suffering caused by the slave trade. It was up to individual states to decide whether to remain monarchies or became republics, he added.

There will be questions about whether the Commonwealth will remain a diplomatic priority for the UK.

The King's symbolic first state visits will be to build relationships with France and Germany, with the European destinations decided by the government.

But his message at the Commonwealth Day service argued for the strength of bringing together different cultures within the Commonwealth, saying: "By listening to each other, we will find so many of the solutions that we seek."