The reality TV star admitted she has been trying desperately to hide her ex's increasing number of controversies from their four children
Kim Kardashian broke down in tears as she opened up about the challenges of co-parenting with ex-husband Kanye West.

The SKIMS mogul, 42, shares four children with the rapper, who legally changed his name to "Ye" in 2021 and this year has been embroiled in a number of race-related controversies that have seen him banned from social media platforms and dropped from lucrative brand partnerships.

In November, he made headlines after visiting former President Donald Trump at Mar-a-Lago with white nationalist and Holocaust denier Nick Fuentes.

Appearing with Fuentes on conspiracy theorist Alex Jones' show earlier this month, West caused further uproar when he said he saw "good things" about Adolf Hitler and Nazis.
Appearing on Angie Martinez's IRL Podcast on Monday, Kardashian admitted it has been "f****** hard" and revealed the great lengths that she goes to in order to protect North, nine, Saint, seven, Chicago, four, and Psalm, three, from the media storm around their dad.

"I definitely protected him, and I still will in the eyes of my kids, for my kids.

"So in my home, my kids don't know anything that goes on on the outside world," she told Martinez.

"I'm holding on by a thread, I know I'm so close to that not happening, but while it's still that way, I will protect that to the end of the Earth as long as I can."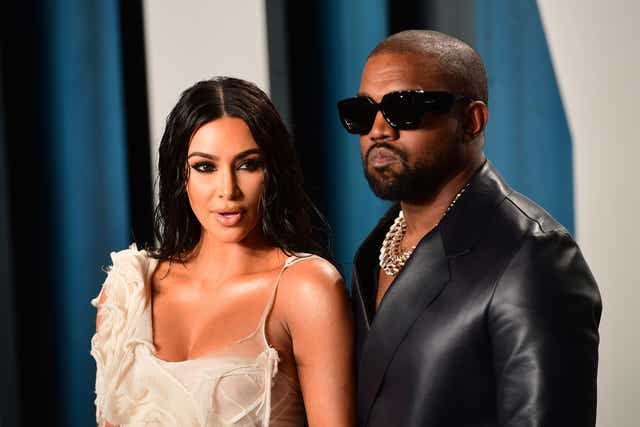 Kim Kardashian and rapper Kaye West have four children together

She said she will play West's music in the car if the children request it and pretend like "nothing's wrong" because she doesn't want them to think of him in a negative light.

"Then as soon as I drop them off I can have a good cry or... do what I got to do but like, I had the best dad. I don't want to get emotional... it's been a day for me... it's hard, like co-parenting, it's really f****** hard," she added as she started to cry.

She went on to say that she has "the best memories" of her late dad, Robert Kardashian, and wants her children to have the same experience with West.

"So if they don't know things that are being said or what's happening in the world, why would I ever bring that energy to them?" she asked. "That's real heavy, heavy grown-up s**T [that] they're not ready to deal with, you know? When they are, we'll have those conversations. And I'll be so prepared. But until then, I'll do anything to keep their life as normal as possible."

Later in the conversation, Kardashian became emotional again when she said that her kids will thank her one day for "not sitting here and bashing their dad when I could".

She also noted that she shared a post in support of Jewish people in response to Kanye's antisemitism controversy, but believes it's not really her place anymore to "jump in".

The Kardashian star filed for divorce from West in February 2021 and it was finalised in November 2022.