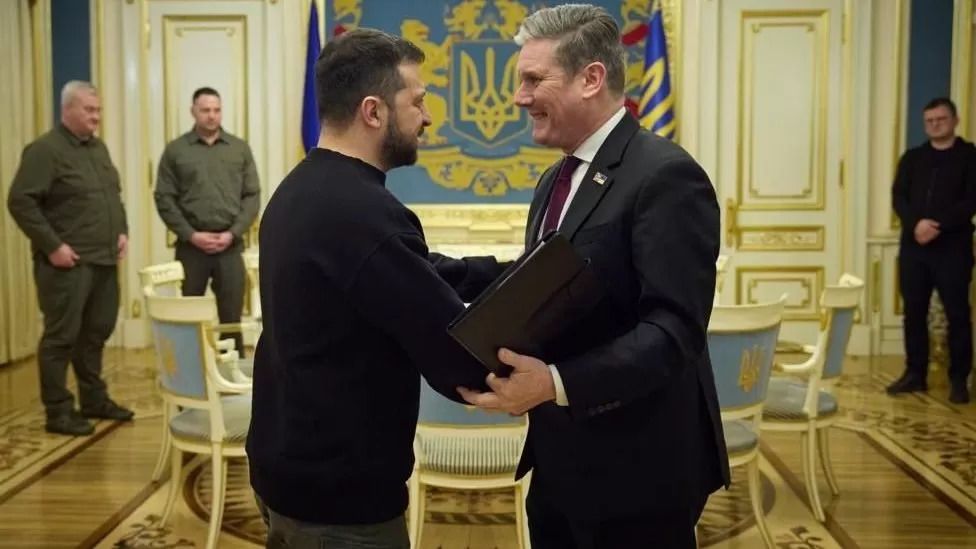 Keir Starmer meets Ukraine's President Zelensky in Kyiv
Sir Keir Starmer has flown to Ukraine to reaffirm Labour's "unwavering support" for the country in its war with Russia.
The Labour leader met President Volodymyr Zelensky in Kyiv, ahead of next week's 24 February anniversary of the Russian invasion.

He also travelled to Irpin and Bucha to see the sites of alleged war crimes.

Mr Zelensky visited London and other European capitals last week to press for the supply of fighter jets.

Sir Keir described their meeting in Kyiv as "very constructive... we were able to discuss the support that Ukraine needs and the justice that it deserves".

He said: "We discussed a range of issues, he's very concerned about support through weapons and the continuation of training for Ukraine, and I stressed that the Labour Party supports and would maintain the defence, training, and technological support the current UK government is providing.

"I've said throughout this conflict there will be no difference between the political parties on this, so we will continue to work with the government to see what further support we can provide."

Earlier, the Labour leader told reporters it was "very important for me to be here in Ukraine… making clear that support for Ukraine in the United Kingdom is united".

"Should there be an election next year and a change of government, the position on Ukraine will remain the same," he said while visiting Irpin, outside Kyiv.

In the early stages of the conflict last year, Ukraine accused Russian forces of committing atrocities in Irpin before pulling out. Moscow has denied this.

Sir Keir said: "It's incredible to see the evidence of atrocities... Photographs of civilians in the outskirts of Kyiv blindfolded, with their arms tied behind their back.

"There has to be justice for this, has to be justice in The Hague [the site of the International Criminal Court], and proper reparation for the rebuilding of Ukraine."

During Prime Minister's Questions last week, the Labour leader argued that Russian state assets frozen in the UK should be used to fund the reconstruction of Ukraine.

He also pressed for evidence to be collected to ensure effective prosecutions for war crimes and crimes against humanity.

Prime Minister Rishi Sunak met President Zelensky in Kyiv in November.