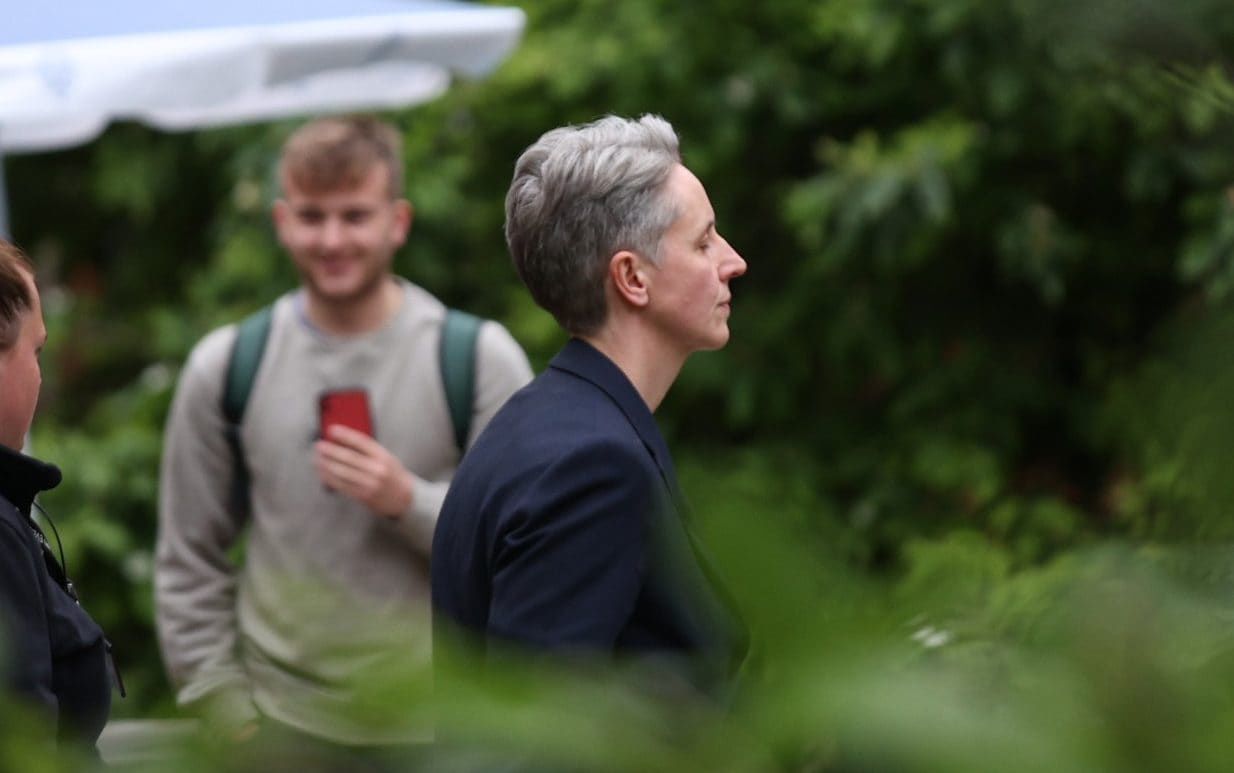 Controversial Clash at Oxford Union as Trans Activist Disrupts Gender-Critical Feminist Talk
Tensions ran high at the Oxford Union as activist Riz Possnett made a bold statement by gluing themselves to the floor during a talk by gender-critical feminist Professor Kathleen Stock.
Two other protesters caused further disruption by shouting and distributing leaflets, igniting a fiery debate around trans rights.

Possnett's actions were met with accusations of promoting "anti-trans propaganda" and an outcry against Stock's perceived "dangerous" views.

Possnett emphasized that trans rights should not be up for debate and urged attendees to consider the consequences of Stock's ideology.

The activist was eventually escorted out of the venue, greeted by cheering supporters at the back entrance, amplifying the fervor of the clash.

The Oxford Union had organized a debate titled "This House Believes That Trans Women Should Not Be Allowed to Use Women's Spaces." As the keynote speaker, Professor Kathleen Stock delved into the issue of trans women and violence, highlighting the concerning statistic that at least half of trans women in prison are incarcerated for sexual assault.

Stock criticized institutions for becoming "propaganda machines" and stressed the importance of addressing reality while seeking inclusive solutions.

Amid applause, the trans activist disrupted the event and was subsequently removed by the police, further fueling the intensity of the situation.

The Oxford Union's decision to host Professor Kathleen Stock, a prominent gender-critical feminist, stirred controversy and prompted protests.

Trans activists distributed flyers and chanted slogans advocating for trans rights, while some students defended the importance of free speech.

Authorities emphasized the need to balance the rights of protesters with the concerns of the local community, cautioning activists to be prepared for potential arrests.

Welfare rooms were made available for distressed protesters, even those who did not attend the event.

The crux of the disagreement revolves around Stock's views on transgender issues.

Transgender academic Dr. Clara Barker acknowledged the challenges faced by the trans community but highlighted their progress.

Barker argued that discussions veering into hate speech hinder students' learning and performance.

A panel discussion on "free speech and hate speech" emerged as a response to Stock's talk, with participants asserting that the gender-critical community holds significant influence.

They rejected the notion that opposing Stock's views jeopardizes free speech.

Amidst the ongoing turmoil, activists gathered in Bonn Square to further express their concerns.

Professor Kathleen Stock, a renowned philosophy expert and gender-critical feminist, remained scheduled to participate in the Oxford Union event, despite facing backlash from trans activists.

Prime Minister Rishi Sunak supported Stock's right to be heard and encouraged students to engage with her perspectives.

Oxford philosophy PhD student John Maier defended Stock's expertise, highlighting her informed stance on the matter.

This clash has been described as the most significant cultural debate at the university since the Rhodes Must Fall movement.

Meanwhile, an LGBTQ+ society at Oxford Brookes University organized a Pride panel and rally celebrating trans individuals and amplifying their power, focusing on a different aspect from the controversy surrounding Kathleen Stock and the Oxford Union..