SNP leadership hopeful Kate Forbes has warned the proposed bottle return scheme could cause "economic carnage".
Speaking at a brewery in Aviemore, Ms Forbes said the recycling initiative was not ready to be implemented as planned in August and should be halted.

The finance secretary also promised a reset of the relationship between business and government.

All three SNP leadership contenders have now proposed pausing or changing the deposit return scheme (DRS).

Humza Yousaf has called for a year's grace period for small firms - a move which Circular Economy Minister Lorna Slater has said she is "actively considering" - while the third contender, Ash Regan, says the scheme should be redesigned or scrapped.

The DRS is designed to boost recycling via a 20p deposit on single-use drinks bottles and cans.

Critics say it will raise costs for businesses while putting more pressure on consumers.

Scottish Secretary Alister Jack has also hinted that the UK government might not grant an opt out from the UK Internal Market Act, which would be a severe blow to the project.

Producers are required to register for the scheme by Tuesday evening, ahead of a go live date of 16 August, and if they fail to sign up they risk being banned from selling their products in Scotland.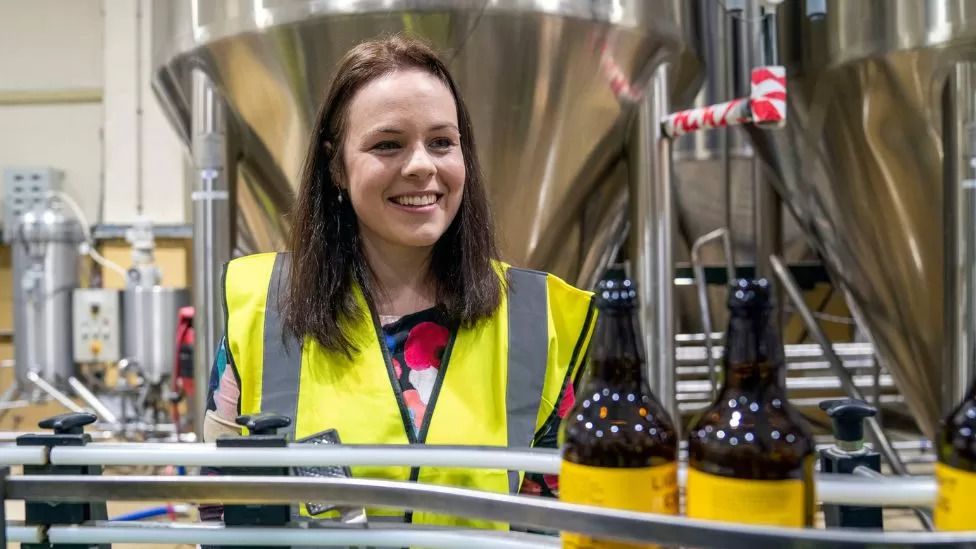 Ms Forbes said the DRS was "well intentioned", but said significant concerns had emerged about the roll-out.

She warned businesses were "fearing the economic carnage it will cause if the timetable continues as planned right now".

The finance secretary insisted firms support the scheme and want it to work.

"But right now, they do not have the information and the confidence in an overly complex scheme," she said.

Ms Forbes added: "What businesses need is a bit of breathing space.

"They have gone through Covid, Brexit, the cost of living, their energy bills have gone up exponentially and the government should be giving them a bit of space rather than putting additional complex bureaucratic requirements on them."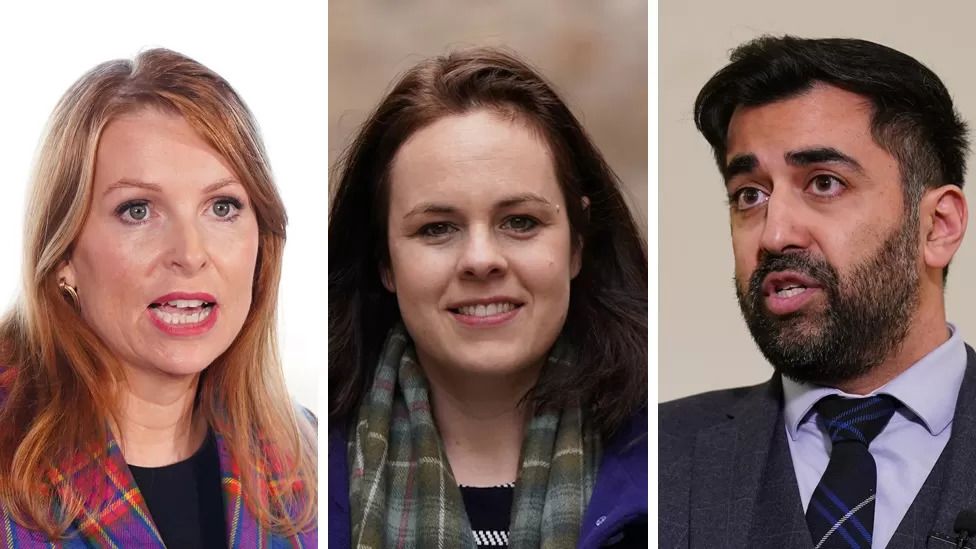 The three SNP leadership contenders are Ash Regan, Kate Forbes and Humza Yousaf

Mr Yousaf, who won the support of MPs Ian Blackford and Mhairi Black over the weekend, has said he would exclude small businesses for the first year of the return deposit scheme if elected first minister.

"It's not the craft breweries or the craft gin makers causing the issue, it's the big producers that we should be targeting," he told Sunday with Laura Kuenssberg.

Ms Regan told BBC Radio's Good Morning Scotland that DRS should be halted, redesigned and perhaps even scrapped altogether.

"Businesses in Scotland are really struggling right now and this is absolutely not the right time to be piling more things on to them, something in fact which could cause some of them to go out of business," she said.

"We need to pause this scheme. We either need to get rid of it if it is possible to be changed by co-designing it with the people that are going to be using it, the businesses themselves, then possibly it could go ahead."

Voting for the next SNP leader opens on 13 March, with the winner set to be announced on 27 March.

Peers discuss recycling scheme

Meanwhile, in the House of Lords, Labour peer Lord Foulkes of Cumnock urged the UK government to use Section 35 of the Scotland Act to stop the scheme being brought forward.

He said it would cause "total chaos" and needed to happen at a UK-wide level.

UK environment minister Lord Benyon also stressed the need for a UK approach.

He told peers that the Scottish government plan would have huge costs and result in "booze cruises" where "people can go south of the border to get drink at 50% less cost".

However, Green Party peer Baroness Bennett of Manor Castle defended the scheme, saying it would deliver on the "polluter pays" principle.

She added: "If the government steps in at this very late stage, if Westminster stops Scotland delivering what it has a right to do under devolved law, that will be a collapse in business confidence and we will never see a bottle deposit scheme across these islands."