Harry Kane has suggested he will hold talks with Daniel Levy before the end of the season over the chairman's plans for Tottenham's next manager.

Kane, who backed Levy to make "the best decision for the players and fans", also said acting head coach Ryan Mason is helping the club to restore the values they have lost since the sacking of Mauricio Pochettino, and insisted the squad is fully behind the acting head coach.

Kane has a year to run on his Spurs contract and the identity of their new manager is likely to have an impact on his chances of committing to a new deal.

And Kane's teammate Pierre-Emile Hojbjerg has said "the club has a responsibility to make sure the scenario for [Kane] is the best possible".

Spurs have been linked with a host of coaches, including out-of-work Julian Nagelsmann, Burnley's Vincent Kompany, Brighton boss Roberto De Zerbi and Bayer Leverkusen coach Xabi Alonso.

Asked if he was excited by the names in the frame, Kane said: "That's down to the club. If I end up speaking with the chairman towards the end of the season, then I'm sure he'll fill me in on what he's thinking.

"But ultimately we've got three more games, we don't want to look too far ahead and get too carried away.

"The club will make the best decision for everyone, for the players, the fans, for the club in general, so we'll just have to wait and see what that is."

Mason earned a first win in charge as Kane's 26th League goal of the season sealed a 1-0 win over Crystal Palace, boosting Spurs' European hopes.

Spurs played a fluid new system -- a back four out of possession and a more familiar three-man defence with the ball -- and kept a first clean sheet domestically since February 26.

Before Saturday's game, Kane said the club had lost some of their values "over the last few years" and believes Mason, who has thrown his hat into the ring for the permanent job, is helping to restore them.

"I think we're all behind him," the England captain said. "We know the club is in a situation where I spoke about getting some of the values back. I feel like Ryan brings all those attributes.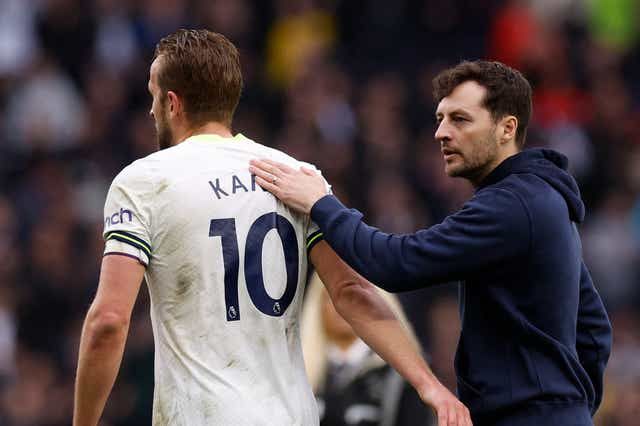 Kane is enjoying life under former teammate Ryan Mason

"He's been here through the academy, he knows what it's like as a fan, he knows what it's like to play here. With that attitude and that desire, he brings a great enthusiasm to the coaching role here.

"Ultimately [the new manager] will be down to the chairman and the club what they decide. But for these three games, we're fully behind him to try to improve and to try to win and see what happens.

"Full credit to him [for the approach against Palace]," Kane added. "It was his first proper week. Last week wasn't really a week because we played two games in four days.

"It was his first week of training and preparation. Obviously we changed the system a bit without the ball to go 4-4-2.

"Then with the ball to do what we're used to with the 3-4-3 but to keep possession a little bit more, to be a bit more patient with the ball and not force it forward as quickly. I thought we controlled large spells of the game.

"I still think we're lacking a bit of confidence in certain areas when under pressure, getting out of tight spaces, but that will come. That comes with working and training.

"Full credit to Ryan for making those decisions. I'm really we've been able win and keep a clean sheet."

Kane's header from Pedro Porro's cross moved him beyond Wayne Rooney to second in the list of all-time Premier League scorers, on 209, and Hojbjerg said afterwards: "It is amazing, but what is there for me to say that people do not know already [about Harry]? It is very difficult.

"But honestly, it is nice to have him around and he is one of those players who will be in the [record] books, in the history for a very long time. That we have him around, I think it is important also for Harry to understand he has a big responsibility and also I think the club has a responsibility to make sure the scenario for him is the best possible."

Next up for Spurs is a visit to Aston Villa next weekend in what could prove to be a play-off for a place in the Europa Conference League.

Many fans would rather Spurs avoid UEFA's tertiary club competition but Kane believes it could be an opportunity to end their trophy drought.

"Ultimately I think I like to play football games no matter what competition it is," he said. "That's what you deserve from where you finish in the season.

"You can't disrespect any competition that you play in.

"It's one of those, if you end up in the Conference League and win it, it's worth it. If you don't, then people probably look at it as an inconvenience.

"But when you've been at a club where we haven't won a trophy for 15 years, if we do end up in it, it could be an opportunity to try and put that to bed.

"We've got three games left, a big game against Villa next week away. Them dropping points has helped a little bit.

"We just have to try to win all three games. Obviously Brighton have a few games in hand on us.

"If we can come away from this season with European football, that's a small prize at the end of a tough season. We'll be fighting for that and fighting in the three games to try to pick up three wins.