Deputy First Minister John Swinney has backed Humza Yousaf in the race to replace Nicola Sturgeon as SNP leader and first minister.
Mr Swinney is the most high-profile figure in the party to endorse the Scottish health secretary.

But Kate Forbes' campaign manager said the announcement suggested the SNP hierarchy were "absolutely panicking".

Mr Yousaf is standing against the finance secretary and ex-community safety minister Ash Regan.

SNP members will start voting for the new leader on Monday, with the winner to be announced on 27 March.

Mr Swinney's endorsement comes after the party's Westminster leader Stephen Flynn confirmed he would be supporting Mr Yousaf.

Nicola Sturgeon has previously said she would not be publicly backing any of the three candidates.

Last month John Swinney questioned whether it would be appropriate for someone with Ms Forbes' views to be SNP leader.

He spoke out after the finance secretary, who is a member of the Free Church of Scotland, made clear she would not have voted for gay marriage if she had been an MSP in 2014.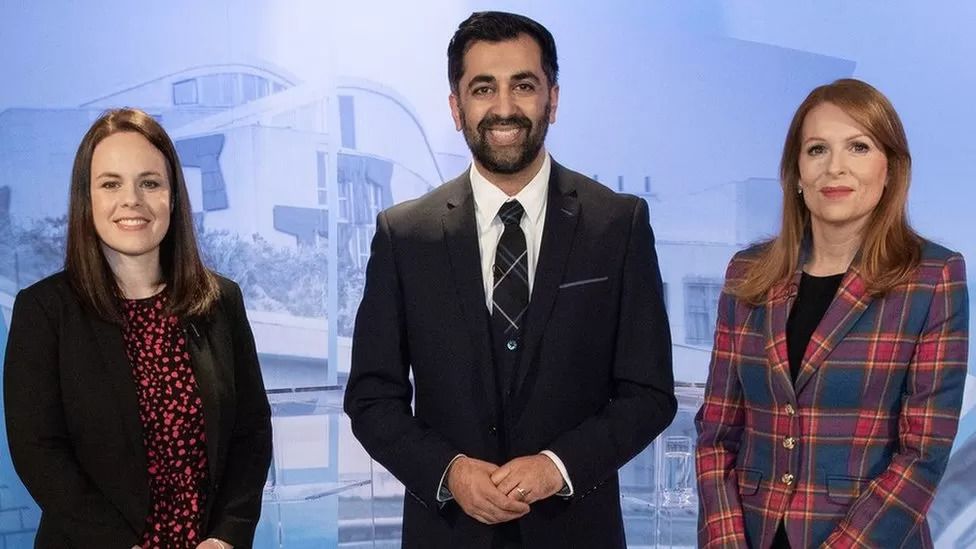 Kate Forbes, Humza Yousaf and Ash Regan will take part in a BBC Scotland debate on Tuesday

In a statement released on Saturday night he said: "Humza is best placed to lead our party because he will strengthen the SNP as a force for progressive change in Scottish politics.

"Humza will govern effectively by using the partnership that we enjoy with the Scottish Green Party - guaranteeing us a pro-independence majority in the Scottish parliament.

"And crucially, Humza will widen our support in attracting new supporters to Scottish Independence."

Mr Swinney, who will stand down as deputy first minister later this month, said Mr Yousaf was the candidate who would "complete our journey to independence" and praised his track record in power.

The Perthshire North MSP added: "Humza is an experienced minister who's done all the tough stuff that you have to do day in day out within government.

"He's put his heart and soul into all the work he's done within the party to make the SNP an inclusive political party."

Mr Yousaf said he was honoured to have the backing of a "true giant of the SNP and independence movement".

He added: "Like Nicola, our party owes so much of our success to John's stewardship.

"John's backing is a massive boost to my progressive grassroots campaign to stand up for Scottish democracy, protect and advance rights, unite our Yes movement and secure independence for Scotland."

Following Mr Swinney's announcement Ms Forbes' campaign manager questioned the timing of the move.

Falkirk East MSP Michelle Thomson said: "When the current deputy first minister decides to personally intervene in the leadership contest at such a late stage, you get the sense that senior figures in the party have seen the polls and are absolutely panicking.

"Given how close we are to the vote opening, many party members will look upon this 11th hour intervention rather cynically. They don't need to be told by party HQ what to think or how to vote."

Ms Thomson said it appeared the SNP hierarchy would prefer "an establishment transfer of power" rather than allowing its members the freedom to make "a healthy democratic choice".

BBC Scotland has asked Ms Regan's campaign for a response to Mr Swinney's statement.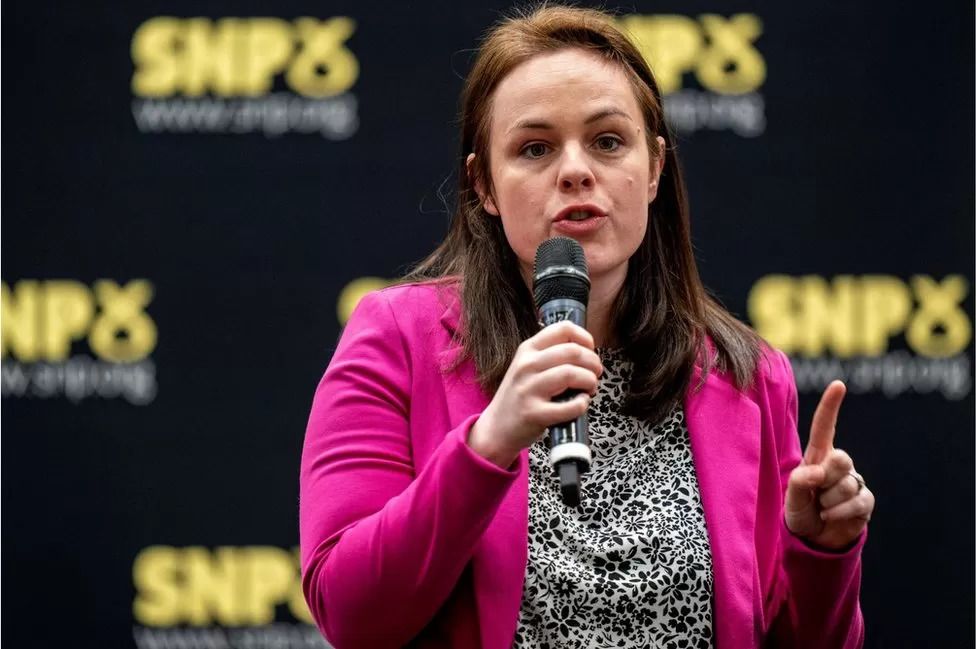 Kate Forbes speaking at an SNP hustings event at Strathclyde University on Saturday

Veteran SNP MSPs Annabelle Ewing and Christine Grahame are among those to have announced they will be voting for Ms Forbes.

One of the party's best known MPs, Joanna Cherry KC, has given her support to Ms Regan.

The three leadership candidates will take part in an hour-long Debate Night programme from Edinburgh at 20:00 on Tuesday 14 March on BBC One Scotland.