Labour has made its latest pitch for power to business leaders at Canary Wharf, one of London's financial hubs. Was it enough to convince them the party is a government-in-waiting?
The symbolism was as important as the substance.

On the face of it, Labour's business conference in Canary Wharf was to launch a report promoting and encouraging business start-ups.

But it was also an opportunity for Labour to promote its pro-business credentials and further highlight its distance from the Corbyn era.

Opening the conference, Labour leader Sir Keir Starmer said the party wasn't just pro-business but "proudly pro-business".

But more importantly, was business now more pro-Labour?

Banners were proudly displayed demonstrating backing for the conference from - amongst others - HSBC and energy company SSE.

But neither Sir Keir nor Rachel Reeves, the shadow chancellor, could name a single company which was endorsing the party itself for the first time.

Ms Reeves told me it was difficult for "big businesses - certainly public limited companies - to endorse political parties".

But, she said, there had been "a huge surge in donations" to Labour from business.

On the table

The event was partly open to the press but perhaps in a sign of nervousness, some of what Sir Keir described as "the biggest engagement with businesses in a decade" took place behind closed doors.

A shadow minister was deployed to each table of attendees to discuss the party's plans in greater detail and to listen to concerns.

When he was shadow chancellor three decades ago, Labour's John Smith embarked on a "prawn cocktail" offensive - City lunches to reassure the financial sector that they need not fear a Labour government.

This time, attendees were wooed first by coffee and pastries, then over lunch with a noodle dish and strawberry-and-melon-infused water.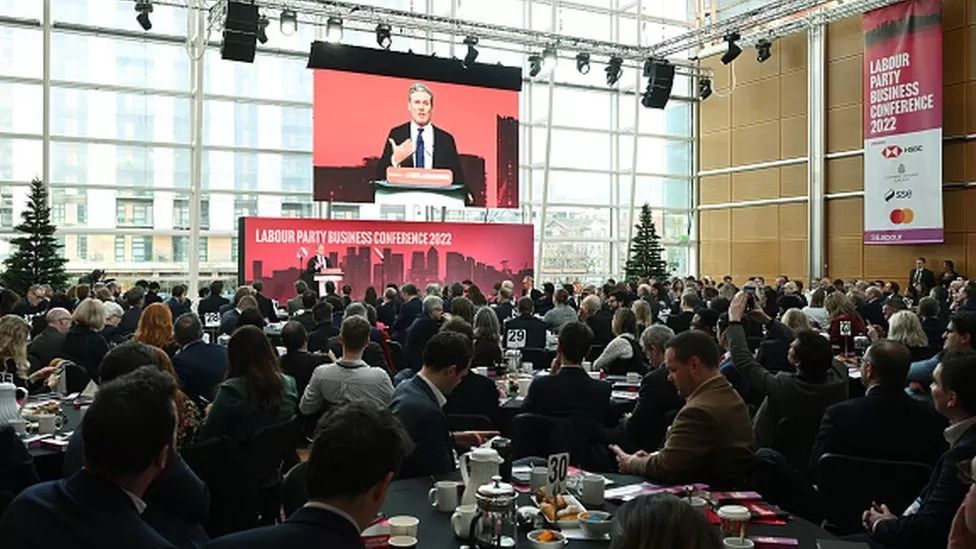 Labour leader Sir Keir Starmer attempted to woo business leaders in London

Access to the one Labour-supporting business figure told me "this is all about emphasising we are a serious party of government. We have to ram home over and over again that we are serious about business".

A Conservative-supporting attendee was less impressed with the content, but admired the organisation of the event - and said it reminded him of when former Tory Prime Minister David Cameron was on the cusp of power.

Industrial relations

But just how frank is Labour's engagement with business?

I tested the water during the lunchtime break with Ms Reeves.

I asked if the party had been clear that its decision to repeal 2016 trade union legislation - setting thresholds in strike ballots - would make it easier for unions to go on strike.

She said the legislation hadn't "made a blind bit of difference because when working people have had enough, they decide to take industrial action". But she suggested private businesses were likely to be more reasonable than the government.

"The business people who are here today, many of them will recognise trade unions and will work with their workers to resolve disputes," she said.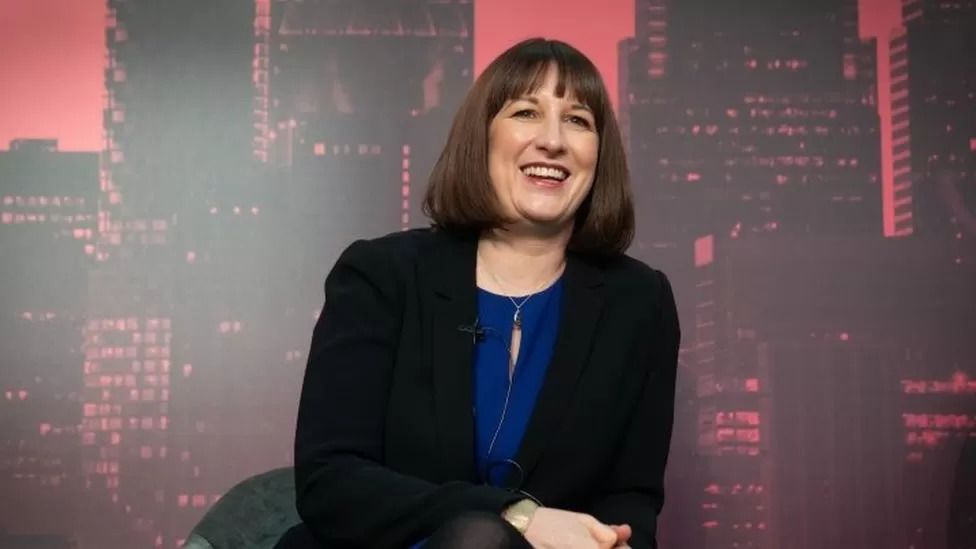 Shadow chancellor Rachel Reeves said Labour would resolve underlying issues with the unions

Neither she nor Sir Keir would commit to repealing promised - or threatened - Conservative legislation on minimum service levels, stressing that it would do nothing to solve the current disputes.

And now that permission has been given to a coal mine in Cumbria, would a pro-business Labour government really close it down if they come to power?

"There are plenty of ways to get jobs in Cumbria and the north of England," she said. "I don't think [the mine] will be open by the time of the next election. I'd be amazed if it was open."

Getting Brexit done

Exporting businesses are also keen to get tariff-free access to big markets. Labour has ruled out rejoining the EU single market, the biggest market on the UK's doorstep.

Politically, the party does not want to revisit the Brexit divisions of the past at the next election. But was the shadow chancellor - who opposed leaving the EU - really telling businesses that economic growth would be higher outside of the free-trade zone across the Channel?

Her emphasis was to improve the Brexit deal rather than turn back the clock.

"We recognise that the status quo, the Brexit deal that the government secured three years ago, it is not working for business," she said.

She said there were "practical things we can do to improve relations with our nearest neighbours and trading partners and as a government we'd be determined to do that".

Labour insiders know they have an opportunity to convince business that they can provide the stability they crave, though they have no longer been gifted with the contrast of a Liz Truss administration.

Ahead in the polls, Labour is putting emphasis on not putting a foot wrong and creating political hostages to fortune.

Appearing serious and responsible and appealing to new sources of support is seen as far more necessary than generating headlines.
The Labour leader says the appetite to talk to business about the party's plans is "palpable and tangible"