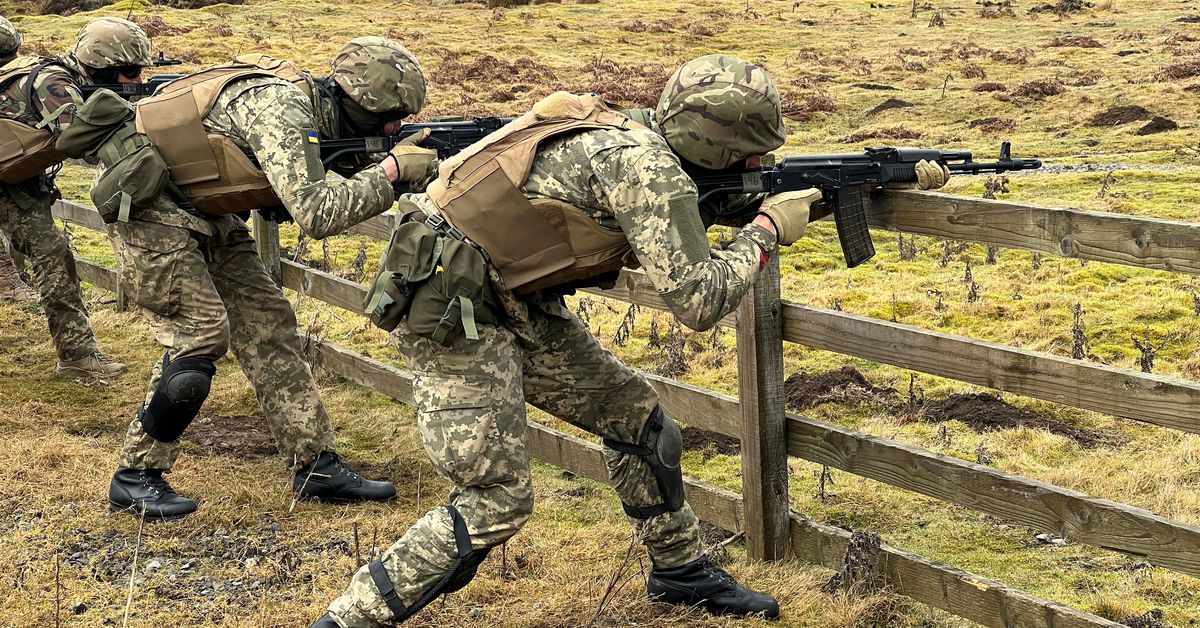 In England's north, Ukraine's civilians become soldiers
Hundreds of Ukrainian men charged across windswept northern England in army drills on Thursday, some of more than 10,000 sent to Britain over the last year to turn them into soldiers in the war against Russia.
Under the tutelage of forces from Britain, Sweden, Denmark, the Netherlands and Norway, among others, the Ukrainians will be taught over five weeks about the laws of armed conflict, urban and trench warfare, weaponry and battlefield medicine.

Britain's government said on Thursday it aims to double the number taught in 2023 to 20,000, across a handful of locations around the country.

The move is one part of a ramping-up of support for Ukraine, after NATO alliance officials met the previous day to plot more assistance for Kyiv. Britain is sending 14 Challenger tanks and hundreds more missiles.

One of the recruits, a 48-year Ukrainian furniture maker who called himself Nick, said a year ago he could not have envisaged that he would be taking lessons in warfare in the north of England.

"I will have to use that knowledge to protect our country because there is a lot of blood in Ukraine nowadays and someone has to protect the motherland," he said via an interpreter.

Russia invaded Ukraine in February last year, saying it had to protect Russian speakers from persecution and prevent the western NATO alliance from using Ukraine to threaten Russia's security.

Kyiv and its Western allies, including Britain, say these are baseless pretexts for an unprovoked war of acquisition.

On Wednesday, British Defence Secretary Ben Wallace said Britain is training Ukrainian soldiers to fight in a more "Western way" and use less ammunition than the traditional Soviet way of fighting.

At the trench warfare grounds, where Ukrainian men in combat gear ran through muddy tunnels and dense forests with blank-firing rifles, British army corporal Carter, who declined to give his first name, said the Ukrainians were learning from the world's top forces.

"I'm sure when they go back they'll be able to survive and effectively win," he said.

The programme also includes urban warfare, where men train how to fight in ordinary houses and civilian structures, and shooting practice.

Nick, the Ukrainian soldier, said he would return to Ukraine with confidence.

"I think that all of us will be ready to come back, because Ukraine really needs us, the soldiers who will stand for Ukraine," he said.