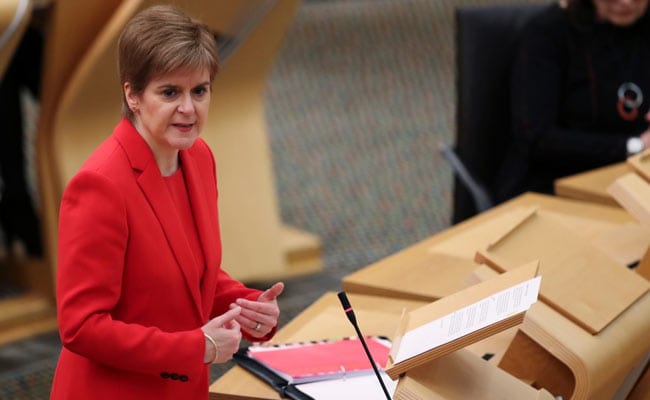 "I'm A Human Being As Well": Scotland's First Minister Nicola Sturgeon Resigns
Nicola Sturgeon said in "my head and in my heart" she knew the time was right to quit, after approaching a decade in power pushing for Scottish independence.
Scotland's First Minister Nicola Sturgeon announced her resignation Wednesday after more than eight years leading its devolved government, in a shock move jolting UK politics on both sides of the border.

The Scottish National Party (SNP) leader said in "my head and in my heart" she knew the time was right to quit, after approaching a decade in power pushing for Scottish independence.

The 52-year-old confirmed she would remain first minister until the SNP elects a new leader, and also stay on as a member of the Scottish Parliament until at least the next election, due in 2026.

She departs after facing mounting pressure over her tactics for independence and over transgender rights.

But in a hastily arranged news conference, Sturgeon insisted that her decision to step down was "not a reaction to short-term pressures" and "comes from a deeper and longer-term assessment".

"I know it may seem sudden, but I have been wrestling with it -- albeit with oscillating levels of intensity -- for some weeks," she said.

"I am a human being as well as a politician," she added.

"Giving absolutely everything of yourself to this job is the only way to do it. The country deserves nothing less. But in truth that can only be done by anyone for so long."


'Formidable'


Political allies and opponents across the UK paid tribute, with Prime Minister Rishi Sunak praising her "long-standing service" and wishing Sturgeon "all the best for her next steps".

The UK government's secretary of state for Scotland, Alister Jack, called her "a formidable politician", while also urging her eventual successor at the SNP to "drop its divisive obsession with independence".

Northern Ireland's first minister-elect Michelle O'Neill, vice president of the pro-Irish party Sinn Fein, also lauded her "friend", adding that Sturgeon "leaves a legacy for which anyone in politics or public life would be rightly proud".

Sturgeon, who became the first woman to lead Scotland when she took power in 2014, vowed to continue pushing for Scottish independence while defending her record on the touchstone issue.

"I firmly believe that my successor, whoever he or she may be, will lead Scotland to independence and I'll be there cheering him or her on every single step of the way," she said.

Sturgeon has overseen unprecedented electoral success for the SNP as she pushed for another referendum.

She took over in the aftermath of the last vote, which saw Scots reject breaking away from the rest of the UK by more than 10 percentage points, and has been doggedly pushing for another vote.

But she has been recently stymied by the UK government, which must approve the holding of another referendum.

It insists that the September 2014 vote was a once-in-a-generation event and has refused to allow another, despite Scotland voting against Brexit in 2016.


Backtrack


In 2021, the SNP won a fourth consecutive term in power in Edinburgh on a platform of holding a new independence referendum after Brexit, recording the largest share of the popular vote.

But it fell one short of an outright majority, and allied with the Greens to stay in power.

Scotland's parliament and its ruling executive were formed in 1999 under devolution reforms created by the Labour government in London at the time.

But since 2021, the push for independence has stalled, with a flurry of recent opinion polls showing declining support in Scotland for breaking away.

Some critics, even within the SNP, have blamed Sturgeon for failing to deliver a winning strategy on the issue after the Supreme Court in November sided with the UK government in blocking a fresh vote.

She has also faced a backlash over her support for transgender rights, after becoming embroiled in a row over whether transgender women can be housed in all-female prisons.

Despite that, as recently as last month she insisted she would remain first minister, telling the BBC she was "nowhere near" ready to quit after Jacinda Ardern's shock departure as New Zealand prime minister.

Sturgeon said Wednesday that she would not publicly back her preferred successor, with finance secretary Kate Forbes among the leading names to stand.