Heavy snow overnight has brought treacherous conditions to parts of the UK with motorists in affected areas warned to only travel if essential.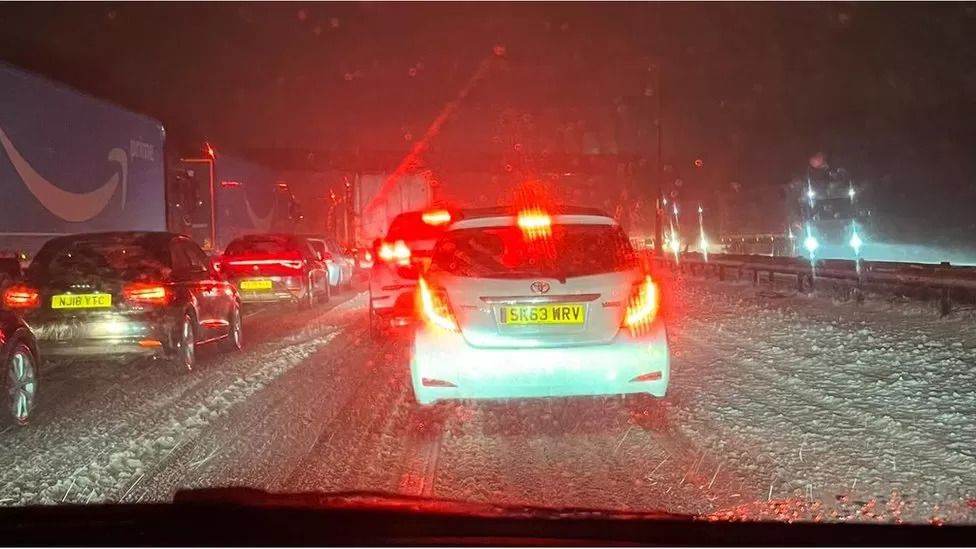 Traffic on the M62 trans-Pennine motorway ground to a halt after snow swept in
Three amber warnings are in place for the Peak District, Pennines, North Wales and parts of Northern Ireland until Friday afternoon.

Some areas may see 50mph winds and 40cm (1ft 3in) of snow as blizzards cause "significant disruption".

Heavy snow has caused long delays on the M62 trans-Pennine motorway.

Drivers reported stationary traffic on the eastbound carriageway between Rochdale in Greater Manchester and Huddersfield in West Yorkshire.

National Highways said two lanes had been closed between junctions 20 and 22, causing around six miles of congestion.

Dozens of Twitter users described spending hours stuck in standstill traffic early on Friday morning.

Motorist Kelvin Charles told the BBC he and his partner had been stuck near Saddleworth for more than an hour and that, as of 02:00 GMT, there were "no signs as to when we're going to get off".

He said the hard shoulder had been cleared by a snow plough but strong winds meant it was quickly covered again with snow.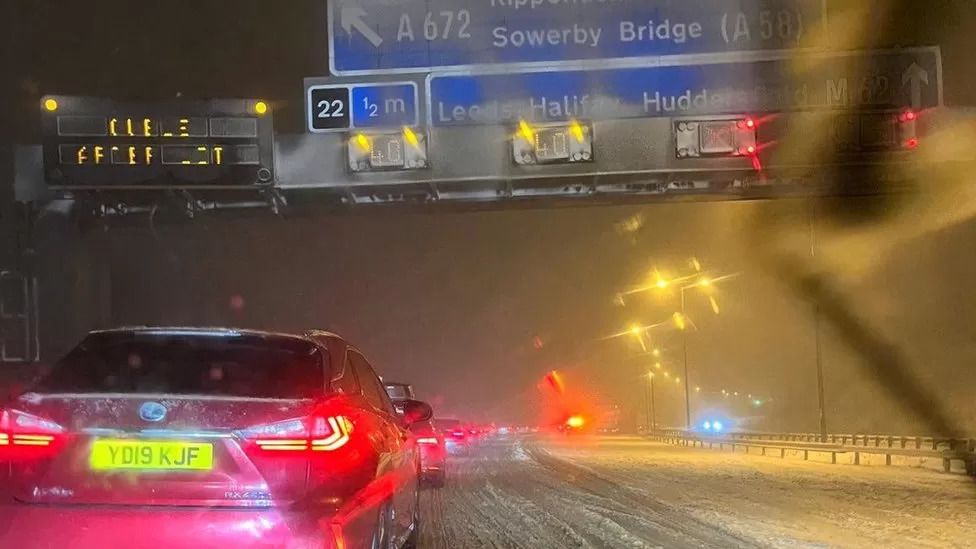 The M62 is in the area subject to the Met Office's severe weather warning for snow

He also described some motorists becoming impatient and attempting to drive through the snow on the lanes that had been closed.

David Stubbins set off from Wigan at around 23:00 GMT for a journey to Wakefield that he expected would take an hour and 10 minutes. As of 02:10 GMT, he was stuck near Rochdale and didn't expect to arrive before 04:00.

"We've just been stationary for pretty much over an hour now," he said. "The gusts [of wind] are just crazy. They're rocking the van I'm in all over the place.

"Luckily I've got some crisps and some water and a lot podcasts, and hopefully that'll see me through the night."

A severe weather warning from National Highways remains in place across the North East, Midlands, and North West until 08:00 GMT on Friday.

Temperatures overnight were expected to match Wednesday's, the coldest of the year so far, before falling further on Friday night.

Met Office meteorologist Alex Burkill said that in places covered by amber warnings, there would be "very difficult, treacherous conditions".

"Ideally, avoid travelling in those periods - but if you have to head out then be aware that journeys could take significantly longer," he added.

BBC weather forecaster Billy Payne said blizzard-like conditions could occur later on Friday as east to north-easterly winds strengthen, particularly over high ground.

"This could of course make travel more difficult with snow piling up more in some areas," he added.

The winter weather has been named Storm Larisa by the French weather service.

Hundreds of schools across the UK had to close because of the conditions on Thursday.

Forecasters say there could be further sleet and snow at the weekend and yellow warnings are in place for northern England and Scotland until Sunday morning.

Similar warnings covering southern England, Northern Ireland, and the most northerly areas of Scotland are due to end at 10:00 GMT on Friday.

Milder air is forecast for Sunday into Monday when a thaw will begin and conditions will start to improve.

Amber weather warnings are issued when there is more chance of severe weather potentially causing disruption to everyday life, according to the Met Office's website.

They are used to warn of travel delays on the roads and railways, as well as power cuts.

People travelling on Thursday evening were warned to expect delays on both rail and road, with Travel South Yorkshire saying public transport was "severely disrupted across the region".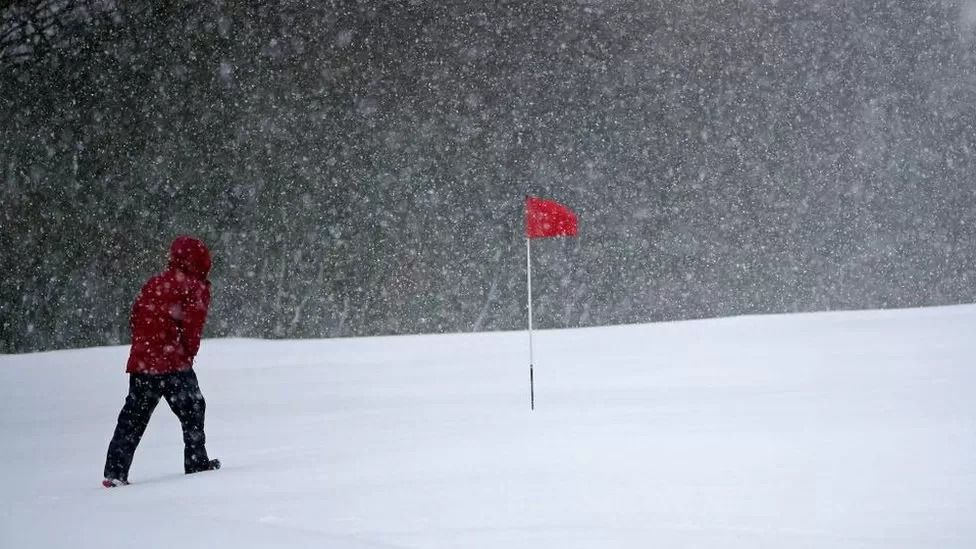 Heavy snow in the North West on Thursday is expected to continue overnight

Merseyrail said the first trains on Friday would be cancelled due to the weather conditions.

Meanwhile, National Highways said it had closed the A66 between Bowes in County Durham and Brough in Cumbria in both directions, while the A628 Woodhead Pass in Derbyshire was closed in both directions for about 14 miles between Flouch, South Yorkshire, and Hollingworth, Greater Manchester.

Derbyshire County Council added it had closed six roads, with many minor roads also impassable.

The wintry conditions have caused at least 270 schools to shut in Wales so far, affecting pupils in Denbigh, Flintshire, Powys, Blaenau Gwent and Torfaen.

And in the West Midlands at least 250 schools closed, with hundreds more elsewhere shutting early on Thursday as the amber warnings came into force.

Air passengers are being advised to check with their airlines for the most up-to-date flight information.

The RAC said there had been 50% more breakdowns than usual in the worst affected areas - with some drivers stuck in the snow in parts of South Yorkshire and Wales.

"Given the weather, we recommend thinking carefully before setting out," RAC spokesman Rod Dennis said. "With more snow forecast, things are likely to get worse on the roads before they get better."