Andy Montgomery, his wife and daughters, 11 and 13, got up at 3am on Monday to get to Gatwick in good time for their flight to Rome.
But he isn't going anywhere now, after his flight was cancelled and the airline couldn't find him an alternative.

"It's absolutely diabolical," he said.

The Montgomeries are just one of hundreds of families left with their holiday plans in tatters after flights were cancelled.

The low-cost airlines Vueling and easyJet, in particular, are facing a barrage of customer complaints online.

It was going to be the family's first trip by air since the pandemic began. But Andy said: "We've been put on one flight - cancelled. Put on another flight - cancelled. And then literally told we can't fly anywhere."

"We said we'll fly anywhere you can get us to," he said. "[But] there are no flights anywhere for three days."After two years of restrictions, air travel is enjoying a post-pandemic bounce-back but airlines and airports are struggling to keep up with higher levels of demand after cutting thousands of jobs during lockdown.

Passenger numbers are still below pre-Covid peaks. But with school half-term holidays coinciding with the extra Jubilee bank holiday, airports are now busier than at any point since before the pandemic.

Over the weekend travellers at Gatwick, Bristol and Manchester airports faced long queues for check-in desks, security, and boarding.

Tui and EasyJet cancelled dozens of flights to try to ease the pressure.

Vueling, part of IAG which also owns British Airways, said "several operational issues" had affected its flight schedules on Friday, with a knock-on effect over the weekend.

"We always strive to offer a timely service, however, if this isn't possible our priority is to organise the best alternatives for our customers," said Vueling.

"Our team at Gatwick worked diligently to resolve these issues and our customer service team is in touch with those affected by the delays".

A spokesperson for Gatwick airport said there had been some difficulties over the weekend, but "not to the extent of the disruption that has been reported".

James, his wife and three children aged 16, five and two, were due to fly from Gatwick to Valencia on a 20.10 flight with Vueling on Saturday.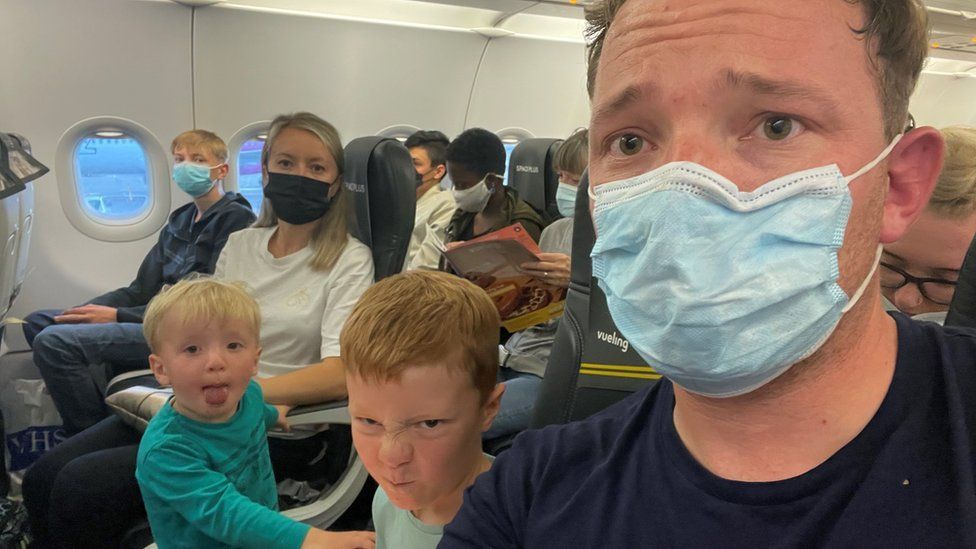 James, his wife and three children were told at the gate their Vueling flight has been cancelled

But they were told at the gate they couldn't board the flight because it was full.

Not happy with the idea of waiting for an early morning flight to a different Spanish airport, they spent £330 on a taxi home, and eventually flew out on Sunday evening 24 hours later than planned.

"It was gutting, very stressful, particularly for the children who were very distressed," said James.

Other customers who opted to wait in the airport said restaurants closed at 8.30pm and they were left without anything to eat.

'Really poor'

Alan Black was supposed to be attending his nephew's wedding in Seville. He and his wife won't be there after his flight with easyJet was cancelled while they were waiting at the boarding gate.

"We tried very hard to get an alternative flight but as you can imagine everyone else has been trying to do the same," he told BBC Sussex.

The groom had lined up two best men for the wedding, but since both were booked on the same flight as Alan, they're also unlikely to make it.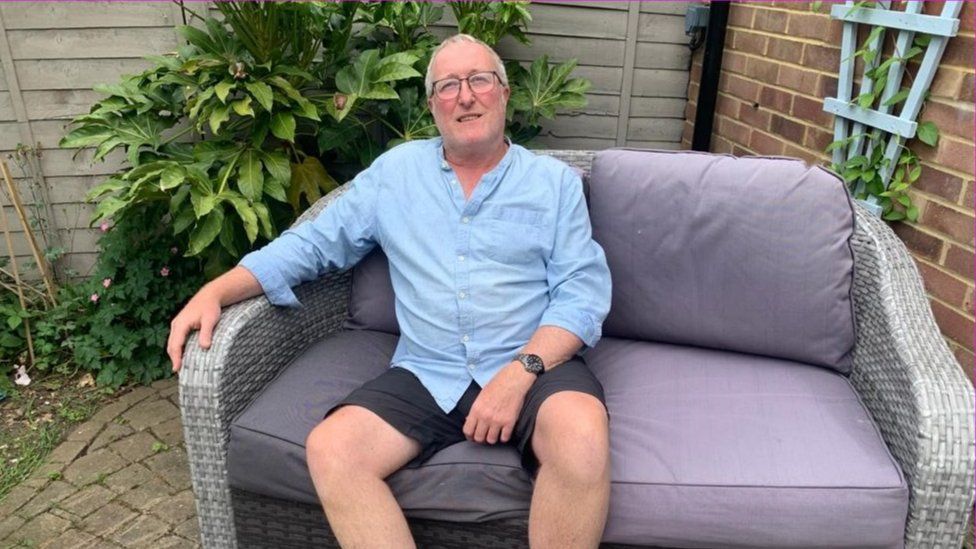 Alan Black will be holidaying at home after his easyJet flight was cancelled

He says the easyJet staff at the gate "knew pretty much nothing" and described customer services as "really poor".

EasyJet said at the weekend it had taken the decision to make advance cancellations over the half-term break because it believed it was "necessary to provide reliable services over this busy period".

It said passengers had been informed in advance and offered the chance to rebook or receive a refund.

A "rare cancellation" might take place without warning, said easyJet, due to "a live operational issue on that specific flight".

Airline sector expert John Strickland said the removal of the final Covid restrictions in March had come too late for the industry to feel confident about ramping up staffing levels.

"It's a structural challenge for the industry pretty much globally, to get back to [full] manpower levels," he told the BBC's Today programme.

Mr Strickland said it may be some time before the airlines can solve their staffing challenges.

"The level of pay on many of these frontline jobs that are so important to airlines, whether its security search, or check-in or baggage loading and so on, have always been pretty low. They're becoming less competitive now against other industries.

"Many of these jobs are physically and mentally demanding and so regardless of the pay... that pressure of day-to-day, dealing with the strain and getting the kick-back from passengers that are unhappy, means that it is going to be a structural question for the industry for the future."