Liz Truss's radical tax-cutting plan was "clearly" not the right approach, according to Grant Shapps, who briefly served in her short-lived government.
In a return to the political fray, Ms Truss wrote in the Sunday Telegraph that her economic agenda was never given a "realistic chance".

Business Secretary Mr Shapps said he agreed with Ms Truss on wanting lower taxes - but inflation must fall first.

"You can't just go straight to those tax cuts," he said.

In her 4,000-word essay, Ms Truss stood by her plans to boost economic growth, arguing they were brought down by "the left-wing economic establishment".

But she acknowledged she was not "blameless" for the unravelling of the mini-budget.

They are the first public comments the former PM has made on her resignation in October of last year.

Ms Truss resigned after she and her chancellor Kwasi Kwarteng introduced a £45bn package of tax cuts - including a cut to the top rate of income tax - which panicked the markets and alienated Tory MPs.

Mr Shapps was asked on BBC One's Sunday With Laura Kuenssberg show whether Ms Truss's approach had been the right one.

"Clearly it wasn't," he said.

He admitted that the UK's tax burden was currently "very high", and said he agreed with Ms Truss that Conservatives must be "making the good arguments" that a lower-tax economy can be successful in the long term.
But before the government cuts tax, it must first halve inflation, get "growth into the economy" and get debt "under control", he said.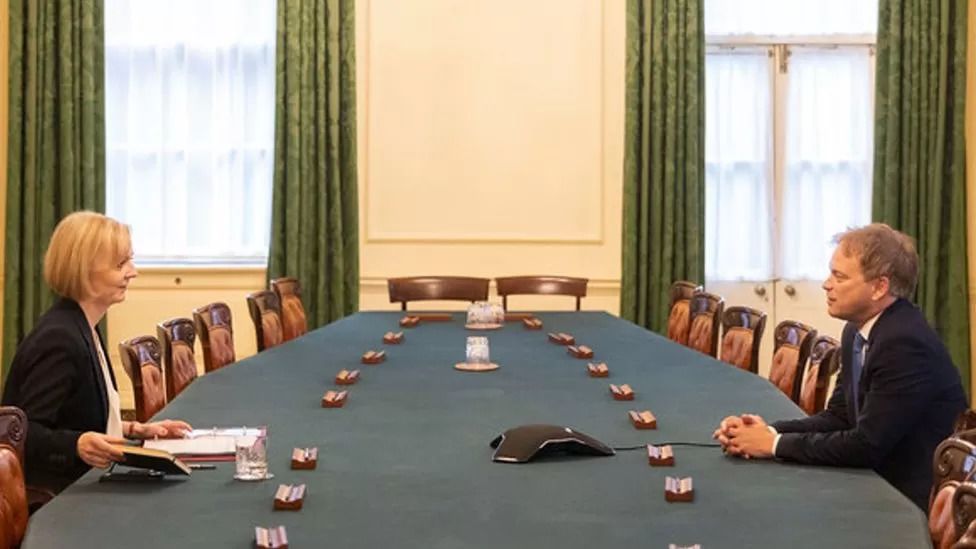 Grant Shapps was home secretary under Liz Truss for her final six days in office
He tried to avoid addressing Truss's criticism that the Conservative Party had failed, for years, to make the case for free-market economics with low taxes and low regulation.
Mr Shapps said he took the role of home secretary in the final days of Ms Truss's government out of a sense of "national duty", and that by that point "we'd seen the impact on the markets".
He replaced Suella Braverman, who resigned over two data breaches. Six weeks earlier, as Ms Truss entered Downing Street, she had fired Mr Shapps as transport secretary, a role he held under the former Prime Minister
Boris Johnson
.
Ms Truss's brief time in power - 49 days - made her the shortest-serving prime minister in UK history.
In her essay, Ms Truss said that while her experience last autumn was "bruising for me personally", she believed that over the medium term her policies would have increased growth and therefore brought down debt.
She argued that the government was made a "scapegoat" for developments that had been brewing for some time.
"Frankly, we were also pushing water uphill. Large parts of the media and the wider public sphere had become unfamiliar with key arguments about tax and economic policy and over time sentiment had shifted leftward," she wrote.
She also said she had not appreciated the strength of the resistance she would face to her plans - including plans to abolish the 45p top rate of income tax.
"I assumed upon entering Downing Street that my mandate would be respected and accepted. How wrong I was."
Mr Kwarteng dropped the 45p income tax proposals 10 days after they were announced, telling the BBC it was "a massive distraction on what was a strong package".
Less than a fortnight later, Ms Truss sacked Mr Kwarteng, something she said she was "deeply disturbed by". She described Mr Kwarteng in her essay as "an original thinker and a great advocate for Conservative ideas" - but that it was clear the tax proposals could not survive.
With the benefit of hindsight, she would have acted differently during her premiership, she wrote - but she still backs her plans for growth.
Sir Jake Berry, who was Conservative party chairman under Ms Truss, said he agreed with her assessment of the problems facing the UK economy, but "not necessarily the cure".
Speaking on the Sunday With Laura Kuenssberg show, he added that Ms Truss had been wrong to say the Conservatives had failed to make the argument for lower taxes.
Meanwhile, shadow chancellor Rachel Reeves said Ms Truss's policies "made working people pay the price".
"The Conservatives crashed the economy, sank the pound, put pensions in peril and made working people pay the price through higher mortgages for years to come.
"After 13 years of low growth, squeezed wages and higher taxes under the Tories, only Labour offers the leadership and ideas to fix our economy and to get it growing."
While Ms Truss resigned as prime minister, she is still serving in parliament as the MP for South West Norfolk.
Watch: Liz Truss' approach 'clearly' not right - Shapps