The UK government has asked Olympic sponsors to support a ban on Russian and Belarusian athletes taking part in the 2024 Paris Games.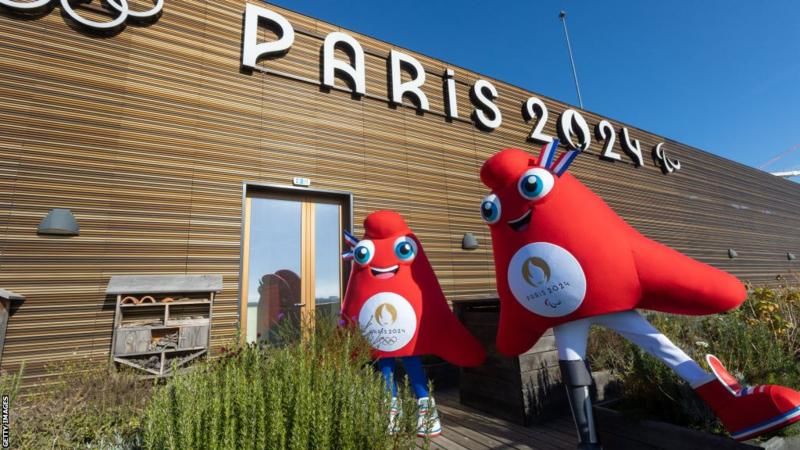 The 'Phryges' mascots for the 2024 Paris Games are based on a traditional French hat that has become a symbol of freedom
It follows a commitment by the International Olympic Committee to ""explore a pathway" for the countries' athletes to compete as neutrals.

Culture Secretary Lucy Frazer made the call in a letter to UK chief executives of the IOC's 13 worldwide partners.

"Join us in pressing the IOC to address the concerns raised," she wrote.

Frazer chaired a summit in February of 36 countries, including France and the United States, that released a joint statement pledging their support for an ongoing ban on Russian and Belarusian athletes competing in international sporting events.

Ukraine, which was not part of the summit, has threatened to boycott the Paris Olympics if the IOC allows Russian athletes to compete.

"Having hosted the Games in London in 2012 we know what an incredible event it is to be involved in, and we appreciate how vitally important the sponsors are to the Games' successful delivery," wrote the Culture Secretary to companies including Coca-Cola, Intel, Samsung and Visa.

"We know sport and politics in Russia and Belarus are heavily intertwined, and we are determined that the regimes in Russia and Belarus must not be allowed to use sport for their propaganda purposes."

The IOC called on federations to exclude athletes from Russia and Belarus following the invasion of Ukraine and banned the nations from the Winter Paralympics in March 2022 - though athletes were allowed to compete under a neutral flag.

IOC president Thomas Bach said that initial decision was made to protect the athletes and in December claimed the organisation faced a "big dilemma" in ensuring athletes do not suffer as a result of sporting sanctions.

The IOC argued in February that the Games could "inspire us to solve problems by building bridges", but said no decision had been made on what practical steps it would take to allow Russian and Belarussian athletes to compete.

Frazer has now urged sponsors to press the IOC on this issue before such plans are put in place.

"As long as our concerns and the substantial lack of clarity and concrete detail on a workable 'neutrality' model are not addressed, we do not agree that Russian and Belarusian athletes should be allowed back into competition," she wrote.

"Noting the IOC's stated position that no final decisions have been made, we have strongly urged the IOC to address the questions identified by all countries and reconsider its proposal accordingly.

"As an Olympic partner, I would welcome your views on this matter and ask you to join us in pressing the IOC to address the concerns raised in our statement."