The government is expected to announce hundreds of millions of pounds of support to help Britain's two biggest steelmakers go green.
The funding for British Steel and Tata Steel UK is likely to be unveiled by the Chancellor, Jeremy Hunt, this week.

Each is expected to receive around £300m of grants to help pay for a switch away from coal-fired blast furnaces and help with energy costs.

It will also protect thousands of jobs in Britain's industrial heartlands.

But the announcement will be controversial given the tough line the government is taking on pay settlements for public sector workers including nurses and ambulance drivers.

Central to the offer of support are the companies' blast furnaces. These use vast quantities of coking coal, a treated form of coal, to smelt iron from ore-bearing rock. As a result they produce huge amounts of carbon dioxide, which drives global warming.

The Department for Business, Energy and Industrial Strategy told the BBC it was working closely with the steel industry to secure what it describes as "a sustainable and competitive future". Sources told the BBC last week that a £300m funding package was being considered for British Steel.

This follows a request by British Steel, which is owned by Chinese company Jingye, for hundreds of millions of pounds of grants to prevent the closure of its blast furnace at Scunthorpe in Lincolnshire.

However, sources close to Tata Steel, the Indian-owned company which runs the UK's largest steel plant in Port Talbot in South Wales, say £300m may not be enough to persuade it to make the vast investment needed.

Internal company estimates are understood to put the cost of switching the company's Port Talbot works to producing emissions-free "green steel" at up to £3bn.

One industry expert said an offer to cover 10% of the costs may not be sufficient.

A deal needs to come soon, the head of the Unite Union, Steve Turner, has told Business Secretary, Grant Shapps.

The steel industry is "a whisker away from collapse" Mr Turner said in a letter last week.

Foreign competition

Last year Tata warned it could be forced to close its UK operations if it did not receive support to help it move to less-carbon intensive production. Henrik Adam, the CEO of Tata's operations in Europe, has told the BBC the company needs "the same support" as its competitors abroad.

He said government investment was necessary to help the Port Talbot works transition to the production of green steel. He said on-going assistance was also needed to ensure energy costs were similar to those of its rivals, particularly in Europe.

The UK can not depend on steel from abroad, he warned. "Recent geopolitical events" have shown the risks of relying on imports only, said Dr Adam.

Tata produces about 3.6m tonnes of steel a year in the UK, a process which uses enough energy to power more than 600,000 UK homes.

It has a correspondingly huge carbon footprint. The Port Talbot plant is responsible for 2% of UK carbon emissions and more than 15% of Wales' emissions.

It has long been recognised that traditional steel production, with its reliance on coal to produce iron, is not compatible with the UK's legally binding commitment to massively reduce CO2 emissions in the coming decades.

There are two main options for the production of low-carbon or "green steel". A plant in Sweden is already making iron using hydrogen instead of coal. But to do so in the UK would require a huge investment in green hydrogen to ensure supplies of the gas from renewable sources.

The more likely option for the two UK plants is a switch to electric arc furnaces. These could recycle the large amount of scrap steel the UK produces and could be powered by electricity from renewable sources.

Both options would mean the future of British steel won't involve coal, says Tata's Henrik Adam. That raises questions about another aspect of the government's industrial policy, the viability of a proposed new coal mine in Cumbria.

West Cumbria Mining, the owners of the new mine, refused to comment on the implications of a switch to coal-free steel in the UK.

The government's cash is expected to be dependent on pledges of investment from the two steel companies and a guarantee that their plants will continue to operate to 2030.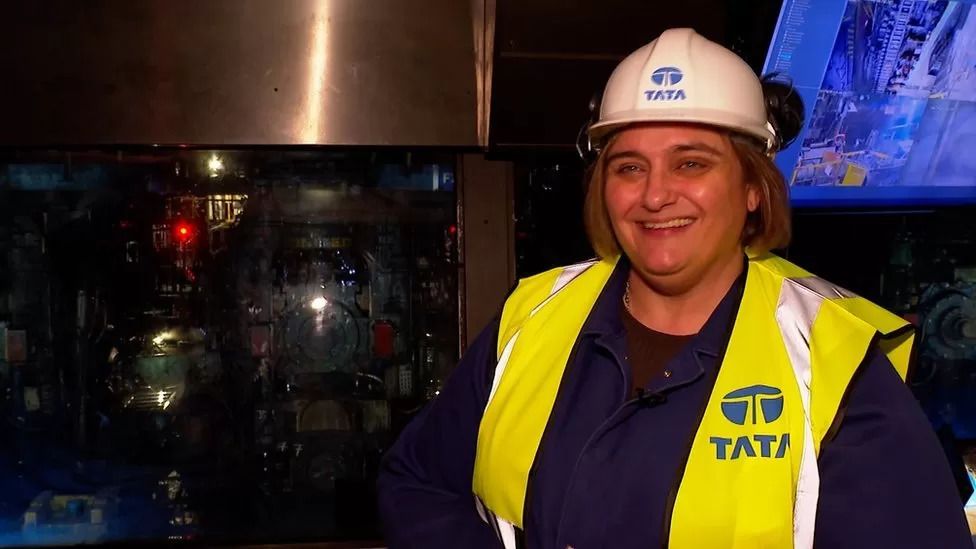 Tata's Laura Baker: 'We can really be part of the UK's net zero future'

Workers at the Tata plant say they are optimistic about the plans for low-carbon production.

"It is so exciting to think about the future of this plant and the impact that we can have on decarbonisation for the whole of the UK", said Laura Baker, who creates the "recipes" that ensure the steel made in the Port Talbot plant meets the precise requirements of its customers.

"Our customers are really wanting us to decarbonise so that they can decarbonise their own supply chains', she said.

But should hundreds of millions of pounds of taxpayers' money go to help private companies like Tata and British Steel upgrade their facilities?

"I think there is a role for government to provide targeted support in the first stages of a completely new technological deployment", said Lord Adair Turner, the chairman of the Energy Transitions Commission, a group of business leaders who want to speed up the decarbonisation of the global economy.

"We can't be purist about this, the US is now doing this on a massive scale", he said, referring to the Inflation Reduction Act which involves almost $400bn of funding for low-carbon energy and climate change.