Rishi Sunak has praised the "bravery, perseverance and political imagination" shown by the leaders who shaped Northern Ireland's peace deal.
The 1998 Good Friday Agreement ended Northern Ireland's decades-long violent conflict known as the Troubles.

But on its 25th anniversary the PM has called on Stormont politicians to "get on with the business of governance".

To mark the milestone date, Mr Sunak will welcome US President Joe Biden to Belfast on Tuesday evening.

Praising the Good Friday Agreement, Mr Sunak said it was "born of partnership between the British and Irish governments".

"As we will see from President Biden's visit this week, it continues to enjoy huge international support from our closest allies," he said.

"But most importantly it is based on compromise in Northern Ireland itself.

"We will celebrate those who took difficult decisions, accepted compromise and showed leadership - showing bravery, perseverance, and political imagination.

The PM said it was important to remember "the many who lost their lives by trying to prevent violence and protect the innocent".

"We give thanks to them as we reflect on the new generations that have grown up... in a world in which peace and prosperity has prevailed," he said.

On Monday, security measures were put in place in Belfast city centre ahead of President Biden's visit. Police say there is no vehicular access to James Street, Franklin Street, Bedford Street and Clarence Street West until Wednesday afternoon.

In the Republic of Ireland, gardaí (Irish police) have said President Biden will arrive at and depart Dublin Airport at various times over the course of his visit. They advised travellers to allow additional time for arrival at the airport "due to possible rolling road closures, particularly late Wednesday and early Friday".

Police in Northern Ireland have said their resources will be stretched this week as they cover the visit and parades by dissident republicans.

Last week, senior officers said they had "very strong intelligence" that dissident republicans were planning attacks to coincide with Good Friday Agreement events.

Northern Ireland Secretary Chris Heaton-Harris said he was "concerned... and very wary" about the dissident republican threat.

But while the peace in the region was "fragile and imperfect" he said it had been "pretty good".

"The peace is still fragile and we've seen various incidents over the last few weeks and months that have demonstrated that, but the vast majority of people across Northern Ireland have moved on," he told BBC Radio Ulster's Evening Extra programme.

"There are a small group of people who are causing all sorts of issues and we need to root them out and we need to make sure they are dealt with appropriately."

Mr Heaton-Harris said the agreement had "significantly changed the landscape" with regard to Northern Ireland.

'We must fulfil agreement's promise'

When Northern Ireland was created in 1921 it remained part of the UK while the rest of Ireland became an independent state.

That created a split in the population between unionists, who wish to see Northern Ireland stay within the UK; and nationalists, who want it to become part of the Republic of Ireland.

From the late 1960s until 1998 - a period known as the Troubles - thousands of people were killed and injured as violence flared between the two sides.

Mr Sunak said that while it was important to reflect on the progress made since the peace deal "we must also recommit to redoubling our efforts on the promise made" in 1998.

"One of economic opportunity, prosperity and stability - it is a promise we must continue to fulfil," he said.

Northern Ireland has been without a power-sharing government since February 2022, when the Democratic Unionist Party (DUP) collapsed the Stormont executive.

The DUP is boycotting Stormont in protest against post-Brexit trade rules agreed between the UK and the EU.

The Windsor Framework, which was adopted last month, is designed to make trade between Northern Ireland and the rest of the UK easier.

But the DUP believes it cuts Northern Ireland off from the rest of the UK, and it voted against a key aspect of the deal.

Mr Sunak said there was "work to be done" to get the political institutions "up and running again as soon as possible".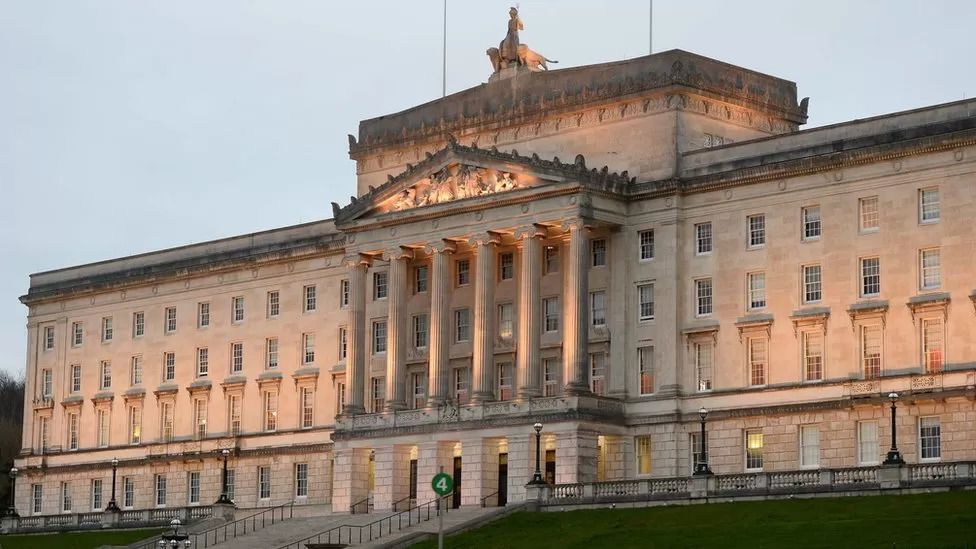 Northern Ireland's ruling executive at Stormont has not functioned for over a year

Taoiseach (Irish Prime Minister) Leo Varadkar said he planned to "intensify" engagement with Mr Sunak on the Windsor Framework and power-sharing in Northern Ireland.

He said history shown that political stability in the region depended on the Irish and UK governments working "in lock-step".

But "no-one knows" when power-sharing will be restored at Stormont, according to the Northern Ireland secretary.

"Anybody who was predicting a date by which the executive would go back in Northern Ireland would be someone who could also sell you a four-leaf clover," said Mr Heaton-Harris.

"Deadlines are deadly in Northern Ireland terms."

On Monday, the Pope marked the anniversary of the Good Friday Agreement and offered a prayer for peace in Northern Ireland.

This was welcomed by the leader of the Catholic Church in Ireland, Archbishop Eamon Martin.

What will Joe Biden do in Belfast?

Rishi Sunak will welcome the US president to Northern Ireland on Tuesday evening.

President Biden is due to make a speech at Ulster University's newly-opened £350m Belfast campus on Wednesday.

He will also address business and civic leaders and may speak to political parties.

His visit to Northern Ireland will be shorter than many people had expected when it was first announced last month.

It is understood that he will leave Northern Ireland on Wednesday afternoon to travel to the Republic of Ireland.

Public transport operator Translink said its passengers in Belfast should expect disruption, diversions and delays to bus services during Mr Biden's time in the city.