Glastonbury Festival might have to change its drug testing policy as part of a review of its licence.
The licence for the event, at Worthy Farm in Somerset, includes a management plan aimed at keeping attendees safe.

As part of the plan, drugs surrendered or confiscated on site are tested by a private company, and overall figures on seizures are not given to the police.

Police called for a policy change, with Mendip councillors agreeing the issue should be explored at a licence review.

Addressing the licensing board at Mendip District Council, Pete Collins, drug expert lead at Avon and Somerset Constabulary, said: "The festival use the services of a licensed private company to carry out what they call back-of-house testing there.

"Believe it or not, but the seizure of drugs is not something that's disclosed to us - the data is owned by the Glastonbury Festival."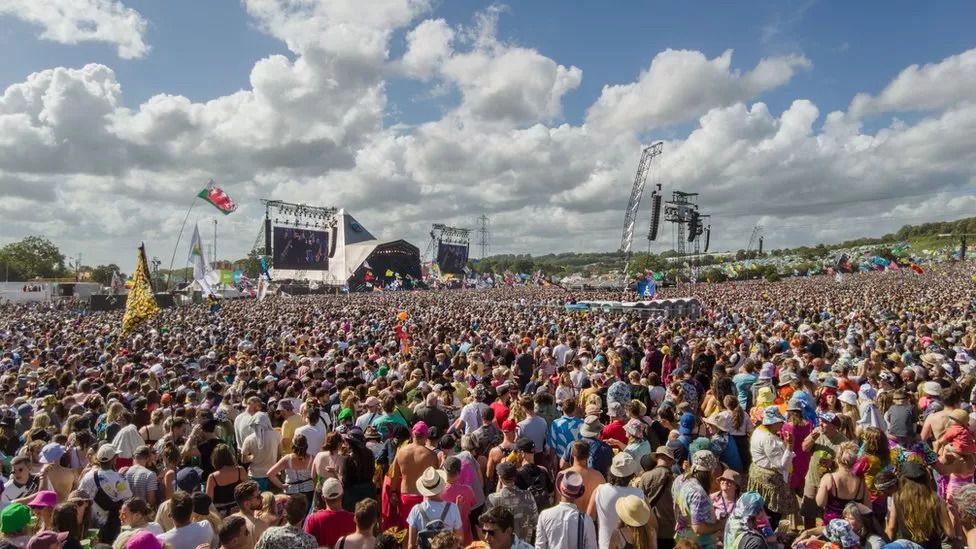 Selling fewer tickets might help with drug seizures, a police spokesman said

Under the current system, police will arrest people within the festival site for supplying or attempting to supply drugs - and these figures are recorded within the official police statistics.

However, information about drugs dropped into amnesty bins or seized by festival security staff does not form part of official police investigations.

Councillor Simon Carswell suggested Glastonbury should be compelled to release drug seizure figures as part of its licence, according to the Local Democracy Reporting Service.

Mr Collins said that having more security staff on-site - or selling fewer tickets - would lead to more drugs being seized.

Councillor Francis Hayden said he favoured front-of-house testing at festivals, where people could get drugs tested before entering to ensure they were safe.

However, Andy Battle, the Glastonbury Festival head of security, told the board in April that he did not believe such an approach would be effective.

The board agreed to discuss the licence at its next meeting in February.