Gary Lineker appears to be throwing some subtle shade at the BBC with his new Twitter profile photo.
Over the past week, the Match of the Day presenter has been embroiled in a dispute with his bosses at the national broadcaster after he made comments on social media criticising the Conservative government and its Illegal Migration Bill.

His post compared language used around the Home Office's migrant boat policy to Nazi Germany, sparking both widespread praise and criticism.

After being made to step back from presenting his programme following an impartiality row, it also sparked other presenters to boycott in solidarity.

On Monday it was confirmed Lineker would be returning to his hosting duties this weekend, but a change to his profile photo appears to suggest he is still wanting to make his voice heard on the matter.

The former professional footballer, who has presented Match of the Day since the late 1990s, has uploaded a new photo to Twitter.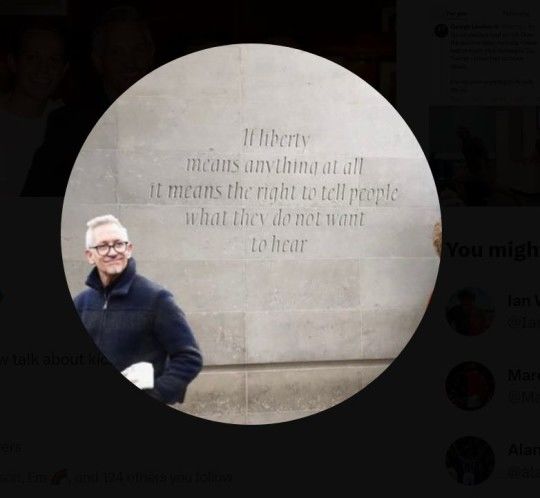 The presenter posed in front of the George Orwell quote outside the BBC offices

In it, he is seen in front of a plaque that quotes George Orwell.

It reads: 'If liberty means anything at all it means the right to tell people what they do not want to hear.'

The plaque is part of a memorial to the writer outside the BBC's Broadcasting House in London, which also includes a statue of its former employee, who worked there during the Second World War but eventually left to focus on writing Animal Farm.

Erected in 2017, the project had initially stalled when it was reportedly rejected by the broadcaster because it was not supportive of celebrating 'one of their more contrarian former employees', as reported by The Guardian.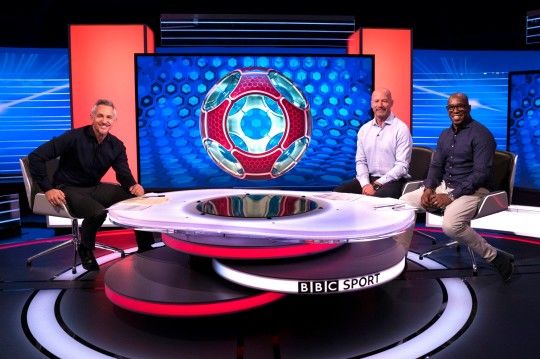 Lineker has presented Match of the Day since 1999

In a statement released on Monday, Tim Davie, the BBC's director-general, said he was 'looking forward' to Lineker 'presenting our coverage this coming weekend'.

'Gary is a valued part of the BBC and I know how much the BBC means to Gary,' he also said.

Lineker added: 'I am glad that we have found a way forward. I support this review and look forward to getting back on air.'

Taking to Twitter to sum up his thoughts, Lineker also thanked his colleagues for their show of support.

'After a surreal few days, I'm delighted that we have navigated a way through this.

'I want to thank you all for the incredible support, particularly my colleagues at BBC Sport, for the remarkable show of solidarity. Football is a team game but their backing was overwhelming.'

He also thanked Davie for his 'understanding during this difficult period'.