BBC News says talks are "moving in the right direction" but all issues are not "fully resolved"
Gary Lineker will return to Match of the Day next weekend as BBC management climbed down in the Twitter row, according to reports.

Lineker broke cover on Sunday to walk his dog but remained tight-lipped about the immigration Twitter row engulfing the broadcaster.

Pundits, players, producers and managers have boycotted the BBC after the host was stood down over a tweet in which he compared the government to Nazi Germany.

However, there is a growing confidence that Lineker will be back on screeen in time for next weekend's FA Cup fixtures, The Daily Telegraph reports.

The corporation is expected to announce that it is reviewing its guidelines on the use of social media in the wake of the controversy.
In return, it is believed that Lineker will agree to be more careful about the content of

his tweets. He may also make some form of apology.

A BBC source told the newspaper things are "moving quickly", adding director general Tim Davie has been clear that he wants to resolve the situation and see the host back on air.

"Gary and his representatives have been in talks for a number of days and these are ongoing," they said.

Asked to comment on the Telegraph story, the BBC told the Standard it had nothing to add to previous statements.

Sky News understands a statement on the Lineker issue could come as early as Monday morning. Sources close to the presenter say they are increasingly confident the matter will be resolved to his satisfaction in the next 24 hours.

BBC News added talks are "moving in the right direction" but all issues are not "fully resolved" at this stage.

On Sunday, the Women's Super League match between Chelsea and Manchester United aired without pre-match presentation.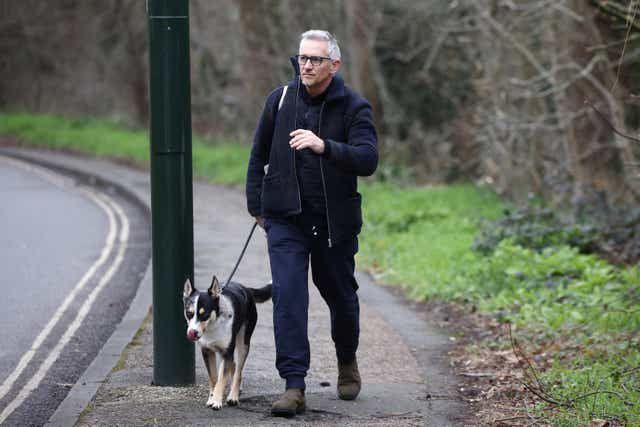 Match of the Day 2 is expected to follow a similar much-reduced format to Match of the Day which aired without commentary or punditry on Saturday.

Approached by reporters near his home in Barnes on Sunday Mr Lineker said: "I can't say anything."

He was asked "do you still want to work for the BBC?", "have you spoken to Tim Davie overnight?", "have you had discussions with BT or Sky?" and "is this the end of your presenting career?", but provided no response.

He was dressed in blue jeans, a blue zipped jumper and walking boots, and left for a nearby park.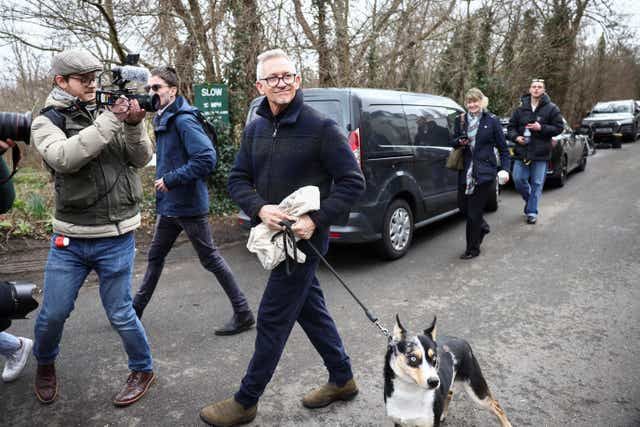 It comes after former Spurs star Jermain Defoe pulled out of punditry duties on Match of the Day 2.

Match of the Day was watched by 2.6 million viewers on Saturday, nearly half a million more than last week's show, which had an audience of 2.1 million, according to BARB overnight figures.

The BBC announced on Friday that it was temporarily removing Lineker from presenting duties after he criticised the government's migration policy in an apparent breach of impartiality guidelines.

The 62-year-old star tweeted: "There is no huge influx. We take far fewer refugees than other major European countries.

"This is just an immeasurably cruel policy directed at the most vulnerable people in language that is not dissimilar to that used by Germany in the 30s."

Former director-general Mark Thompson told Laura Kuenssberg that Lineker's tweet did breach guidelines.

But he added that Lineker's status as a sports presenter meant the row was a "grey area" and said the corporation must "strike the balance" when enforcing the rules.

"I think what the BBC has walked into is the 21st Century," Mr Thompson said.

"New behaviours, new public attitudes, new understandable attitudes from individuals - for example a freelancer like Gary Lineker - therefore there is a need to think carefully about where to strike the balance."

Lineker's suspension sparked a boycott from fellow pundits and presenters, with Ian Wright and Alan Shearer among those withdrawing from Saturday's MOTD broadcast.

Football Focus, Final Score and 5Live's Fighting Talk were unable to air.

In an interview with the Sunday Mirror, Gary Lineker's son George said that his father would not "back down on his word".

He said: "Dad is a good man, a good human, and I'm proud of him for standing by his word. That's why he was pulled off the show – because he wouldn't apologise. But he will always speak up for people who don't have a voice.

"He is passionate about helping refugee charities – he took in two refugees who he is still in touch with and trying to help.

"It means a lot to him to stand up for people whose only hope is to escape a country with only the clothes on their back. That's why he's been so firm.

"Will he go back to Match of the Day? I think so – he loves Match of the Day. But he won't ever back down on his word."

Former Tory chancellor George Osborne backed Lineker, criticising the rhetoric around asylum policy by some in his party.

"Personally I think some of the language used on immigration by some Conservatives – not all – is not acceptable," he told Channel 4's The Andrew Neil Show.

"I have a lot of sympathy for Tim Davie, the director-general, who's trying to maintain impartiality for the BBC in a partisan age. But it's all ended up in a bit of a mess."

On Satuday BBC director-general Tim Davie apologised for the disruption caused to the broadcaster's sports programming.

Speaking to BBC News in Washington, DC he said: "I'm very sorry for the disruption today. It's been a difficult day and I'm sorry that audiences have been affected and they haven't got the programming.

"As a keen sports fan, I know like everyone that to miss programming is a real blow and I am sorry about that. We are working very hard to resolve the situation and make sure that we get output back on air."

The director-general said that he would not go into too much detail about the discussions being had, but that "everyone wants to calmly resolve the situation".

"I would say Gary Lineker is a superb broadcaster. He's the best in the business, that's not for debate," he added.

"To be clear, success for me is: Gary gets back on air and together we are giving to the audiences that world-class sports coverage which, as I say, I'm sorry we haven't been able to deliver today."

Before match commentary from its two scheduled Premier League games this afternoon started on Radio 5 Live, commentator Alistair Bruce-Ball said: "I want to reiterate what we said ahead of our football coverage yesterday.

"I know you'll all appreciate this is a difficult time for BBC Sport and for all those who work in the department, and we hope it all gets resolved as soon as possible.

"It's been a very difficult decision to make personally, I can assure you it's not been taken lightly, but I'm a BBC staff member, I'm a radio commentator for this station and, just like yesterday, we are here to provide our football service to you, our audience."