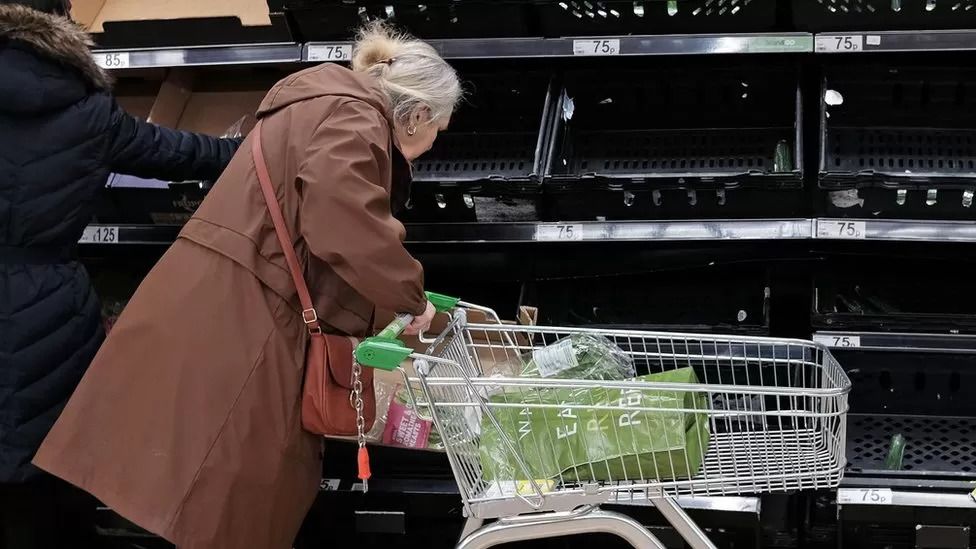 Fruit and vegetable shortages 'to last four weeks', says George Eustice
Shortages of some fruit and vegetables will last for three to four weeks, a former environment secretary has said.
George Eustice also insisted there was "nothing much" the government could have done to prevent empty shelves in supermarkets.

The government and industry have blamed bad weather in Spain and North Africa for the squeeze.

But chef and restaurateur Thomasina Miers warned the food system was "completely broken".

Major UK supermarkets have been placing limits on fruit and vegetable sales after shortages, and consumers have faced empty shelves in some shops.

There are shortages of tomatoes, peppers, cucumbers, salad bags, broccoli and cauliflowers.

Producers have warned that shortages could last until May, with the situation being made worse by UK growers delaying planting crops because of high energy costs.

But speaking on the BBC's Sunday with Laura Kuenssberg show, Mr Eustice said he expected the problems to last around "three-to-four-weeks".

He blamed a "cocktail of weather events" for the problems, and added that food prices were always closely linked to energy prices, which spiked due to the war in Ukraine.

He also said there was "not much different the government could have done in recent months" and "there's nothing they can do immediately" to avoid the problems affecting supply chains.

Mr Eustice said supermarkets have to "work to get it right" to ensure the disruption to supplies of some vegetables are restored.

He did acknowledge that action was needed "longer term".

"We should be committing to onshore production, so glasshouse production of cucumbers and tomatoes, we should be trying to build that here," he said.

But Ms Miers, who runs the Wahaca chain of restaurants, called for an overhaul of the government's approach to food.

Describing the UK's food system as "completely broken", she said: "There's a time bomb we are sitting on".

She warned: "If we think cucumbers and tomatoes are bad, we are looking at way worse in the next decade."

Ms Miers called for more investment in regenerative farming, and using technology to support farmers to move to more sustainable methods of food production.

But Mr Eustice defended the government's record, saying: "We've now got nearly half of farmers in what we call Countryside Stewardship doing exactly the sort of regenerative agriculture that Thomasina talks about."