French unions say they will call new protests over President Emmanuel Macron's pension reform next week to coincide with the visit of King Charles.
A lavish banquet at the Palace of Versailles hosted by President Macron could be moved or even cancelled as a furious backlash to the French leader's plans continues to gain momentum.

The president is facing intense public anger for pushing through a bill raising the retirement age to 64 without a vote in the French Parliament.

The move has seen Anti-Macron protests swell to an all-time high, with over 10,000 tonnes of rubbish lining the streets of Paris after binmen withdrew their labour.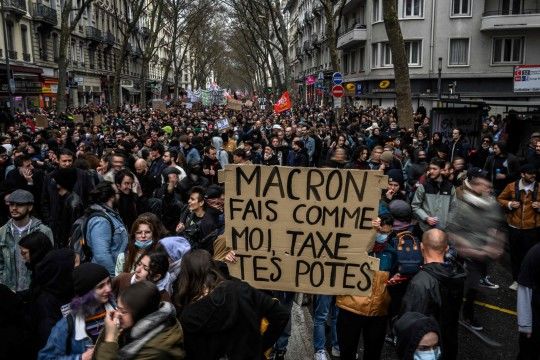 France has been rocked by furious protests following Emmanuel Macron's decision to raise the retirement age without a vote in parliament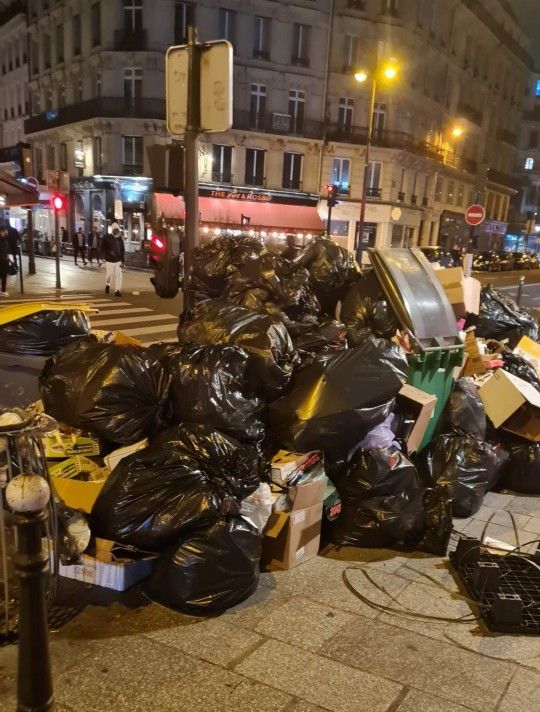 Over 10,000 tonnes of rubbish has been piled high as binmen in Paris have gone on strike

Observers say the optics could not be worse for both Charles and the president, with a Buckingham Palace source saying the situation 'was being monitored.'

Union representatives of French workers responsible for ceremonial trappings, like red carpets, have also said its members would not prepare a welcome for the King and Queen Consort when they arrive on Sunday.

'It's very bad timing. Normally the French would welcome a British king. But in this moment, people protesting are on high alert for any sign of privilege and wealth,' said Paris-based writer Stephen Clarke, the author of Elizabeth II, Queen of Laughs.

The King and his wife will travel to Paris this weekend then visit Berlin from March 29-31, during a trip which a source said previously was planned in an 'extraordinarily positive' atmosphere by all.

But French labour union CGT union announced this week that its members at Mobilier National, the institution in charge of providing flags, red carpets and furniture for public buildings, would not help prepare a Sunday reception for the king upon his arrival in Paris.

'We ask our administration to inform the services concerned that we will not provide furnishings, red carpets or flags,' a CGT statement read.

The Elysee Palace, the French president's official residence, has said non-striking workers would set up the necessary accoutrements for the trip.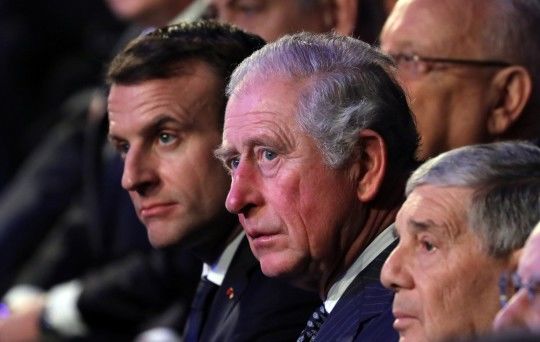 Buckingham Palace is monitoring the situation ahead of Charles' planned state visit this weekend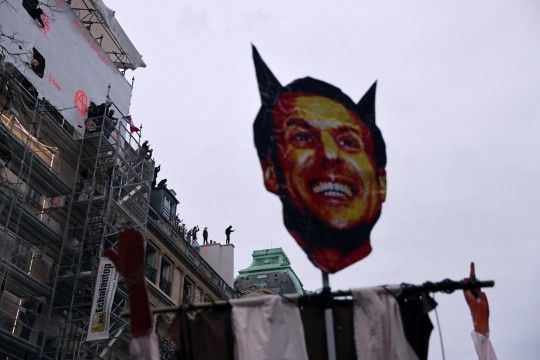 Protesters have been burning effigies of Macron in defiance of the ruling

Some opponents accuse the president of being out-of-touch, and Charles has come in for similar criticism as protests continued this week which could overshadow the royal tour if they continue.

Sandrine Rousseau, a lawmaker from France's Green Party, told French channel BFM TV: 'Unbelievable. We are going to have Emmanuel Macron, the Republican monarch, welcoming King Charles III in Versailles, while the people in the street are demonstrating.'

'Of course' the King should cancel his visit, she added.

Versailles – west of Paris – is where Louis XVI and Marie Antoinette, France's last proper king and queen, lived before being guillotined.

Meanwhile former presidential candidate and head of France's left-wing Anticapitalist Party Olivier Besancenot said Charles' visit would be met 'with a good old general strike,' adding: 'We are engaged in a battle, there will be a winner and a loser.'

Other parts of the king's three-day itinerary also appear to be in doubt, as tram drivers in the city of Bordeaux, to which he is due to travel on Tuesday, announcing that they are not willing to take Charles on a planned sightseeing trip of the town.

'It is almost certain that the King will not be able to take the tram,' warned Pascal Mesgueni, a representative of the CFTC union, in an interview with French media.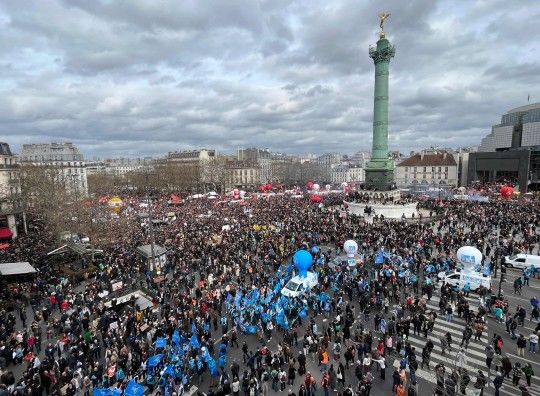 Union leaders have promised they will greet the King with 'a good old fashioned general strike'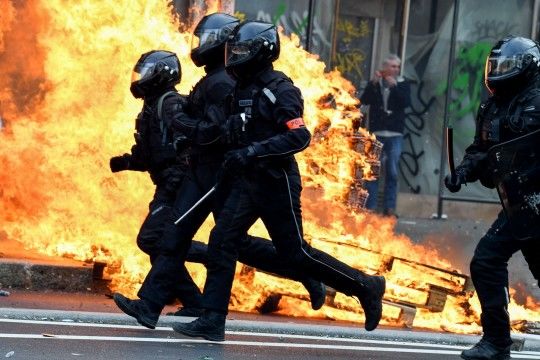 Over 790 arrests have been made so far

'No driver will want to transport the king.'

Perhaps more alarming for monarchists, however, might be a new chant which has become increasingly popular amongst protestors gathered around fires in the Place de la Concorde: 'Louis XVI, Louis XVI, they beheaded him; Macron, Macron, we can start again.'

Elsewhere throughout the city, refineries and ports have been blockaded, gas stations are running out of fuel, planes have been unable to take off, and 790 people have been arrested in Paris alone in the six days since the demonstrations started.

Macron's government survived two no-confidence votes at the lower chamber of parliament on Monday, and has indicated that the retirement bill will 'continue its democratic path'.

French newspaper Le Monde suggested the strikes could soon leave France 'on the brink of the unknown,' and deplored the burning of effigies of Macron on streets.

According to a recent survey, 56 percent of respondents said they supported rolling strikes, and 59 percent backed the call to bring the country to a standstill.

However, some 64 per cent of the French thought the government would pass the bill all the same.

'We're going to grin and bear it and wait for it to blow over,' one Macron aide reportedly told Le Parisien.