This was no ordinary year of A-levels - both in terms of exams and results.
The students receiving their grades on Thursday experienced three years of disrupted learning because of the pandemic.

And the story wasn't the same for everyone: the impact of school closures varied depending on things like how badly communities were hit by Covid, and how prepared schools were to handle the transition to remote learning.

It is a unique year, too, in that these A-level students had never taken public exams before this summer, after their GCSE exams were cancelled in 2020.

To counteract all of this disruption, special measures were introduced, such as advanced information about topics.

Bearing all of that in mind, here are five key takeaways from this year's results.

1. Top grades have fallen

The percentage of top A-level results for England, Wales and Northern Ireland has fallen since last year - 36.4% of exams were graded at A* or A, compared to 44.8% in 2021.

But that percentage is still higher than 2019 - which is when results were last based on public exams.

Some students are, of course, likely to be disappointed.

But the fall in top grades is also a reflection of a plan announced by England's exam watchdog, Ofqual, to bring grades back down from the sharp rises in 2020 and 2021, when exams were cancelled and results were based on teachers' assessments. Similar plans were put in place in Wales and Northern Ireland.

For those heading off to university, competition was toughest for the most academically selective universities and courses.

But overall, the university admissions service, Ucas, said that 65.3% of students who applied to UK universities were accepted by their first choice destination.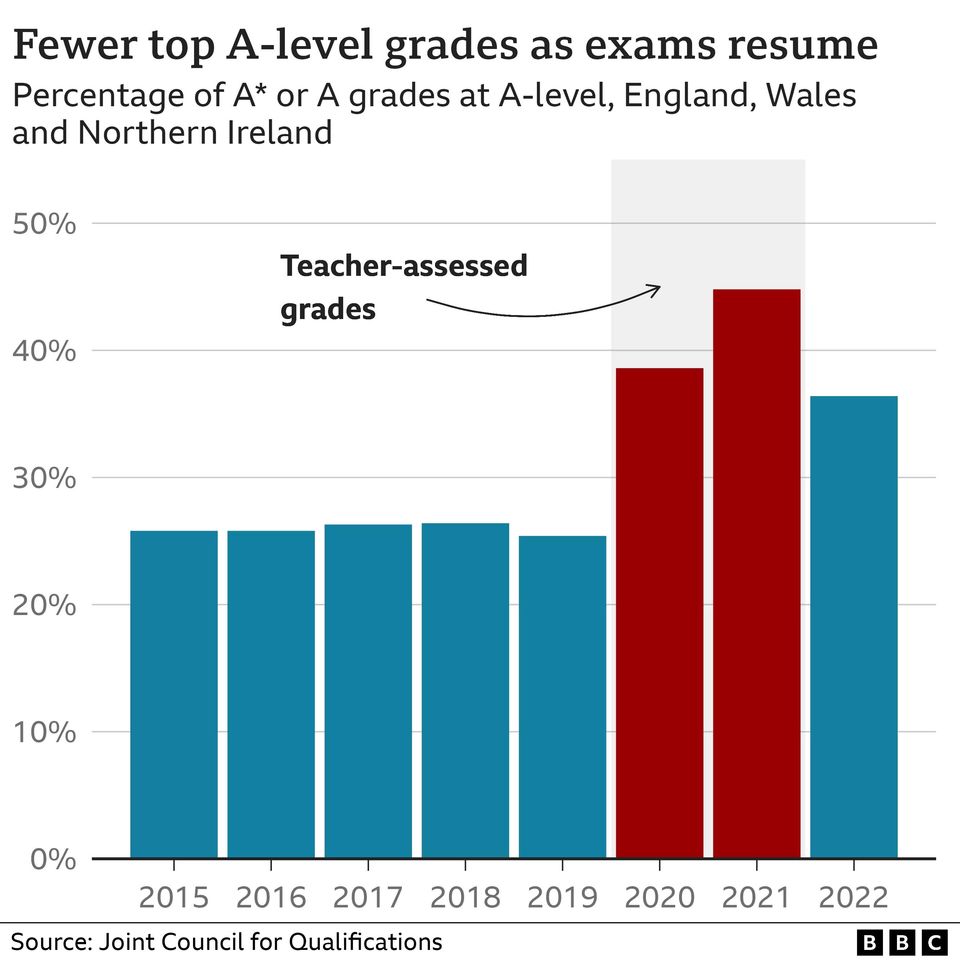 2. Differences between regions of England persist

In London, 39% of A-levels were graded A* and A, compared with 30.8% of exam grades in the north east of England.

Last year, it was 47.9% in London and 39.2% in the north east of England.

Students receiving their results on Thursday were part-way through Year 11 when the pandemic hit and schools closed during national lockdowns.

Further school closures followed while they were in Year 12, and many pupils also experienced disruption due to Covid at the beginning of Year 13 as well.

But the disruption did not affect everyone equally. Their experience varied depending on how different regions were affected by the pandemic, and how far schools and families were able to cope during closures.

Back in March, MPs said the "devastating" impact of England's school closures during the pandemic was leading to greater inequality.

Such was the impact in some areas, the Department for Education introduced catch-up tutoring to help those pupils who had fallen most behind.

Some support continues, but from September, cash to arrange tutoring will go directly to schools in England. Previously a company was employed by the government to match schools with tutors.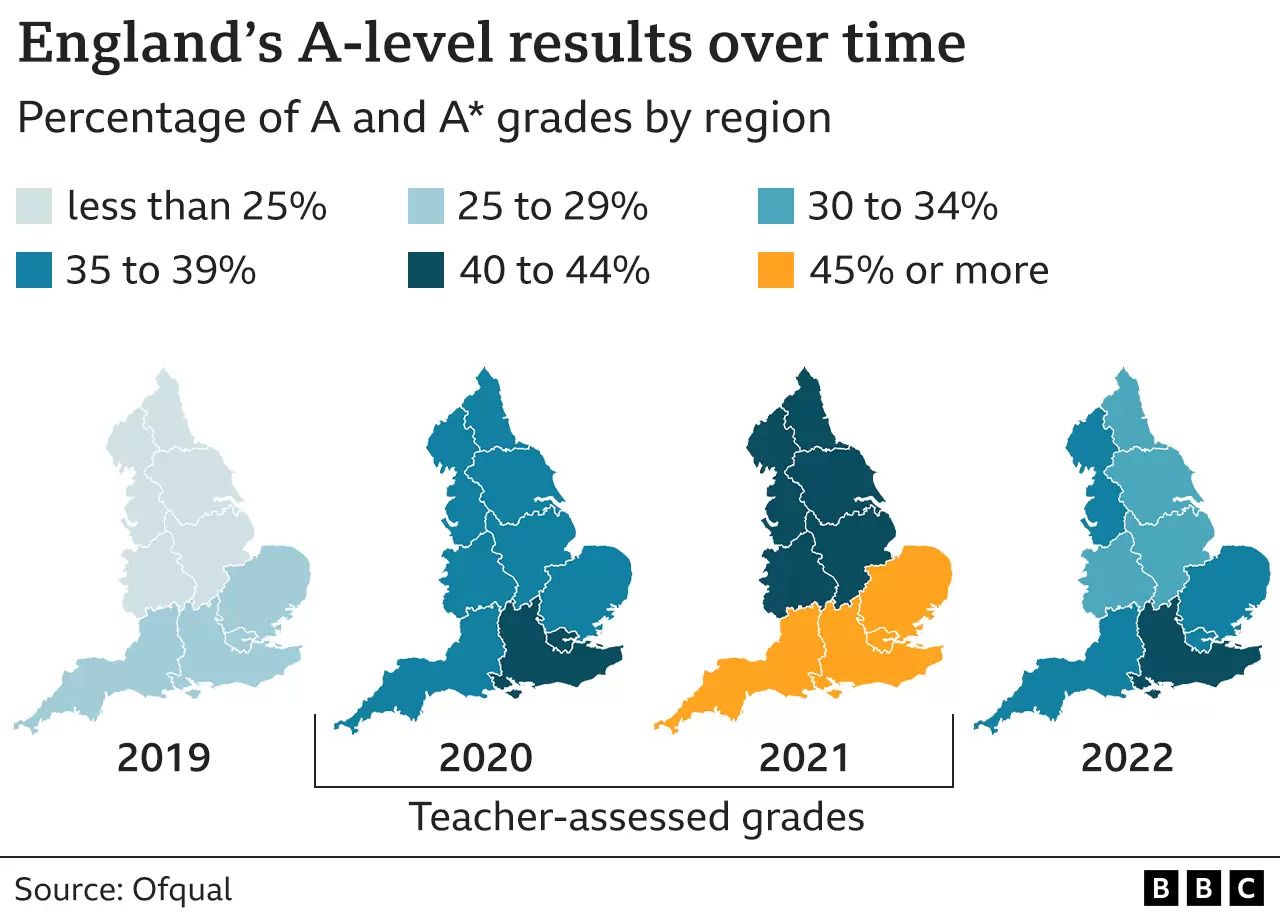 3. The gap between state and private schools narrowed

According to England's exam regulator, Ofqual, 58% of private school candidates in England were awarded A* and A grades, compared with 30.7% of state school pupils.

Fee-paying schools did particularly well last year when teachers' assessments were the basis for A-level grades.

In 2021, some 70.4% of private school pupils were given A grade or above, compared with just 39.4% of state schools.

While this year's percentage-point gap is narrower, it's still significant.

And it matters because those pupils with top grades will be the ones vying for places at the most competitive universities and on the most heavily contested courses.

Not all pupils received the same support - academic and emotional - when schools closed during lockdowns and students were forced to learn remotely.

Some schools were better able to provide laptops to pupils for remote learning. Their pupils may have had more access to computers and to the internet at home, or more physical space in which to learn.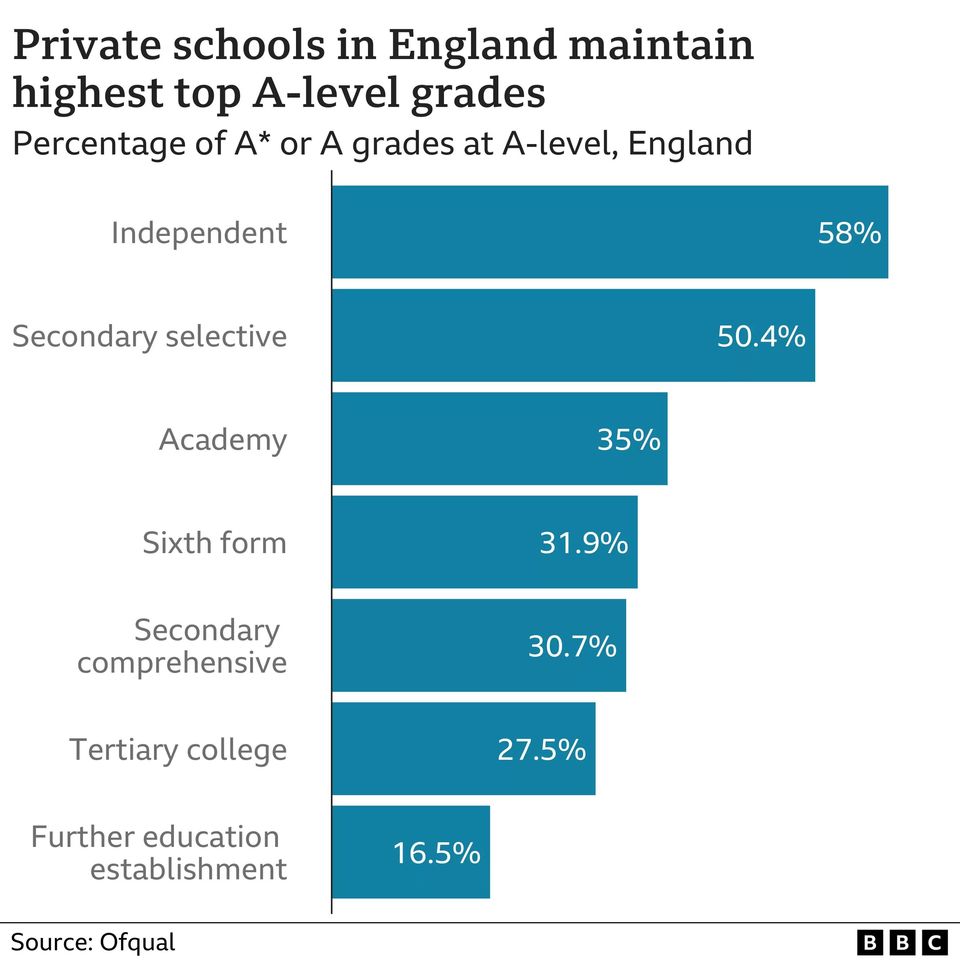 4. Girls outperformed boys - again

Girls performed better than boys across the board in this year's A-level results.

That includes the percentage of pupils achieving top grades. In total, 37.4% of girls' entries were given A* and A grades, compared with 35.2% of boys' entries.

The gap is smaller than it was in 2021, however, when grades were based on teachers' assessments. That approach led to 46.9% of female candidates being given top grades compared to 42.1% of male candidates.

Nonetheless, the gap between the sexes remains bigger than in 2019, the last year public exams were held prior to the pandemic. Back then it was 25.5% for girls versus 25.4% for boys.

It's important to remember that exams weren't back to normal this year. Pupils had extra information, such as formulae sheets and advanced warning of topics, ahead of their exams.

5. Geography bumped English Literature from the top 10 most popular subjects

The top 10 most popular A-level subjects are now:

1. Maths

2. Psychology

3. Biology

4. Chemistry

5. History

6. Sociology

7. Art and design subjects

8. Business studies

9. Physics

10. Geography

Psychology entries increased the most among the top 10 compared with last year, followed by Business Studies, and Sociology.

Political Studies entries also shot up by 11%.

The number of German A-level entries went up by 3.5%, but Spanish and French both fell.

Entries to English Literature, meanwhile, fell by 9.4% - a trend that has raised concern among head teachers.

The Association of School and College Leaders has previously said pupils are put off the "vital" subject because of "the grind of memorising large amounts of traditional texts".