FIFTEEN people, including a 13-year-old, have been arrested after a protest in Knowsley spiralled out of control, police say.
Violence erupted outside a hotel in Liverpool on Friday night where asylum seekers were being housed.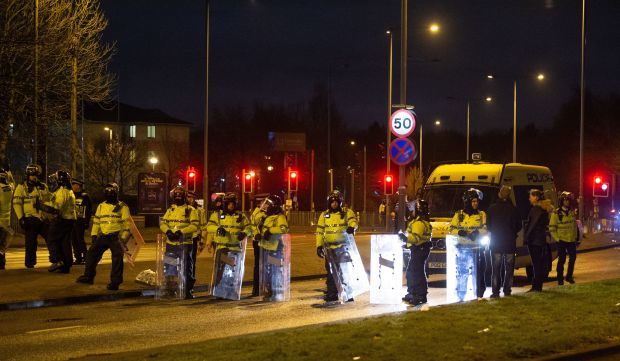 A demonstration outside the Suites Hotel in Knowsley, Merseyside, turned violent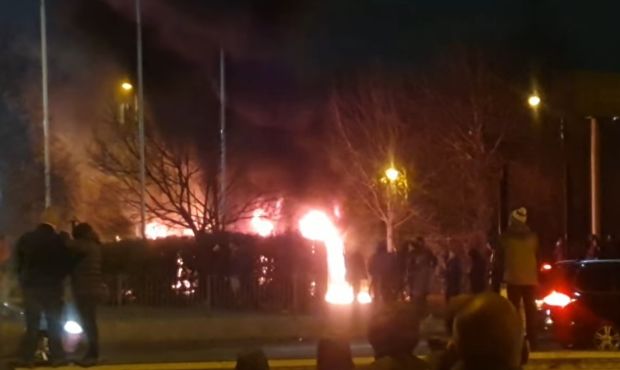 A police van was torched during the disturbance
Among those arrested were 13 men and two women, aged between 13 and 54, cops said.
Hundreds of people gathered outside the Suites Hotel in Knowsley.
Staff from refugee charity Care4Calais said they became trapped in a car park.
They described the protest as "out of control".
Police said they were "facilitating an initially peaceful protest" and a group who opposed them at about 6.30pm on Ribblers Lane.
Scenes then turned ugly, however, as missiles were thrown towards officers and a police van was set on fire.
An officer and two members of the public were slightly injured.
Merseyside Police Chief Constable Serena Kennedy said: "A number of individuals who turned up at the Suites Hotel last night were intent on using a planned protest to carry out violent and despicable behaviour.
"They turned up armed with hammers and fireworks to cause as much trouble as they could and their actions could have resulted in members of the public and police officers being seriously injured, or worse.
"Indeed, one of my officers was injured in the line of duty, as were a number of members of the public, and it is only through luck that no-one was more seriously injured or worse.
"A police van was also put out of commission as a result of being set on fire.
"All of those arrested will now be questioned and we will continue to gather all evidence as part of this investigation and our officers are continuing to examine CCTV footage in a bid to identify anyone else involved."
She added: "There is no excuse for the violence that was carried out last night and we will arrest anyone who fails to heed this advice.
"Extra officers will be carrying out high-visibility policing in the area to reassure local residents and to prevent a repeat of this behaviour, and the local policing team are always available to listen to concerns within the community and act on them.
"A dispersal order will also be in place from 1pm today for the next 48 hours to ensure that (those) intent on such action are removed from the area, and if they return may be arrested.
"Merseyside Police and our partners will not tolerate groups of people targeting this premises and causing fear and distress to those residents inside, and to the local community, as well as the violence towards police officers carrying out their duty."