TV star Ant McPartlin has paid tribute to his co-host's brother, calling him the "kindest, wisest man I knew", following his death aged 55.
Father Dermott Donnelly, brother of McPartlin's presenting partner Declan Donnelly, died in hospital on Friday after a short illness.

In a tweet, McPartlin said the Catholic priest "would never be forgotten".

The 46-year-old ITV presenter said: "My thoughts, prayers and love are with your wonderful family."

"The world has lost a special man," he added.

The Diocese of Hexham and Newcastle were the first to announce the news, saying it had "come as a great shock", with Declan, 46, paying tribute to his brother shortly after.

In 2015 Fr Donnelly officiated at the wedding of his brother to Ali Astall in Newcastle in a ceremony attended by a number of celebrities.

He was a member of the clergy for St Joseph's Church in Stanley, County Durham, and recently celebrated his 30th anniversary of service to his parish, where he was best known for his work with young people and youth ministry.

'Stand in the light'

Hexham and Newcastle Bishop Robert Byrne said Fr Donnelly would be "sorely missed for his energy, enthusiasm and ability to engage with all who met him".

He said he had been born and brought up in the area and, along with his extended family, was well-known to the local community.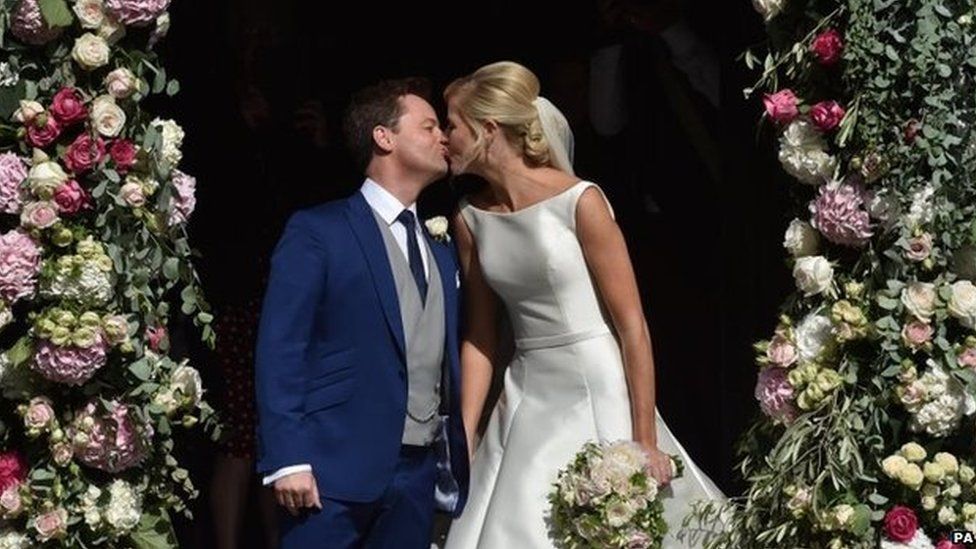 Fr Donnelly led his brother's wedding ceremony in 2015

A number of tributes from those who had known Fr Donnelly and worked with him were also posted on social media.

He had been a supporter of the Catholic church's official aid agency, The Catholic Agency for Overseas Development (Cafod).

Cafod's head of education Monica Conmee said the charity was "hugely saddened" to hear of his death.

"Fr Dermott chose to stand in the light and, through his immense talent and gifts, so generously guided thousands of young people to experience the love and light of God in their own lives, inspiring them to share this with others," she said.

In 2014, Fr Donnelly featured on Songs Of Praise alongside CBBC's Hacker T Dog to answer questions about the church that viewers had sent in.