Six people have been arrested after climate change activists, including two Olympians, scaled an oil tanker.
Extinction Rebellion protesters surrounded the Shell tanker in Bayswater Road in London in protest at the use of fossil fuels.

Gold medal-winning canoeist Etienne Stott and sailor Laura Baldwin had glued themselves to the top of the tanker, Extinction Rebellion said.

The Met said six arrests for vehicle interference had been made.

It is not known if the two Olympians were among those arrested.

Mr Stott said he wanted to "disrupt the toxic fossil fuel industry".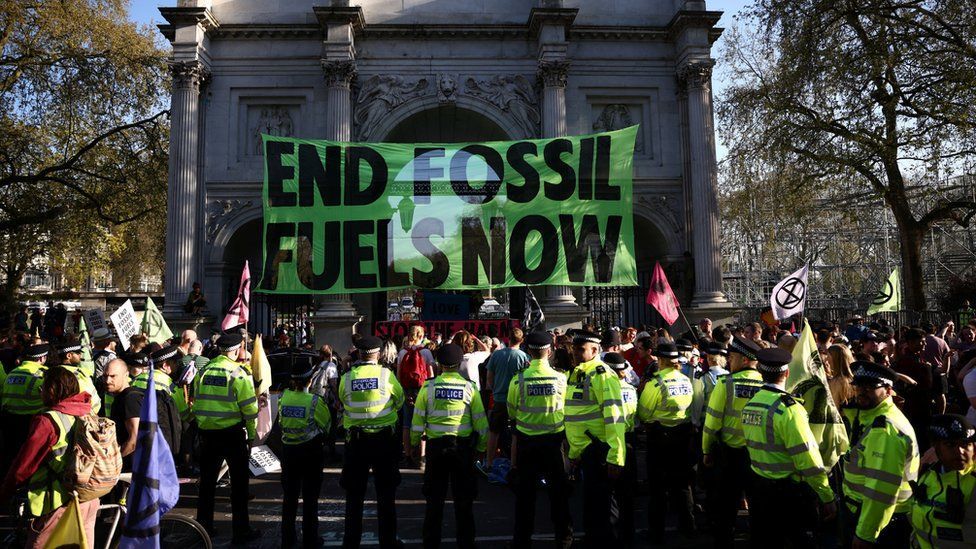 A large banner was unfurled after two people climbed Marble Arch

The Met said protesters had been walking through central London and "stopped at various locations along their unspecified route, causing disruption".

Shortly before 18:00 BST, a man and a woman climbed up two pillars on Marble Arch to hoist a green banner with "End fossil fuels now" on it.

A group of eight activists later locked themselves on to a car in the road, while two glued themselves to the roof.

Officers cleared the road and several people were detained.

The group said the "highly disruptive" action would end a run of 10 days of protests.

In a statement on Twitter, the Met said: "We attended Bayswater Road at approximately 08:50 BST to deal with a number of protesters who had climbed on an oil tanker.

"We have made six arrests for vehicle interference. The road is now open."

On Friday protesters blocked four of London's busiest bridges and blocked entrances to major insurance marketplace Lloyd's of London earlier this week.