A luxury interior designer has been left with a £520,000 court bill after losing a court battle over the sale of her £10.3million Regent's Park mansion.
Tiggy Butler took high-end estate agency Rokstone to court over the sale of her home in Chester Terrace to a Saudi Arabian tycoon in February 2021.

She claimed to have been left £1.75million out of pocket in the deal for the Corinthian-style 18th century house, which overlooks Regent's Park in central London and is located in one of the capital's most coveted locations.

But Rokstone, led by "super-prime" property expert Becky Fatemi, defended itself against her claims and insisted Ms Butler has failed to hand over £318,000 in commission.

At the Central London county court on Wednesday, Judge Alan Johns dismissed Ms Butler's case and ordered her to hand over the unpaid commission together with £210,000 up front towards the estate agent's legal bills.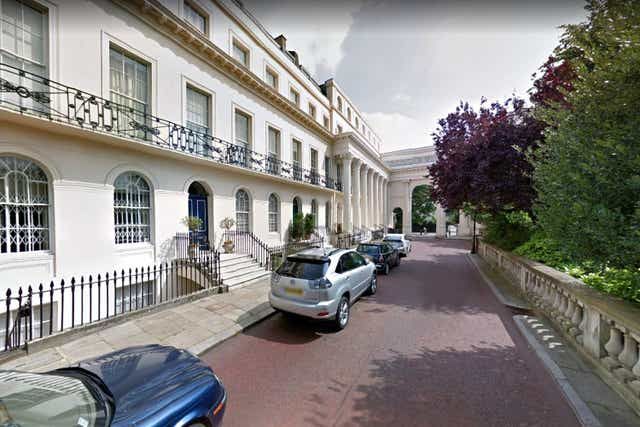 Google Streetview

The judge rejected suggestions Rokstone could be held responsible for the difference between the original and final sale price, and dismissed a claim of negligence over alleged missed sale opportunities including contact with a wealthy vendor Ms Butler claimed would have bought her property.

"Ms Butler says that if Rokstone had not failed in these respects she would have achieved a better sale price", said the judge.

There was no "failure to exercise reasonable skill and care", he found.

Judge Johns found that Rokstone did fail to pass on an £11million offer promptly to Ms Butler in January 2020, but noted that the deal was discussed with her soon afterwards and "was not acceptable to her".

This meant that "no loss" was caused by the estate agents' actions, the court heard.

The original asking price for Ms Butler's town house was fixed at £14.5million in 2016, but dropped down after other agents failed to sell the property for several years.

Ms Butler, who specialises in restoring historic homes, bought the house in 2014 and spent two years and tens of thousands of pounds restoring it to its former grandeur before putting it on the market in 2016 for £14.5million.

Ms Fatemi's agency was instructed in 2019 after the house failed to sell for three years, despite the efforts of several other agents.

Daniel Petrides, for Rokstone Ltd, told the judge that the house still remained unsold in October 2020, by which time Ms Butler was in "dire financial straits" and facing the imminent prospect of the house being repossessed.

After being informed of the situation, Ms Fatemi's agency dropped the asking price to £11.6million and by February 2021 had sold the house and its contents for £10.3million to tycoons from Saudi Arabia.

But Ms Butler subsequently refused to pay the agency the £318,452.01 in commission.

Reacting to the ruling, lawyers for Rokstone called it a "complete vindication" and said Ms Butler is also now liable for "full costs" of the legal battle.