Councils across England are seeking to cut ties with the Russian energy firm Gazprom in protest at the invasion of Ukraine.
Several, who use the part-state-owned firm's gas to heat buildings including offices, schools and social housing, have told the BBC they want to end their contracts as soon as possible.

UK local authorities, which have a statutory duty to find the cheapest deal on behalf of the public, paid £29m to Gazprom from 2016 to 2021, according to data firm Tussell.

But many are "deeply saddened" by events in Ukraine since the invasion began last week, the Local Government Association, which represents councils, said.

Tussell also says the total UK public sector spend with Gazprom between 2016 and 2021 was £107m, with NHS expenditure accounting for £77m or 72%.

Elsewhere, the BBC has been told that the Health Secretary Sajid Javid has urged NHS trusts to stop using energy supplied by Gazprom.

A senior government source said Mr Javid had also requested "a wider review of any Russian role in supply chains across the health service".

The Anglo-Dutch oil company Shell cut all ties with Gazprom earlier this week.

But it is not on the UK government's list of sanctioned Russian firms, meaning it might be difficult for councils to end contracts early.

However, Wealden District Council, in East Sussex, which uses Gazprom to supply gas to its social housing, has told the BBC it is looking at its "options and obligations".

Telford and Wrekin Council, in Shropshire, which uses the company's gas to supply an industrial estate, said it was "urgently" looking to sever ties.

And Mark Allison, Labour leader of Merton Council, told BBC Radio London he was "not at all comfortable with having any relationship with a Russian-sponsored firm on the scale that we are at the moment".

He urged the government to change the rules so local authorities could "refuse to do business with such firms based on their moral or social suitability".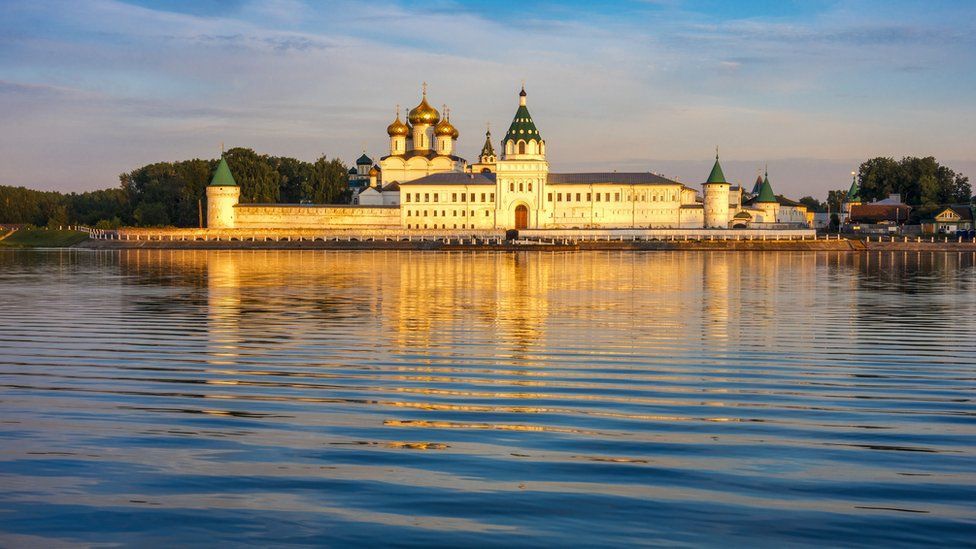 Durham Council has cancelled its twinning partnership with Kostroma, a city that sits on the banks of the Volga and Kostroma rivers

Manchester City Council said its contract with Gazprom came to an end this month, while Bristol City Council said it had not made any payments to it since 2019.

Lancashire's Wyre Council told the BBC it had changed from Gazprom to another supplier last year.

London's Westminster City Council said it had begun reviewing financial links with all Russian companies following the invasion, adding: "A contract with Gazprom to supply our housing estate ended last year."

Similarly North Yorkshire County Council has announced it would be reviewing its investments and contracts to ensure it is not trading with Russian companies.

Dorset Council says it would be reviewing its pension fund which has £5m investments in Russian companies.

Some councils have cancelled their twinning links with Russian cities including Durham which was twinned with Kostroma in western Russia and Doncaster with Ozyorsk.

'Monitoring the situation'

Suffolk County Council was the first authority to announce, on Monday, that it was actively looking for ways to cancel its contract with the company, which supplies it with gas to heat schools and offices.

A Local Government Association spokesperson said councils were "deeply saddened by the tragic events unfolding in Ukraine and are following the situation closely".

"It is up to individual councils to decide how to act locally but, like many organisations, they will be reviewing what action they might want to take in light of UK sanctions and the ongoing situation," they added.

Russian companies supply around 5% of the UK's gas, compared with almost 50% for EU countries.

A government spokesperson said: "We will work closely with councils and other public bodies to ensure they are able to comply with the financial and investment restrictions on Russia and will engage with them on what support they need to do this.

"The UK is in no way dependent on Russian gas supply and our highly diverse sources of gas supply and a diverse electricity mix ensures that households, businesses, and heavy industry get the energy they need."