Cost of living scams are on the rise, as fraudsters prey on people's anxiety around saving money.
Action Fraud says it has received reports of hundreds of different scams about energy support alone.

Diane Jones was pottering around the house when she was sent a text message telling her to claim her £400 energy discount.

As a rheumatoid arthritis sufferer, she receives disability benefit and assumed the £400 payment was connected.

But almost as soon as Diane, 65, entered her bank details, she realised she was a victim of fraud and contacted her bank, HSBC.

"I'd been rushing around that day and just clicked on it when it came on my phone. My mind was in a muddle. As soon as I did it, I realised I shouldn't have done," she says.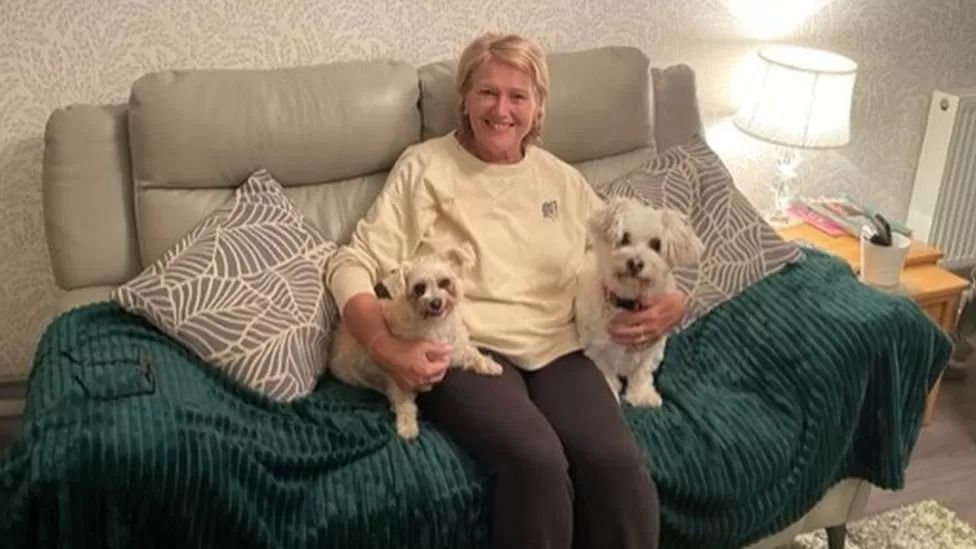 Diane Jones was walking her dogs when she received the fake text
Households across the UK are being given £400 off their energy bills to help with rising costs, but it is automatically applied to their bills and is not something people need to apply for.
Unfortunately for Diane, an office administrator who lives in Eastbourne, that wasn't the end of the matter.
She was subsequently assured, via HSBC's online chat feature, that her bank card had been cancelled to protect her from further scams.
When she was contacted later that week, by someone purporting to be from the bank's fraud team, she assumed they were following up on the earlier scam.
'He was so clever'

"I didn't doubt the man for one moment - he was so clever. He was talking and talking, not giving me any time to think," she says.

The man persuaded Diane that her account had been compromised and she needed to transfer her money to a new bank account, via an app which he asked her to download.

He also pretended he needed her help uncovering fraudsters working internally at the bank, and gave her a script of things to say when HSBC rang querying the transaction.

It wasn't until a colleague later searched online for the caller's incoming phone number that Diane realised the man was not from HSBC after all.

By that time, fraudsters had stolen £24,800 - all of her life savings, and her overdraft.

She was distraught.

"I was in such a state when I found out what had happened - one of my sons had to get me from work and drive me home," she says.

HSBC told Diane it had no record of the original attempt to cancel her card. It initially refused to reimburse her the money, as she had transferred it herself and had given misleading answers to the bank when contacted.

Diane became so anxious that she stopped spending money and decided to put all of her Christmas plans on hold.

But following an agonising wait, the money has been refunded by HSBC, after the bank admitted it had not fully protected her account at the time.

"Protecting customers from fraud is a priority for us and we are sorry that Ms Jones has been the victim of a scam," an HSBC spokesperson said.

"While we provided warnings to Ms Jones and explained about impersonation scams, we recognise that we missed an opportunity to take extra steps on Ms Jones's account and for that we apologise."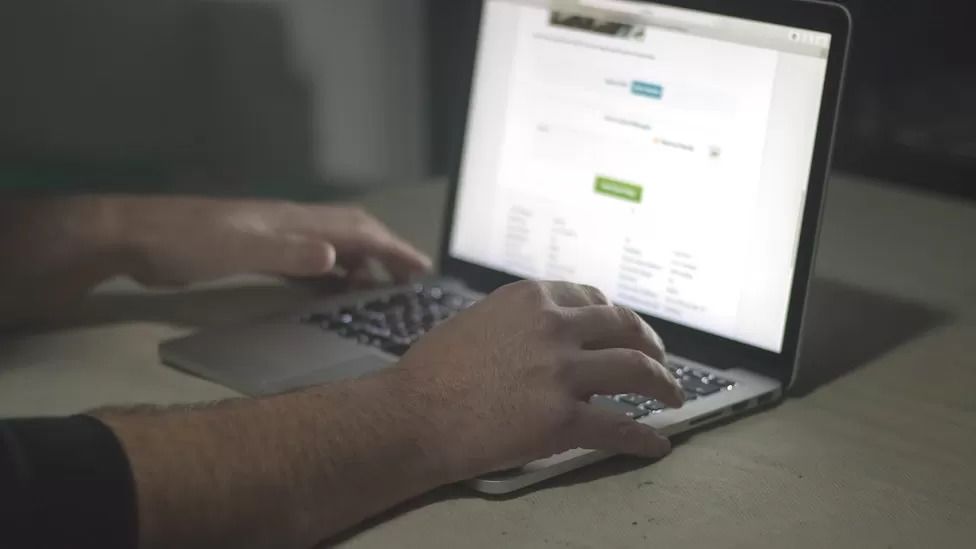 Charities are warning that cost of living fraud is on the rise

The charity Victim Support says it is being contacted by more and more people in Diane's situation.

"Fraudsters are deliberately taking advantage of people when they're at their most vulnerable. It happened during the pandemic and we're seeing it again with the cost of living crisis," says national fraud lead Wayne Stevens.

"We're seeing two types of cost of living-related fraud: there are frauds directly linked to government or other public policy announcements, such as energy rebates, where people are sent a fake text or email inviting them to claim this support.

"But there is also the second type, which plays on people's growing anxieties about money and the need to quickly reduce their costs."

Mr Stevens says the latter include false adverts for low mortgage rates, fake loan offers, or cheap places to rent.

'It's knocked me for six'

Action Fraud says it received more than 100 complaints about energy rebate scams in September, up from a handful the month before. This has since risen to almost 400 complaints about energy text scams alone in less than three months.

A survey of 2,000 people by UK Finance found three in five people were concerned about falling victim to financial fraud or a scam.

One in six said the rising cost of living meant they were more likely to respond to an unprompted approach from someone offering an investment opportunity or a loan - rising to a third of those aged 18-34.

Although Diane eventually got her money back, she still feels the scam's impact.

"I'm dubious of everything that comes through on my phone. It's knocked me for six - and I don't consider myself a vulnerable person"

What can you do if you think you've fallen victim to a cost of living scam?

* Do not respond to unexpected emails, phone calls and text messages asking you to click on links or provide your personal details to claim cost of living-related rebates or payments. If you are in any doubt, get verification from the genuine organisation first - for instance, by phoning a known, legitimate number

* Fraudsters often prey on fears about rising costs by offering cheap loan offers, reduced rent, holiday deals or other services. If it looks too good to be true, it probably is

* If you have been a victim of fraud, contact your bank immediately. You can also report it to Action Fraud. For support and advice visit victimsupport.org.uk and search "fraud"

* For information you can trust about cost of living support, and to check what you're eligible for visit: helpforhouseholds.campaign.gov.uk