One officer sustained a suspected broken hand as police attended incidents during a busy night of festive celebrations in the Square Mile
Police patrolling pubs and clubs in the Square Mile are being used as "punchbags" with five injured in attacks on Thursday night, City of London Police said on Friday.

One sustained broken bones and will be off work for weeks after arresting a suspected bag thief.

Two others suffered minor wounds in the same incident in Commercial Street near Old Spitalfields Market while another was injured after a thug put an officer in a headlock when their patrol came under attack.

A second officer was also injured as violence flared at 1.15am in Watling Street.

Inspector Hay from City of London Police tweeted: "Disappointing to see numerous officers assaulted in the night time economy this evening. We don't come to work to be other people's punch bags."

The Police Federation said the officer's Christmas had been "ruined" as a result of his injuries.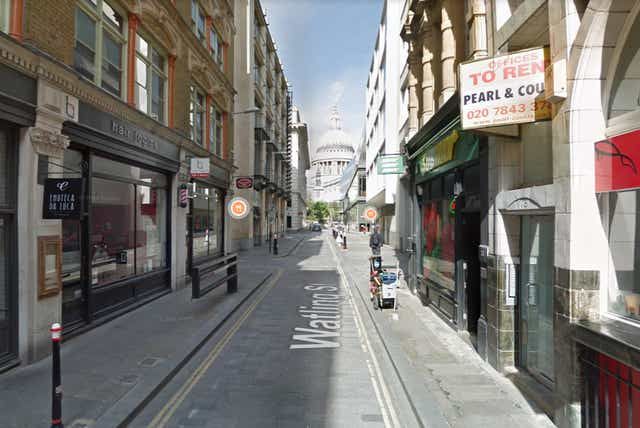 Another attack took place in Watling Street
It said: "Absolutely awful! understand from updates that one injury will see the officer off operational duty for several weeks as a result of its nature. That's one Christmas ruined while our members do everything they can to make sure everyone else is safe to enjoy their celebrations."
Commander Umer Khan, from the City of London Police said he was "saddened" that his officers were being targeted while they were trying to make sure revellers were safe.
He said: "City of London Police was called to two separate incidents last night, during which officers sustained injuries. In the first incident, officers were called to reports of a bag theft and while arresting a suspect, one officer sustained a broken finger and a suspected broken hand. Two officers also received minor injuries. Three people were arrested and remain in police custody.
"In a second incident, officers were called to reports of a disturbance in Watling Street at 1:15am and while in attendance, an officer was grabbed into a headlock. During this, the officer and another officer sustained minor injuries. One person was arrested and the investigation is ongoing.
"Our officers come to work to protect the public and do not expect to be injured while carrying out their duties. We are saddened that several colleagues were injured in the peak festive season, forcing them to end shifts early or now take time off work as a result of the injuries they sustained. We wish all of our colleagues a speedy recovery."