Millions of people are heading off on their Easter holiday trips this weekend, as transport companies warned them to expect delays.
The country's roads are likely to hit their peak on Saturday, with around 15 million drivers expected.

And holidaymakers are being warned it could take up to two hours to get through border control at Dover.

The weather is expected to remain dry until Monday and is not likely to cause travel problems.

Dover - which saw delays of more than 14 hours last weekend - witnessed queues of "approximately 90 minutes" earlier on Thursday as the long weekend got under way, ferry operator DFDS wrote on Twitter.

It said the delays were due to "high volumes of traffic" but through the afternoon traffic was "free flowing through border controls and check-in".

By the evening, ferry operator DFDS was telling people to allow two hours to complete border controls and check-in at the Kent port.

The Port of Dover said extra measures were being put in place to cope with the increased demand, warning there could be "a few hours of waiting" during the busiest travel hours on Friday.

It urged travellers not to turn up early and without bookings, and to check on the latest updates with their ferry operators.

Port officials said they held an "urgent review" with ferry operators and French authorities after last week's travel problems triggered a row over the impact of Brexit on the route.

Slow processing of documentation since the UK left the EU, staffing levels on the French side of the Channel, and more coaches than expected were variously blamed for long queues at the port.

Travel to mainland Europe could also be impacted by ongoing strikes over pension reforms in France, with many flights to, from and over France being grounded due to air traffic controllers joining the walkout.

Many airlines have cancelled flights as a result of the industrial action,with British Airways axing at least 20 flights which would have used French airspace on Thursday.

Airlines have told the BBC they are confident they will be able to deal with demand after staff shortages led to delays and cancellations last Easter.

Manchester Airport, which was criticised over long queues in 2022, has hired an extra 350 staff members, and said 95% of customers would be processed within 15 minutes.

Eurostar cancelled two trains on Thursday due to loss of crew, but said it was not expecting any more disruption. It said trains are set to run as normal on Friday.

Protesters also caused disruption at Paris's Charles de Gaulle Airport, blocking a main road to one of its main terminals, forcing passengers to walk.

More than 10,200 flights are expected to depart UK airports across the weekend, with Good Friday expected to be the busiest day.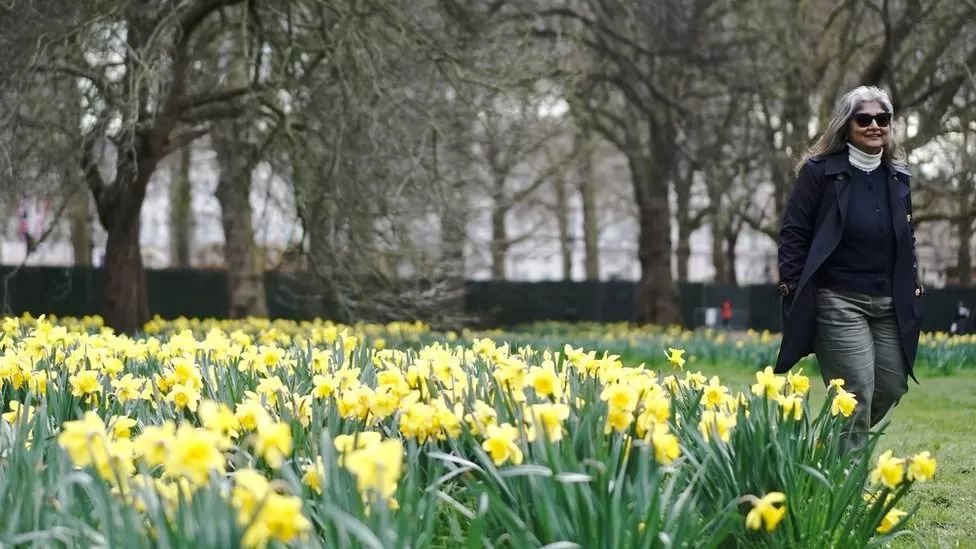 The UK is expected to see settled weather for most of the Easter weekend

The weather is not expected to lead to travel woes over the weekend, with it expected to remain largely dry until Monday, when some showers are expected.

Gemma Plumb, BBC Weather Forecaster, said Friday would be "dry and fine for most of the UK with sunshine", although there will be cloud in some eastern parts of the country.

Most of the sunshine over the weekend is expected in western parts, before rain hits some parts of the country on Monday.

The AA, the British motoring association, said it expected Saturday to be the busiest day on the country's roads, with about 15 million drivers planning to use their cars. The RAC said it expected Friday and Sunday to be the busiest days, but there was "always the chance of a boost in traffic if the weather forecast turns out better than expected".

Congestion is expected on the M25, the M4 Wales heading into Newport, the M6/M5 interchange in Birmingham as well as the M4/M5 in Bristol.

Tony Rich, from the AA, urged drivers to conduct checks on their cars before they travel, saying many of the callouts it gets were "easily preventable".

"We've put more patrols on duty, but drivers can help themselves and everyone else by doing the simple checks as breakdowns cause traffic jams," he said.

The disruption could also extend to the country's railways, with some engineering work planned over the weekend, including at London Euston station - one of London's main rail hubs - which will be closed from Friday until Monday due to planned upgrades.
AI Disclaimer
: An advanced artificial intelligence (AI) system generated the content of this page on its own. This innovative technology conducts extensive research from a variety of reliable sources, performs rigorous fact-checking and verification, cleans up and balances biased or manipulated content, and presents a minimal factual summary that is just enough yet essential for you to function as an informed and educated citizen. Please keep in mind, however, that this system is an evolving technology, and as a result, the article may contain accidental inaccuracies or errors. We urge you to help us improve our site by reporting any inaccuracies you find using the "
Contact Us
" link at the bottom of this page. Your helpful feedback helps us improve our system and deliver more precise content. When you find an article of interest here, please look for the full and extensive coverage of this topic in traditional news sources, as they are written by professional journalists that we try to support, not replace. We appreciate your understanding and assistance.