The principal of a primary school that was forced to shut due to a security alert has said he was shocked and angered by the disruption to education.
Lough View Integrated Primary School and Nursery closed on Tuesday as the nearby Henry Jones playing fields was searched by police.

The East Belfast Gaelic Athletic Association (GAA) is among the clubs which use the sports facilities.

Police said "nothing untoward" was found but "enquiries remain ongoing".

The security operation began on Monday evening and police and Army technical officers were deployed to the council-run playing field on Church Road, Castlereagh on the outskirts of east Belfast.

Members of the public were asked to avoid the area and a road closure was then put in place at the junction of Church Road and Manse Road.

The road closures were lifted on Tuesday afternoon and a few hours later, the Police Service of Northern Ireland (PSNI) said the security operation had ended.

When asked what had sparked the day-long alert, a PSNI spokeswoman said: "Police received information concerning the pitches and took proactive steps to ensure the area was safe."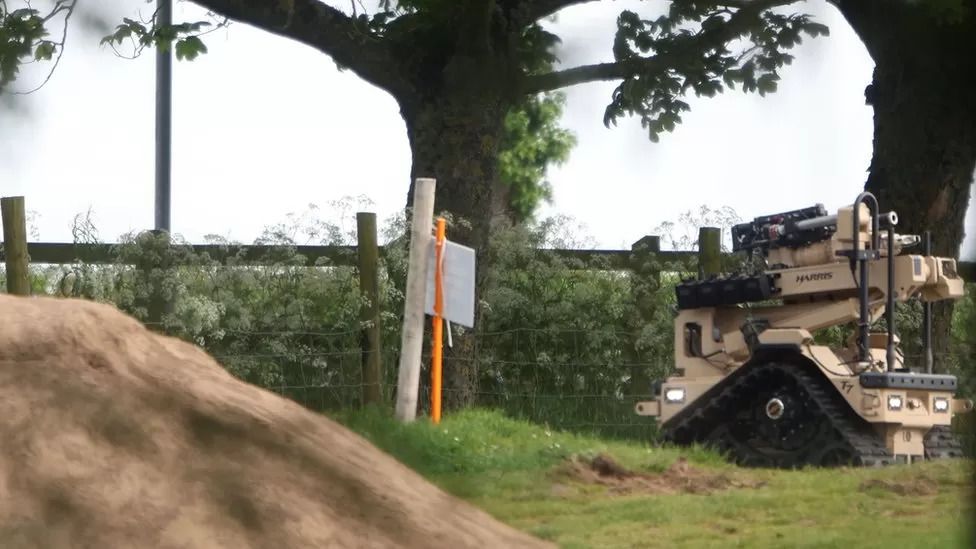 Bomb disposal equipment was used during the searches at Henry Jones playing fields

Earlier on Tuesday, staff at Lough View Integrated Primary School said they were advised by police to keep their building closed during the operation.

Its headteacher Sean Spillane said the closure had disrupted his pupils' education and the alert had stopped people in the area from going to work.

"I'm so shocked today that we've had to take this action, but more than anything it's just disappointment, it's just disillusionment and anger as well," Mr Spillane told the BBC's Nolan Show.

"We're now having to explain to our children that some people, because they don't agree with a particular sport being played across the road from our school, that they can't exercise their right to come to school today."

In a statement on Tuesday evening, PSNI Ch Insp Rosemary Thompson said: "A thorough search of the playing fields at Church Road in Castlereagh has been conducted and, thankfully, nothing untoward has been found."

The statement added that PSNI "enquiries remain ongoing" and asked for anyone with information to contact them.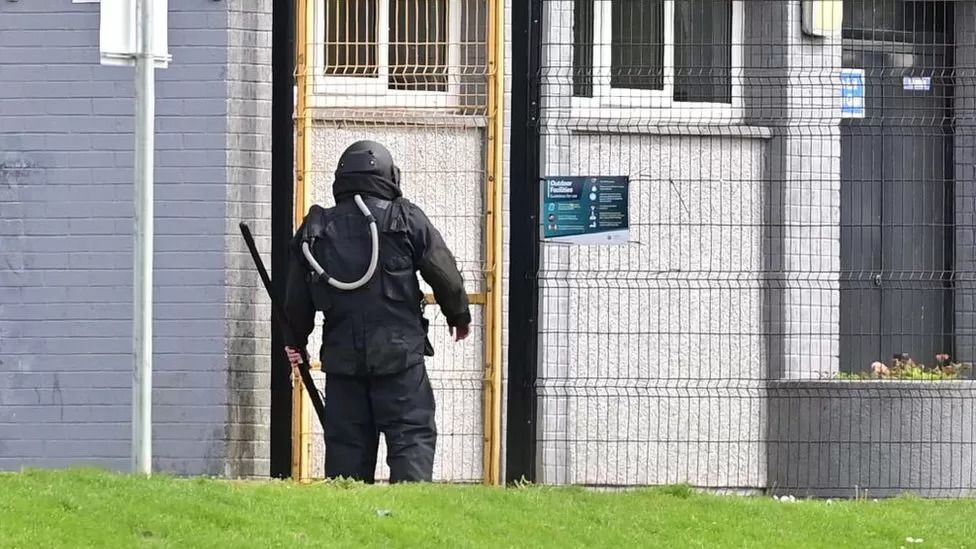 Security force personnel are wearing protective gear during the search operation
'Catch a grip'

Earlier, East Belfast GAA released a statement which said that local sports clubs had worked hard to revive pitches at the site and it was "saddened at those who threaten to disrupt the peace and cause alarm".

"This is especially disappointing following the positive news that some of the underutilised space at Henry Jones will be reallocated to facilitate a GAA pitch," the statement added.

It would be the first council-run GAA pitch in east Belfast "and is long overdue", the club added.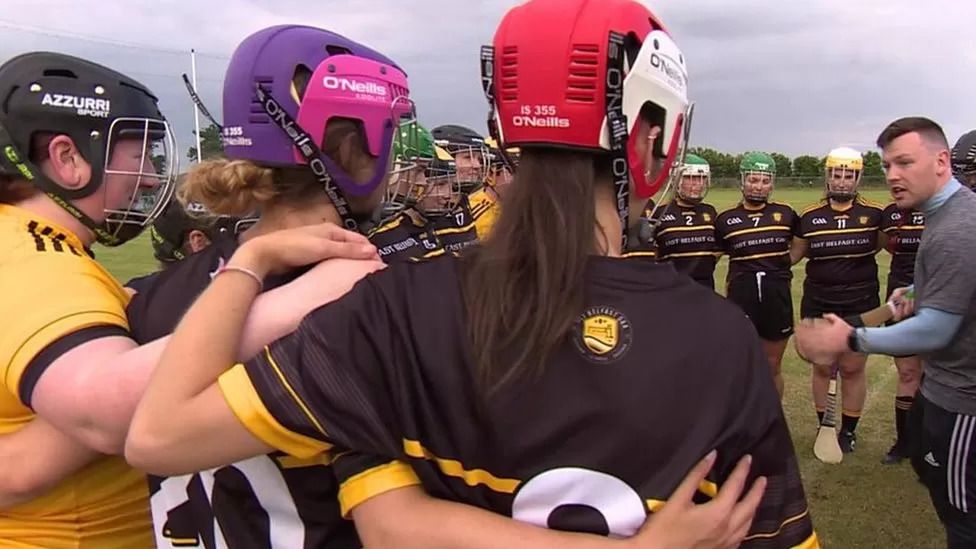 East Belfast GAA was set up in May 2020

East Belfast MP Gavin Robinson also criticised those behind the alert.

"Sport cancelled. Community disrupted. School closed. For what? Catch a grip," the Democratic Unionist Party (DUP) MP tweeted.

Alliance Party leader and East Belfast assembly member Naomi Long said that the situation was "utterly unacceptable".

Ulster Unionist leader Doug Beattie said: "This is wrong and must be condemned utterly."

The SDLP's Séamas de Faoite described the alert as an "utter disgrace".

Football coach Tim Wareing was at Henry Jones Park on Monday evening, taking a one-on-one football session with an 11-year-old boy when the incident happened.

At about 19:00 BST he said a council worker came over and told him there was a security alert and he would have to clear up and leave the scene as soon as the PSNI arrived.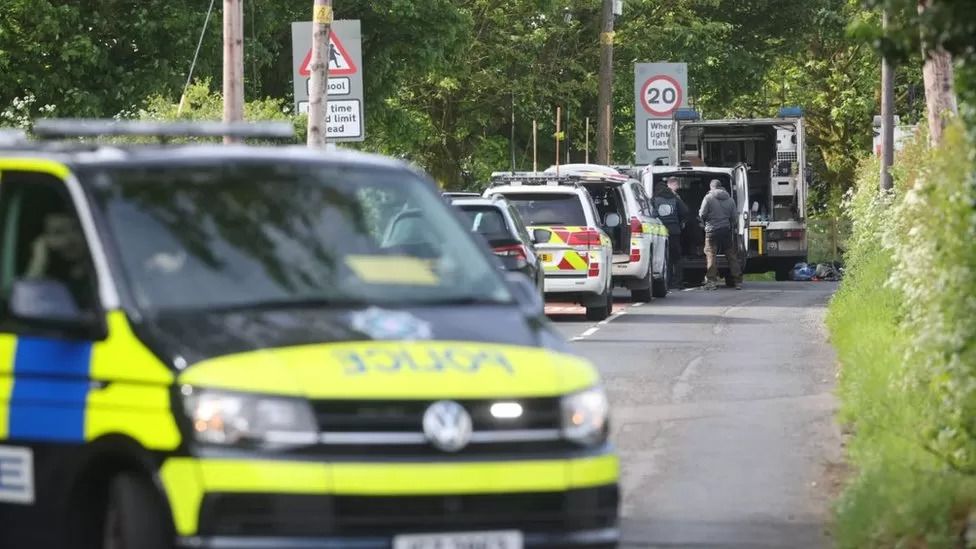 There was a large police presence in the area

"It was quite shocking - it's 2023 - you would think we would have moved on from this - our own club is very inclusive and we have stayed away from aligning ourselves with an area in Northern Ireland to bring the two communities together," he said.

"Hearing that news is quite shocking when you've got a young child there - it makes it even worse as you're trying to keep them calm and wondering what on earth is going on."

East Belfast GAC started in May 2020 and was the first GAA club in the east of the city in almost 50 years. It fields football, hurling and camogie teams.

A security alert was sparked at the same playing fields in 2020.
AI Disclaimer
: An advanced artificial intelligence (AI) system generated the content of this page on its own. This innovative technology conducts extensive research from a variety of reliable sources, performs rigorous fact-checking and verification, cleans up and balances biased or manipulated content, and presents a minimal factual summary that is just enough yet essential for you to function as an informed and educated citizen. Please keep in mind, however, that this system is an evolving technology, and as a result, the article may contain accidental inaccuracies or errors. We urge you to help us improve our site by reporting any inaccuracies you find using the "
Contact Us
" link at the bottom of this page. Your helpful feedback helps us improve our system and deliver more precise content. When you find an article of interest here, please look for the full and extensive coverage of this topic in traditional news sources, as they are written by professional journalists that we try to support, not replace. We appreciate your understanding and assistance.