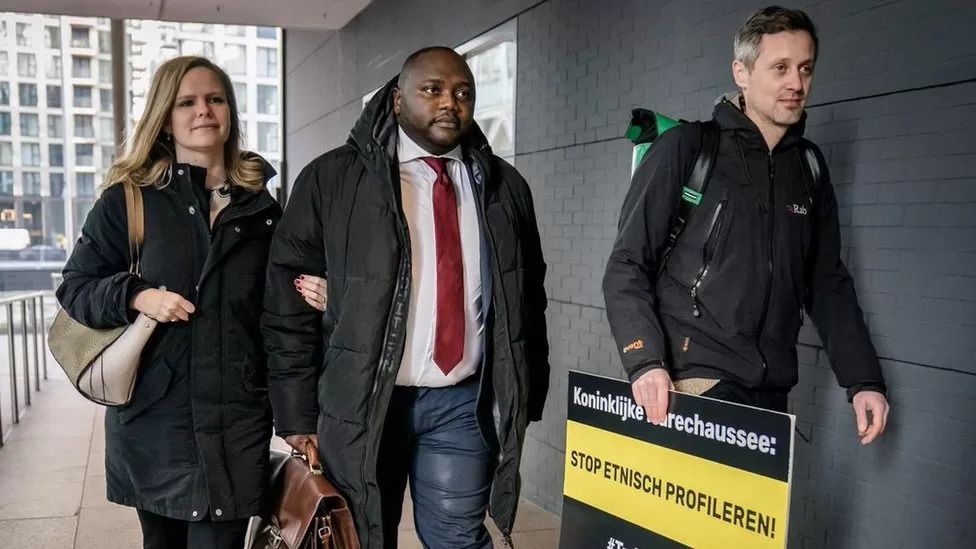 Dutch border police barred from ethnic profiling
Campaigners have hailed a Dutch appeal court ruling that military police can no longer use race or ethnicity as reasons for checks at the border.
The judges found that the force had been guilty of ethnic profiling.

Using race "without objective and reasonable justification" was a particularly serious form of discrimination, they found.

Mpanzu Bamenga, who was himself challenged on the border, said it was a landmark case for millions of people.

"Really it's a historic victory, not only for me but for many people in the Netherlands who have been fighting against racism and racial profiling and for equal opportunities," he told the BBC.

A spokesman for the Royal Netherlands Marechausee force said it was now studying the verdict. But he pointed out that the government had now told parliament that profiling would no longer take place during spot checks on travellers inside Europe's border-free Schengen zone.

The Netherlands is part of Schengen, which means checks have been abolished for nationals of the 27 countries crossing internal borders by air, rail or road. However, police are entitled to carry out spot checks based on information and experience. Dutch police also check on people's rights to stay in the Netherlands.

The case began when Mr Bamenga, a lawyer and ex-councillor, was taken aside by the Marechausee as he returned by air to the southern city of Eindhoven from a trip to Italy in 2018. He then realised another man and a woman, both of whom were black, were also being stopped.

When he challenged an officer at the airport, he was told that the border police had the power under Dutch law to stop people, as they were looking for criminals and refugees and checking residents' rights. He took to social media and after his story went viral, he was told police had been searching for a well-dressed Nigerian smuggler who did not look Dutch.

Human rights groups joined him in taking the case to a court in The Hague, which in 2021 cleared the Marechausee of ethnic profiling and said its policy did not breach discrimination laws. The force then announced it would no longer use ethnicity as a deciding factor.

On Tuesday, the Dutch appeal court overturned the original legal ruling, as the judge said the policy had led to people with a skin colour other than white feeling like second-class citizens.

Mr Bamenga said the ruling would have ramifications for other European countries that use profiling and that the European Commission and Council of Europe had been following the case.