The peer who organised the Queen's funeral has been banned from driving for six months, despite claiming he needed his licence to arrange the King's upcoming coronation.
Edward Fitzalan-Howard, the 18th Duke of Norfolk, was caught using his mobile phone while driving in Battersea, south-west London, on 7 April.

He admitted the offence, at Lavender Hill Magistrates' Court earlier.

He had hoped to avoid a ban by claiming "exceptional hardship".

The Earl Marshal, 65, was stopped by police after his BMW cut across the officers' car, going through a red light, the court was told.

The officers drove up to his car and saw he was using his mobile phone. He told the officers he was "in communication with his wife", prosecutor Jonathan Bryan said.

Mr Bryan told magistrates the highest-ranking duke in England already had nine penalty points on his driving licence due to previous speeding offences and a compulsory endorsement of a further six points, which would lead to a ban.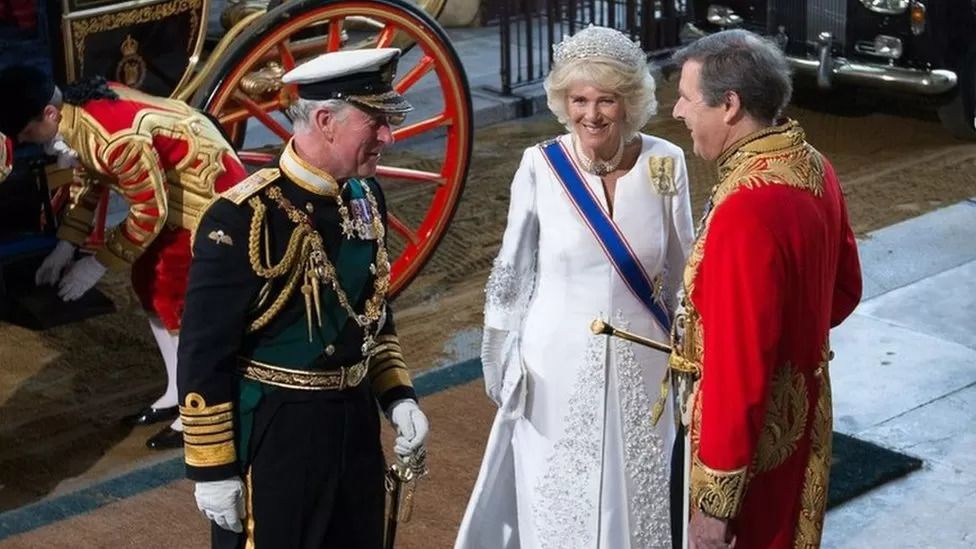 The Duke of Norfolk was with the Prince of Wales and Duchess of Cornwall at the State Opening of Parliament in 2015

However, the Earl Marshal, a crossbench peer in the House of Lords, told the court he intended to argue "exceptional hardship" due to the nature of his responsibilities.

The duke is in charge of organising state occasions, such as the State Opening of Parliament. He recently organised the Queen's funeral, which he described as "daunting and humbling" and will arrange the King's coronation, which is expected to be held next year.

He gave some evidence in secret after his lawyer successfully argued the public and press should be excluded for reasons of "national security".

Natasha Dardashti said details of the coronation should remain private for now.

'Extremely peculiar circumstances'

In an open court, she said: "He must be mobile to achieve what he needs to achieve in this regard.

"His Grace needs to be able to organise what is a huge event."

The lawyer added: "It is an extremely peculiar set of circumstances at a really crucial point in the history of this nation with the one man who was responsible for not only the funeral last week but the coronation of King Charles III."

The duke also told magistrates his office and the local railway station were four miles away from his home, Arundel Castle in West Sussex.

He said he employed some 150 people and needed to travel to his other estates in Norfolk and Yorkshire. The duke also spends a lot of time on the South Downs, where he funds a conservation project.

However, a bench of magistrates endorsed his licence with six points and banned him from driving for six months.

"We accept that this a unique case because of the defendant's role in society and in particular in relation to the King's coronation," said Judith Way, chair of the magistrates.

"The hardship needs to be exceptional and although we find inconvenience may be caused, we don't find it exceptional hardship."

Ms Way said that he had the means to employ drivers, although they would need security clearance.

The Earl Marshal was also fined £800 and ordered to pay £400 in costs.