A drink-driver who ploughed into a crowd of pedestrians outside a takeaway, fatally injuring a student, has been convicted of her murder.
Rebecca Steer, 22, died in hospital after the crash in Oswestry, Shropshire, in October in which she was dragged under the killer's Volvo.

Stephen McHugh, who did not hold a licence, admitted drinking and taking drugs before getting behind the wheel.

Ms Steer's family said they would always feel "robbed" over her death.

"We all get to live a life, but through no fault of her own whatsoever, her life was taken from her by a few seconds of someone else's stupidity," they said.

McHugh was also convicted of attempting to cause grievous bodily harm with intent.

Jurors at Stafford Crown Court deliberated for more than eight-and-a-half hours over three days before convicting him by a majority verdict.

McHugh had previously claimed in court he had been trying to frighten a group of people outside the Grill Out takeaway when he had mounted a footpath.

Ms Steer, an undergraduate at Liverpool John Moores University from Llanymynech, Powys, was struck by his vehicle in the early hours of 9 October. Two others were injured.

Giving evidence at his trial, McHugh admitted having almost no driving experience and he had never had a driving lesson.

The 28-year-old, of Artillery Road, Park Hall, Shropshire, had traded in a manual Volkswagen Passat for an automatic Volvo eight days before he drove his newly acquired car into the crowd, jurors heard.

In the hours before the crash, McHugh, formerly of Fazakerley, Liverpool, said he had drunk beers, taken cocaine and had also had about 10 double shots of spirits at pubs, a friend's flat and a nightclub.

But he had denied using his car as a "weapon" to deliberately drive into the pedestrians in Willow Street at about 02:45 BST, claiming he had not been angry with them and had reversed to get alongside them to pick up a friend.

Opening the case, prosecutor Kevin Hegarty KC said McHugh had been seen on CCTV stopping in the road and exchanging words with a group of people near the takeaway.

Ms Steer had been crossing Willow Street just as McHugh's Volvo had suddenly shot backwards as he reversed, narrowly missing her, he said.

She managed to get out of the way and on to the pavement on the opposite side of the street.

"At that moment, Mr McHugh turned the steering wheel in the direction of the people on the pavement and then he drove on to the pavement towards that group of people," Mr Hegarty said.

"The driver's side of the car went on to the kerb, on to the footpath, and he proceeded to drive through the group.

"We say he used his car as a weapon - he used the power and the weight of the car to strike the group."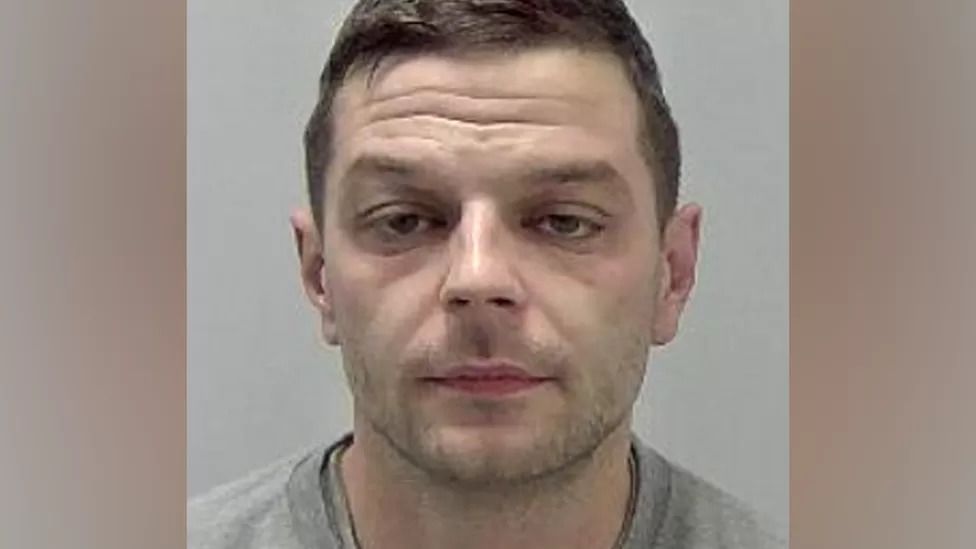 Stephen McHugh admitted in court having almost no driving experience

As well as hitting Ms Steer, two men were "knocked aside" by the car's front wing.

McHugh admitted assault causing injury to Kyle Roberts, but denied attempting to cause him grievous bodily harm with intent.

'Moment of stupidity'

Mr Hegarty said Ms Steer was more towards the front of the car and as it increased its speed and went through the group, she was dragged down underneath it.

McHugh was heard speaking in an "aggressive way" before he reversed and drove into the crowd, the prosecutor said.

He told jurors: "You may well think the way he reversed the car, which was at speed and without regard to those around him, gives a clear insight into what he was thinking and what he intended to do.

"We say that was to strike his target whoever it was. We don't suggest Rebecca Steer was his target - she was in effect a bystander."

Jurors also heard that before Ms Steer's murder, a man who was searching the boot of a car in Oswestry was attacked by McHugh, in an incident that showed he had previously "got involved in violence", Mr Hegarty said.

McHugh was arrested in Gobowen in Shropshire on 10 October and said he "didn't mean to hit anyone".

He maintained throughout his trial he was not angry nor deliberately struck the crowd.

"I am not an angry person," he said.

"I didn't really think about it. It was a moment of stupidity."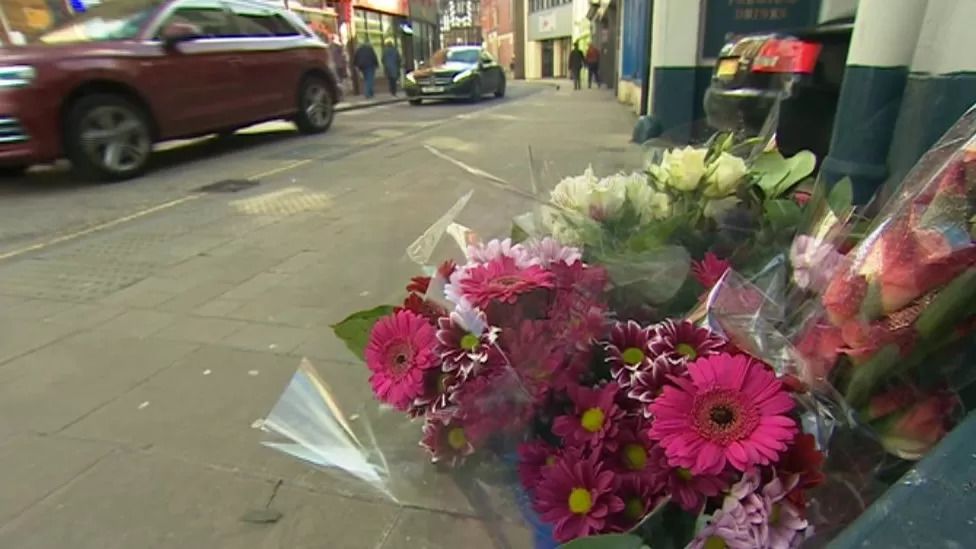 Flowers were laid at the scene after the fatal crash in October last year

McHugh is due to be sentenced by Mr Justice Andrew Baker on Friday.

In a statement issued through West Mercia Police, Ms Steer's family thanked everyone who had worked to secure justice for their "beautiful and amazing" daughter.

"Rebecca Adelaide Steer, Becca to us, Becky to everyone else, was a pure joy to have as a daughter/sister and we all feel lucky to have had her in our lives, but we will always feel robbed.

"So many people have said how they feel so sorry for us, and that is only natural, and we are totally humbled by it, but the person people should be feeling sorry for is not us at all, it's Becca.

"Her 13-year-old sister Kimberley summed it up perfectly in her letter to Becca at her funeral, she said: 'Becca was doing so well in life, and some stupid idiot stole her away from us'."

Det Ch Insp Mark Bellamy, said her death was a horrendous attack on an innocent woman enjoying a night out.

"I pay tribute to the dignified way that they [Rebecca's family] have conducted themselves throughout the trial, displaying venerable strength and resilience in listening to the contemptible and narcissistic behaviour of McHugh, who continually lied throughout the trial in a desperate attempt to escape justice," he said.

"I am grateful that the jury saw through his web of lies and convicted him on the evidence presented to them."

He described the incident as "incredibly unusual" for "a small place like Oswestry, and understandably it shook the town to the core". He thanked the local community for their support during the investigation.