Max Griggs who founded the original Rushden and Diamonds FC and made his fortune with Dr Martens footwear has died.
Its successor club, AFC Rushden and Diamonds, said Mr Griggs passed away on Thursday.

Chairman Ralph Burditt said his colleagues were devastated by the news.

He said Mr Griggs regularly attended the Northamptonshire club's home games until the autumn lockdown and was a "pivotal person in the club's history".

"We wouldn't be here without him. Everyone in the local area linked to the members could only say what a wonderful, kind down-to-earth man he was," said Mr Burditt.

At Saturday's pre-season match against Cambridge City, players wore black armbands in respect.

Social media has seen an outpouring of tributes.

The director of Peterborough United, Barry Fry, said: "He was a wonderful man, a great man, what he did for Rushden and Diamonds.

"He gave the club to the fans - a great football man. He will be sadly missed. They don't make them like him anymore."

Max Griggs' business success was partly built by putting Dr Martens at the heart of Northampton Shoes and Boots, based in Wollaston.

In 1960, Mr Griggs and his brothers bought the UK patent rights to the Dr Martens boot with its air-cushioned sole, which became popular with several British youth cults.

Mr Griggs formed Rushden and Diamonds FC in 1992 by merging two neighbouring clubs, Rushden Town and Irthlingborough Diamonds, with the aim of getting the single, larger club into the Football League.

He was at the helm at Nene Park for 11 years and achieved that dream, before retiring as chairman in 2003.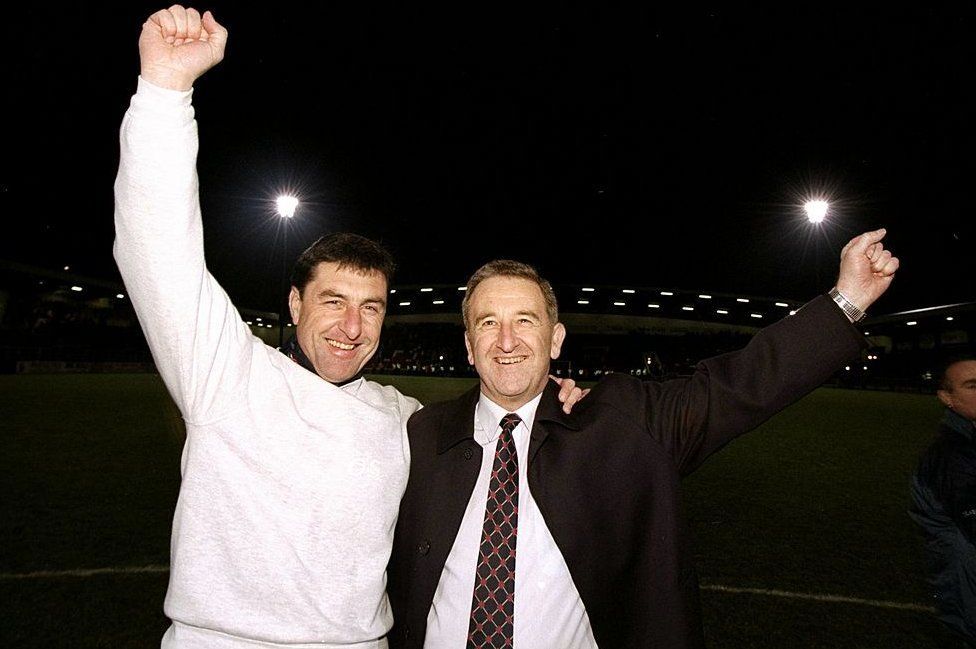 Rushden and Diamonds FC folded in 2011, with the present day "phoenix" club AFC Rushden and Diamonds formed by a small group of supporters.

In 2014, Max Griggs and his son Stephen gave the club, the stadium and the 22 acres of land at Nene Park to the Supporters' Trust.

As well as £20m worth of assets, the Griggs Group also gave the trust a cash injection of £750,000.

AFC said it planned to further commemorate Mr Griggs' life at the Northampton Town friendly on 21 July.

The club currently plays in the Southern League Premier Division Central.