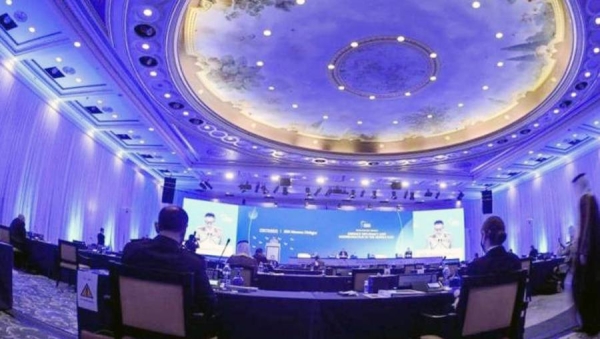 Dr. Al-Bayari heads ministry's delegation to Manama Dialogue Forum
Saudi Assistant Minister of Defense for Executive Affairs Dr. Khalid Bin Hussein Al-Bayari headed the Ministry of Defense delegation participating in the Manama Dialogue Forum.
The forum is being held under the patronage of Crown Prince and Commander-in-Chief of the Bahrain Defense Force Sheikh Salman Bin Hamad Al Khalifa and organized by the International Institute for Strategic Studies in London.

The forum, being held from Nov. 19-21 in Manama, will host several dialogue sessions on regional security, defense policies, diplomacy and deterrence, the Gulf and Asia affairs, and ending conflicts in the region.

This will be in addition to other open and closed sessions with the participation of regional and international officials and experts in security and defense affairs to analyze important strategic issues.

Meanwhile, Acting Head of the Kuwaiti National Security Apparatus (NSA) Sheikh Sabah Shamlan Abdulaziz Al-Sabah stressed on Saturday the importance of the 17th session of Manama Dialogue conference with the participation of security service chiefs, political and economic figures.

He said on the sidelines of his participation that the conference agenda for this year reflects the importance of the work undertaken by Bahrain to discuss the issues between officials in the security, defense, political and Middle Eastern fields.He added that among the most prominent issues are the American policy to defend the Gulf region and Gulf relationship with Asian countries, regional conflicts, proliferation of weapons of mass destruction weapons as well as regional and international issues.

Sheikh Sabah expressed his appreciation to Bahrain for hosting this conference, which has proved successful over the past 17 years by raising important issues related to regional and international security.

The Manama Dialogue, an annual event, sees dozens of government officials, businessmen, international figures, economists and political and strategic thinkers from Asia, Africa, North America, Latin America and Europe meet here to exchange views on regional security challenges.

Latest discussions focused on the impact of the economic boom of some emerging economic powers on the one hand, and the economic challenges facing some of the developed countries on global policies and governance systems in the world on the other.

The conference, which coincided with the emergence of the Greek debt crisis and raised concern about the global economic recovery, served as a tool to uncover deep trends of geopolitics.

Other objectives of the forum include studying national, regional and international means of action, reviewing the intentions of major powers and discussing how to support development despite global financial difficulties.