A dad managed to scoop £5.4 million from a £1.40 bet and plans to spend it on a home in the country for his family.
Michael Clark, was bored at home in Newcastle when he opened the Betfred app to try his luck.

After he played for half an hour, the 32-year-old thought he won £5,000 but on closer inspection realised the sum was in the millions.

He said: 'We thought it must have been a mistake at first, and then we started hugging each other when we realised it was real.

'I just couldn't stop crying, and there was no way I was going to go to sleep that night having won such an enormous amount of money.

'Now we can easily afford to get married and buy our forever home in the countryside.

'I absolutely loved my job helping people in the mental health unit where there are people of all ages, but the boss understood when I explained I would have to leave for a bit with all this going on.

'Everyone is calling me "Micky Millions" now.'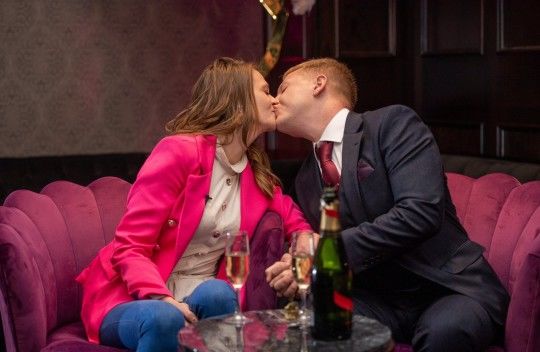 The happy couple are over the moon and plan to use the money wisely
The dad plans to help his elderly gran and install a new stairlift while he'll treat himself and his fiancee, Sherelle, to Newcastle United season tickets.
Once he passes his driving test, he's eyeing up a brand new
Tesla
.
The couple are planning a wedding and Caribbean honeymoon as well after delaying it for a number of years.
'It would be brilliant to have our wedding reception at St. James' Park,' he said.
'The honeymoon will probably be in the Caribbean, maybe Jamaica, and we'll be travelling first class.
'Sherelle has never been on a plane so we're already sorting out a passport for her.
'I'm absolutely determined that we don't waste the money, so that not just us but the next generations of our family can also flourish.
'It's a case of trying to come to terms with the fact that I've won so much money. We are determined to stay grounded and not go too crazy although we're also determined to enjoy life to the fullest.'
Betfred boss Fred said: 'This proves nice guys can win. Michael is the most worthy of winners. It is brilliant news for this smashing couple who have proved you can win big at Betfred from the tiniest of stakes.'