Criminal barristers in England and Wales have voted to end their long-running strike action after the government offered a new pay deal.
A total of 57% of barristers voted in a ballot to accept a 15% pay rise, the Criminal Bar Association (CBA) said.

The decision means that crown courts will begin hearing cases as normal from Tuesday.

Hundreds of trials have been delayed during the action. It is not clear how quickly the backlog can be reduced.

The barristers had been offered a package of measures by new Justice Secretary Brandon Lewis which went much further than what had been put on the table by his predecessor, Dominic Raab.

The deal included an immediate 15% rise in fees for government-funded defence work - an independent recommendation first made to ministers almost a year ago. There was also a promise that this would apply to 60,000 cases in the unprecedented national backlog.

Mr Lewis has offered additional payments for a range of court preparation work that barristers said they were not being properly paid for.

Barristers, who originally requested a 25% pay rise, said criminal justice was falling apart due to a chronic lack of funding, arguing that ministers had to invest far more cash in order to cut the record delays to trials.

Funding squeeze

The strikes began in June after years of complaints from criminal barristers that the system of legal aid - which makes up the bulk of their pay - had been "pared to the bone", resulting in cuts to their income of 35% in the last decade.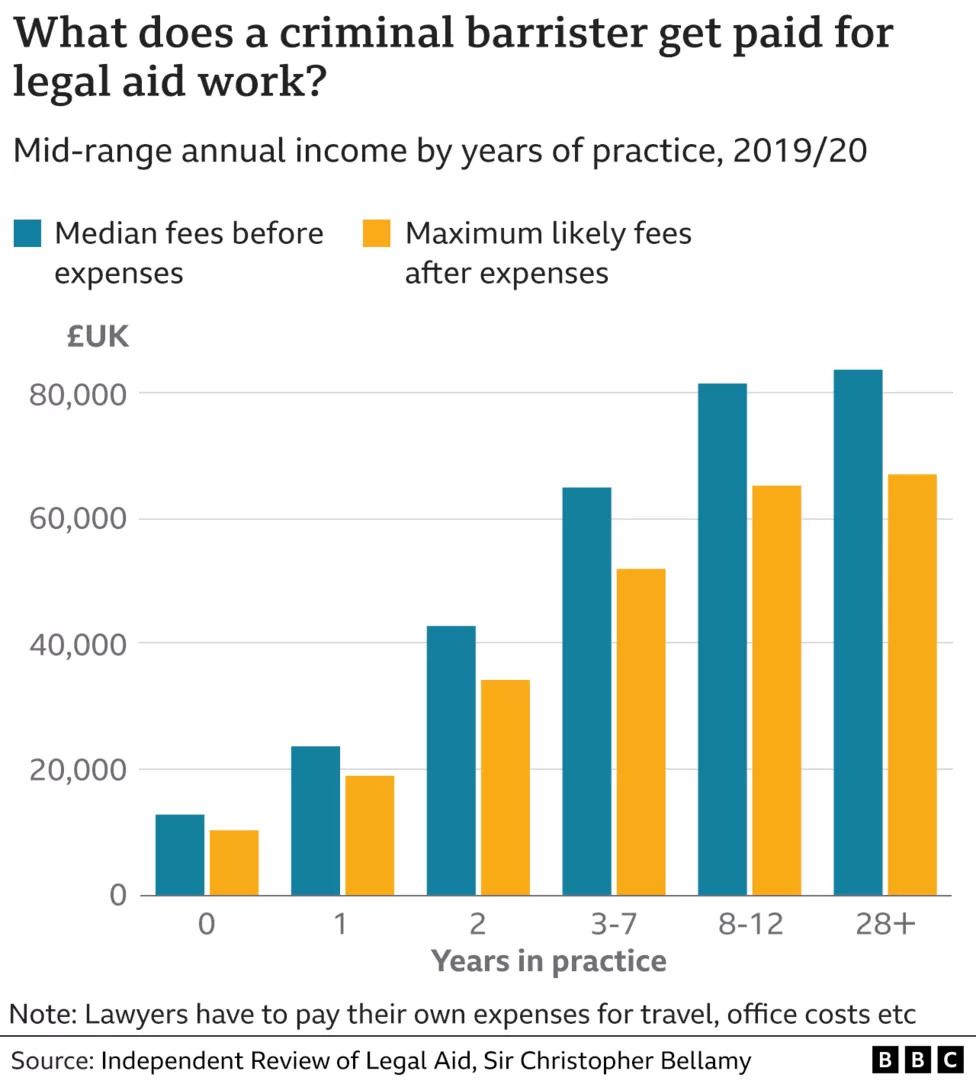 The industrial action was ramped up in September when the CBA started an indefinite, uninterrupted strike.

Kirsty Brimelow KC, chair of the CBA, said barristers were hoping for a new relationship with the government and that ministers' treatment of the profession would "not be shabby moving forwards".

She said that the criminal justice system remained "chronically underfunded", adding that it should not have got to the stage of industrial action in order to "force" more funding from government into criminal legal aid.

"This offer from government is an overdue start. Its acceptance by barristers is on the basis that it is implemented - otherwise the CBA will ballot again to lift the suspension of action," Ms Brimelow warned.

Statistics due this week are expected to show no progress on reducing the backlogs, which mean some trials are taking more than two years to be heard.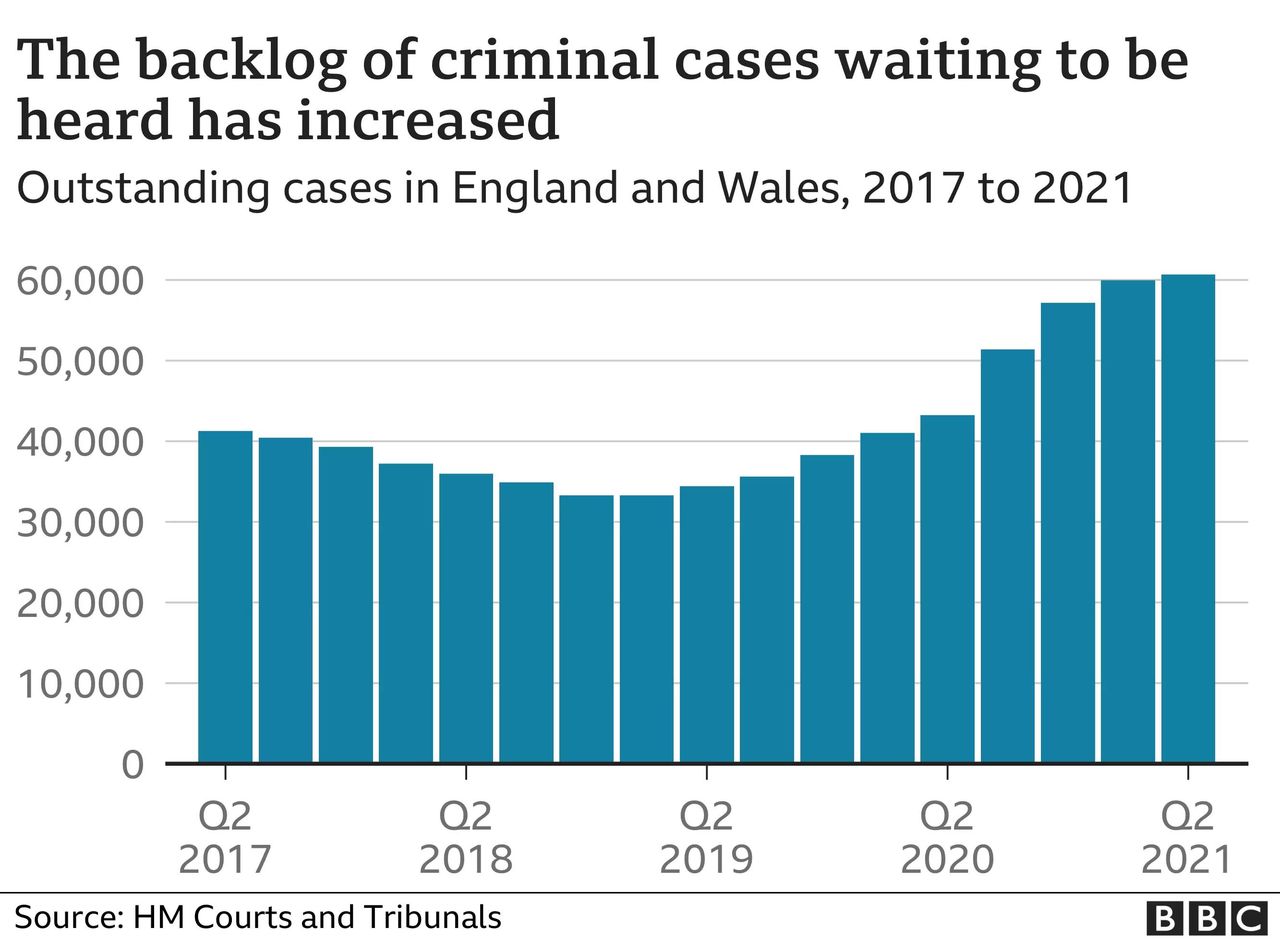 Mr Lewis said: "Since starting this job five weeks ago, my priority has been to end this strike action and reduce delays for victims, and I'm glad that barristers have agreed to return to work. 

"This breakthrough is a result of coming together and restarting what I hope to be a constructive relationship as we work to drive down the backlog and ensure victims see justice done sooner." 

But there are warning signs that the pay offer may prompt walkouts by solicitors after the body which represents them, the Law Society of England and Wales, said the dispute on criminal legal aid funding was "far from over".

Outgoing Law Society president Stephanie Boyce called for fair funding across the criminal justice system, including giving solicitors parity in pay.

"The justice minister may think he has got one problem off his table but there are bigger problems coming his way as this dispute continues," Ms Boyce warned.

"This is another example of a government U-turn marking a bad situation worse."

Meanwhile, Diana Fawcett, chief executive at the charity Victim Support, said it was positive news for victims but that more had to be done to reduce waiting times.

"It's important to remember that when it comes to the huge backlogs in our courts, these strikes, and the delay caused by the pandemic are only part of the picture," she said.

"Long court delays have been an issue for nearly a decade, and are agonising for victims."

The father of a sexual assault victim who has waited four years for his case to come to trial welcomed the ballot result.

James - not his real name - hopes the case, which has been put back until the end of November, will now go ahead. But he fears the courts backlog is now so severe the trial could be delayed again.

He said the long wait has had a catastrophic effect on his son's mental health.

James said: "My son's at the point where he said to me: 'I have no faith in any of this. They give us a date and crush it, every step along the way.'"