Energy suppliers should stop forcing vulnerable households on to prepayment meters, the government has said.
Business Secretary Grant Shapps warned he would "name and shame" suppliers who were doing "nowhere near enough" for vulnerable customers.

Charity Citizens Advice, which wants a ban on forced remote switching, called for "further protection" for customers.

Increasing numbers of people are being left without heat or light when they are unable to afford meter top-ups.

In a letter to energy suppliers, Mr Shapps said his new plan was "part of a drive to increase transparency around prepayment meter installations".

Mr Shapps said energy firms should make greater efforts to help those struggling to pay their bills, such as offering credit or debt advice.

He called for the "urgent publication" of energy suppliers' recent investigation into vulnerable customers, and the release of data on applications suppliers had made to forcibly install meters.

But the government will stop short of an outright ban due to concerns over a subsequent increase in bailiff action.

Energy Minister Graham Stuart has asked to meet next week with energy firms, regulator Ofgem, Energy UK - which represents the energy industry - and Citizens Advice.

Audrey Ridson, 81, was switched to a prepayment meter even though she could not walk to the shop to top up her energy card.
Ms Ridson, from Hampshire, had been in hospital recovering from a fall when her energy firm forced the switch to a prepayment account - even though her daughter-in-law warned her supplier that Audrey would struggle to top up her meter.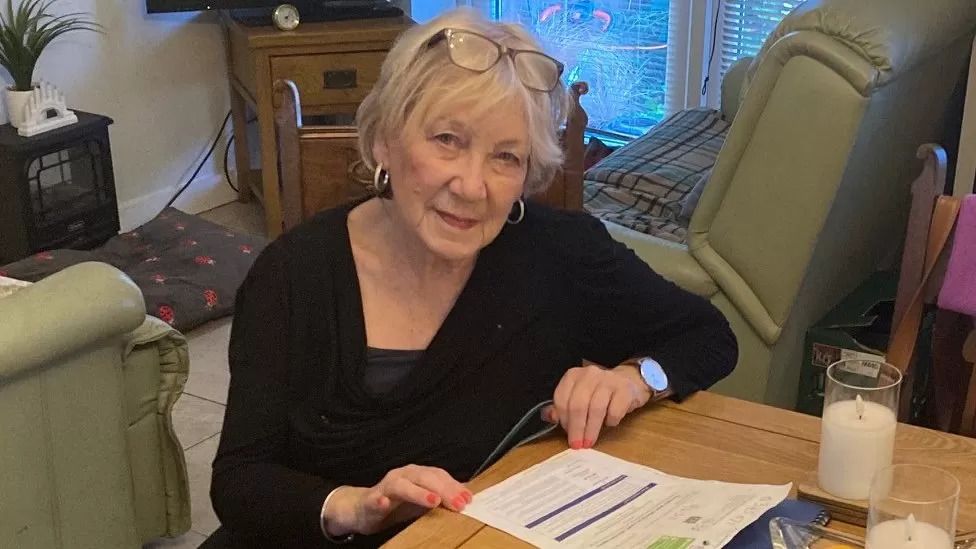 Audrey Risdon said her situation was not resolved until Citizens Advice became involved
In his letter, Mr Shapps wrote: "Suppliers are clearly jumping the gun and moving at-risk customers on to prepayment meters before offering them the support they are entitled to."
He said he wanted suppliers to "lend a more sympathetic ear" to those struggling amidst rising costs of living.
He added: "I am deeply concerned to see reports of customers being switched to prepayment meters against their will, with some disconnected from supply - and quite literally left in the dark."
Head of energy policy for Citizens Advice, Gillian Cooper, welcomed the plans, saying: "Millions of people are being left in cold, dark and damp homes because they can't afford to top up their meter. No one should be forced to live like this."
She said if suppliers did not co-operate, the government must step in with "stronger action". She also called for "further protections" for those already using prepayment meters.
Chief executive Emma Pinchbeck from Energy UK - which represents energy companies - said suppliers had increased support to customers over winter through payment holidays, payment plans and emergency credit - but that the fundamental problem remained: people struggling to pay their bills due to the rising cost of living.
"If the option to install a prepayment meter - after exhausting other options - is removed, then it needs to be acknowledged that this will lead to a significant increase in bad debt, which has already been rising steeply in recent months, and is ultimately recouped from customer bills," Ms Pinchbeck added.
British Gas has already announced that it will stop switching people onto prepayment meters via their smart meters when they struggle to pay their bills.