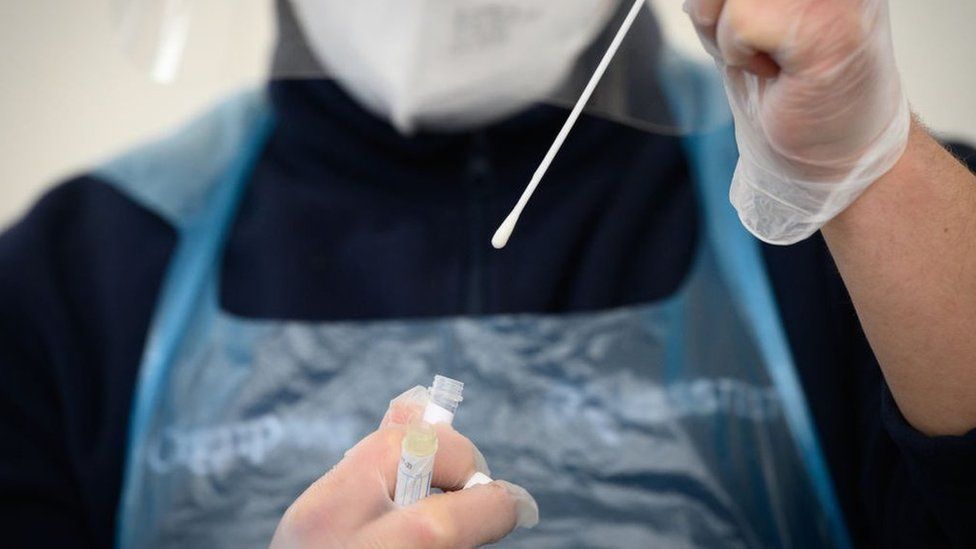 Covid: Watchdog to immediately investigate Covid PCR test cost
The competition watchdog has said it will investigate the price of PCR Covid tests "immediately".
The health secretary had called for a review into "excessive" pricing and "exploitative practices" among test providers.

Travel industry bosses have blamed the high cost of PCR tests for putting people off travelling abroad.

The Competition and Markets Authority said it would explore whether there are pricing and reliability problems.

It said it will also investigate whether PCR providers are breaching obligations under consumer law and what immediate actions the government needs to take.

Holidaymakers have complained of high prices and missing tests or results from many of the 400 or more firms offering the service.

Tests cost about £75 per person on average but there are reports of some being offered for as little as £20, and others more than £500.

The government publishes a list of companies and clinics offering testing but there have been reports that many have not got full accreditation.

Sajid Javid asked the CMA to investigate, after reports that pricing was in some cases advertised incorrectly and tests were going missing.

The CMA had originally said it would respond to his request "within a month".

This sparked an angry reaction from travel industry bosses who feared no changes before the end of the summer holidays - a critical market for the sector.

George Lusty, CMA senior director for consumer protection, said the issue was "particularly pressing for families hoping to enjoy a well-earned holiday after such a difficult year, and for those reuniting with friends and relatives overseas".

He said: "We will not hesitate to take enforcement action if we find evidence that PCR providers are breaching consumer law."

The CMA was working with the Department for Health and Social Care (DHSC) to identify the cause of any wider problems in the PCR testing market, he said.

And it was providing ongoing support to the DHSC on interim action that could be considered before its work on the PCR testing market is finished, he said.