British holidaymakers in Portugal are rushing back home before the country is added to the UK's travel amber list amid concerns about rising Covid cases.
From 04:00 BST on Tuesday Portugal will be dropped from the green list, and returnees made to self-isolate for 10 days and take two PCR tests.

Airlines have added extra capacity, with British Airways and EasyJet saying there are seats available.

But people are reporting difficulties in getting pre-departure tests.

Bookings to Portugal soared last month after it was placed on the green list, meaning UK residents could travel there without having to quarantine on their return.

The government last Thursday announced Portugal would move to the amber list.

The Department for Transport cited a near doubling of positive Covid cases in Portugal in the last three weeks, and concerns about the detection of a mutation of the Delta variant first identified in India.

Health Secretary Matt Hancock said "tough" rules on travel were necessary to protect the success of the UK's vaccine rollout.
Thirty-nine flights will leave Faro Airport in the Algarve for the UK on Monday, nearly twice the usual total, but ticket prices are significantly higher than later in the week.

BA said passengers can change to a different flight free of charge by rebooking through its website, while EasyJet says it will not charge fees for switching flights.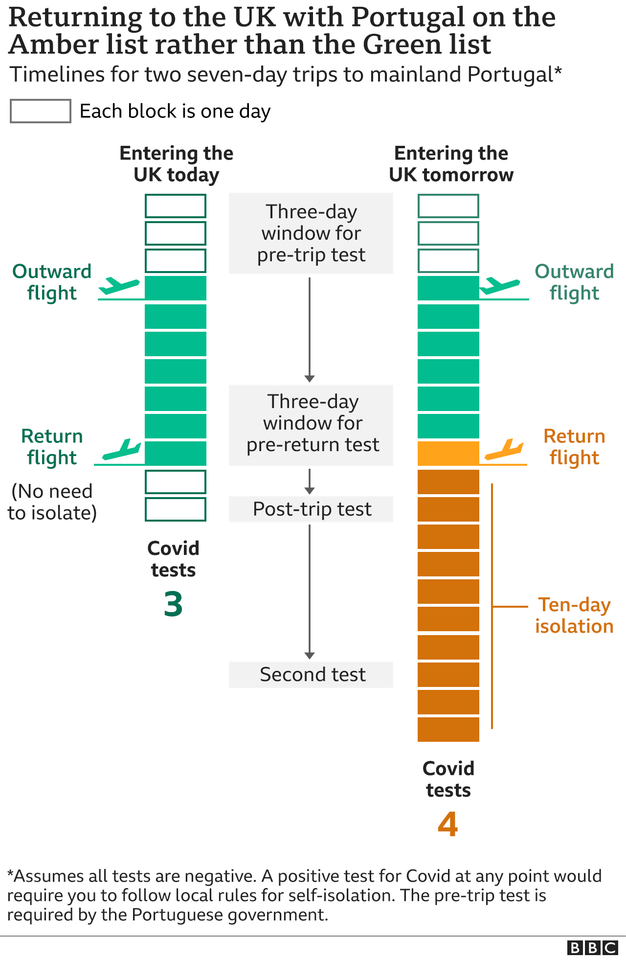 However, the UK move has seen some passengers struggle to obtain proof of the negative Covid test needed before they can return to the UK.

Angela Mantana and Craig Stanley, from Derby, arrived for an eight-day break in the Algarve just before the change to the amber list was announced, and say it was "almost impossible" for them to return.

"To say we are incensed is an understatement," said Mr Stanley. "We have been unable to get any return flights... We now have to do a further two tests at an additional cost to the three tests we have paid for if we want to come out of isolation after five days."

Speaking to BBC Radio 4's Today programme, Ms Mantana added: "We've got to finish the holiday and then go into quarantine when we get back.

"The implications are we are volunteers at a vaccine centre... we've had to let those people down. Equally I shield an aunty who has severe medical conditions... and I'm not going to be able to do that."


This is exactly what the travel industry had hoped to avoid this summer.

They thought the roll-out of the vaccine would bring more consistency, as would the government's introduction of a watch list, intended to signal to potential passengers that a country could be on the verge of tipping from green to amber.

But the government has shown that when it is concerned about letting in variants, it can and will close the doors as it did last summer.

It has led to huge frustration in the travel sector and made many nervous about how strong sales will be this summer, the crucial season for the industry.

Some are already calling for furlough to be extended beyond September into the winter. Most crucially for those running the operations is understanding how and why countries are moved between lists, something they say the government needs to be more transparent about.

The government would disagree, saying it always been about the vaccine, variants, the virus and genomic sequencing.

The next list is expected in a few weeks' time.

Between now and then there will be pressure from industry for the government to open up or offer them sector specific support.

Meanwhile, a holidaymaker who flew back on Sunday has described "chaotic" scenes at Faro airport.

Mike Indian says he heard the final calls for his flight back to London Luton while in a long queue. Other passengers let him and many others move to the front.

"The moment the bag goes down the chute it's like the starting pistol and there's dozens of us running through Faro airport and up the escalators," he told the BBC.

"We finally reached the gate but we made it with five minutes to spare."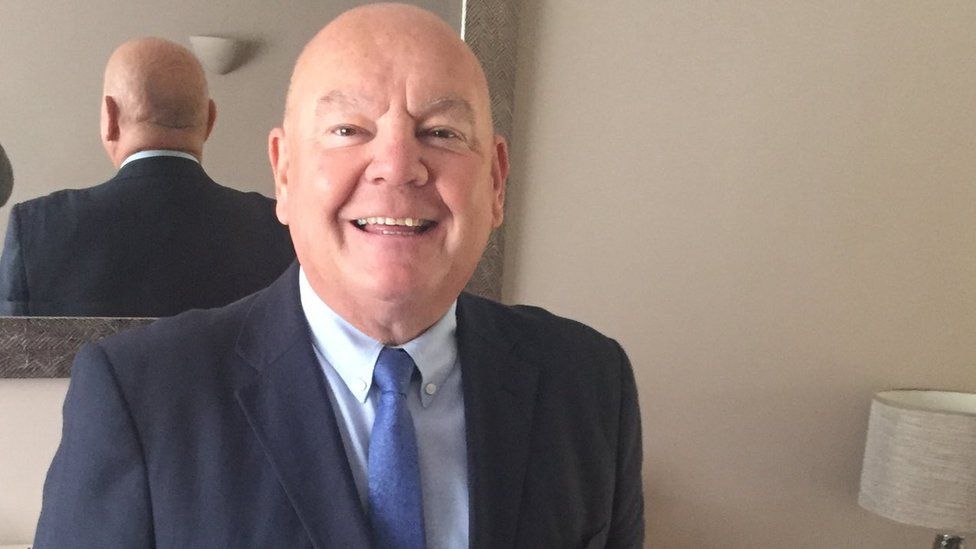 Gary and Cassie Turner from Epsom, who ended their holiday in Carvoeiro on the Algarve on Sunday, had a three-hour wait at the Faro check-in desk.

"There were people being told that if they had missed their flight because they had been queuing for so long that they had to book another," Mr Turner said.

"When we boarded we were then stuck on the tarmac for another three hours while other passengers were rounded up, and when they couldn't wait any longer they also had to take bags off the plane."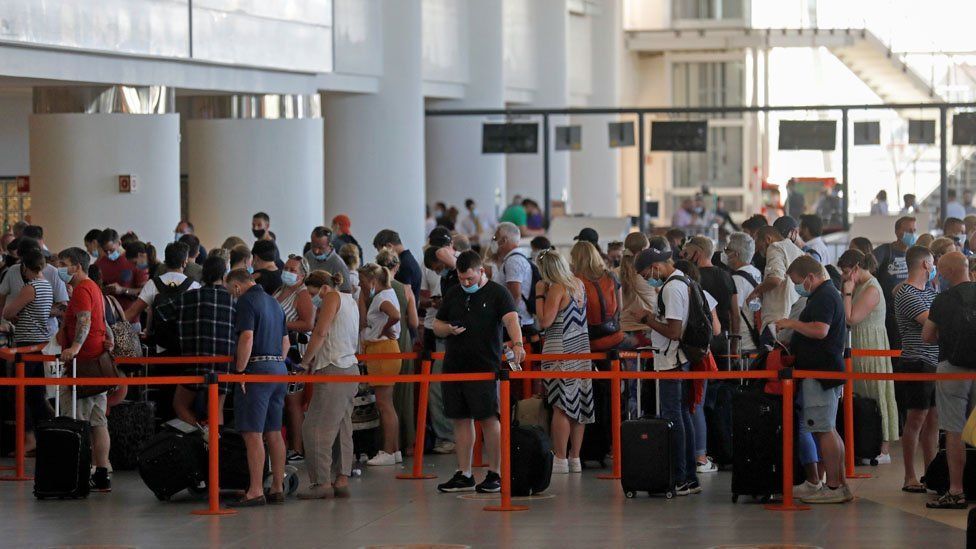 Alis Ahmedova and her fiance, from Beckenham, London, arrived back from Lisbon on Sunday night.

"We received the news that Portugal is no longer a green list country. This was the beginning of the end for us. After some deliberation, we decided to change our flight and cut our holiday short."

But she said they were initially refused boarding and missed their flight home because of difficulties with the passenger locator form that all travellers to the UK need to complete.

"We tried everything... but the form was not accepting our seat numbers and Covid test reference numbers."

Alan and Lisa Pechey, from Cambridge, who were also in Lisbon, told the PA news agency they spent £800 on return flights to avoid quarantine.

Speaking from Gatwick Airport, Mrs Pechey, 66, said: "The government was totally unfair to throw that at us on Thursday because it really spoiled our holiday, totally... they should have told us to watch out if we were going to Portugal so everyone would have known."

On 2 June, Portugal had 5.4 new cases per 100,000 people per day, which was only a little higher than the UK at 5.1 - but differences in the amount of testing being done make direct comparisons difficult.

Portugal said it could not understand the "logic" of the UK move, and argued the pandemic situations were very similar in the two countries.

Its national hotels association says about half of bookings in the Algarve for June were cancelled within hours of the UK announcement.

Tim Alderslade from industry body Airlines UK said "three months in the summer" now appeared to be the "best case scenario" for travel companies, and they could end up seeking further government financial support.