Tory peer Michelle Mone is to request a leave of absence from the Lords "to clear her name", amid allegations she benefitted from a company she recommended for a Covid contract.
It means she would not attend sittings of the House, vote on any proceedings or be able to claim any allowance.

Baroness Mone has been linked to PPE Medpro, which won government contracts during the pandemic.

Her spokesman said the allegations had been "unjustly levelled against her".

It was Baroness Mone's decision to seek a leave of absence, her spokesman added.

Her request could be rejected by the Lords authorities - but if it is approved she does not have to register any changes to her financial interests.

A House of Lords spokesman said a decision would be made once a formal request had been received.

Baroness Mone, who joined the House of Lords in 2015, has not taken part in a vote since April this year and has not spoken in a debate since March 2020.

On Tuesday, Labour won a vote calling on the government to release correspondence, documents and advice relating to government contracts awarded to PPE Medpro. Conservative MPs were instructed to abstain from the vote.

Labour want the documents to be released to the Public Accounts Committee.

The vote committed the government to publishing the documents, although ministers may argue they can be redacted for legal reasons or because of commercial sensitivity.

Labour's deputy leader Angela Rayner said Prime Minister Rishi Sunak was "too weak" to remove the whip from Baroness Mone - which would mean she was expelled from the parliamentary party - and had left her "to finally read the writing on the wall".

Speaking in the House of Commons, Ms Rayner said "the public needs answers" about the government's "shameful dealings" with companies that received contracts through the VIP fast track procurement process during the pandemic. Releasing documents would be the "first step in restoring faith", she added.

Liberal Democrat deputy leader Daisy Cooper also called for Mr Sunak to suspend the whip from Baroness Mone, adding: "This is more proof if any were needed that Sunak's pledge of integrity has been reduced to dust."

'Never forgive us'

Health Minister Will Quince said the government is "committed to releasing information when all investigations are concluded," but added it was "engaged in commercially sensitive mediation with" PPE Medpro.

The government would work with the Public Accounts Committee "on the terms in which information may be shared", Mr Quince added.

He defended the government's action in the height of the pandemic, claiming "the public would never have forgiven us" if they hadn't changed procurement rules to secure PPE.

Downing Street would not comment on Baroness Mone's decision because of an ongoing mediation process between PPE Medpro and the Department of Health.

A No 10 spokesman said it was a matter for the whips whether she should be expelled from the parliamentary Conservative party.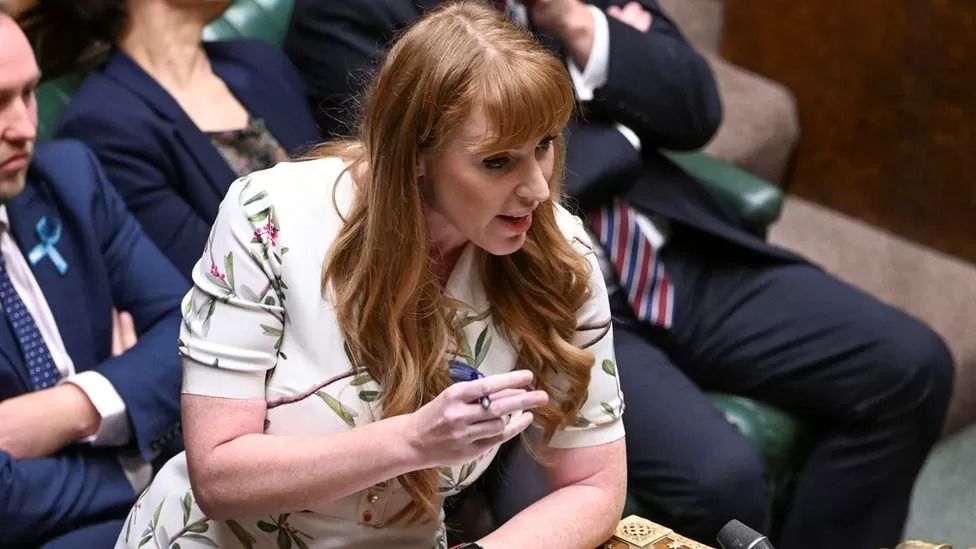 Labour's Angela Rayner has been critical of how contracts were awarded during the pandemic

Between May and June 2020, PPE Medpro was awarded two government contracts worth £203m to supply masks and medical gowns.

Unusually, the company was only a few weeks old when it signed the first of these agreements.

In December 2020, BBC News reported that millions of medical gowns the firm supplied, worth £122m, had never been used.

PPE Medpro said at the time that it had delivered 100% of the contract to the terms specified and that it had supplied equipment "fully in accordance with the agreed contract, which included clear terms as to technical specification and performance criteria of the products".

An investigation in the Guardian based on leaked documents alleged Baroness Mone had financially benefited from the company.

Glasgow-born businesswoman Baroness Mone is being investigated by the Lords commissioners for standards over her "alleged involvement" in procuring contracts for the company.

However, the commissioners says he is unable to finalise or publish his report because "the matter is under investigation by the police or another agency as part of a criminal investigation".

Properties linked to the company were searched by the National Crime Agency earlier this year.

Emails released under Freedom of Information laws show Baroness Mone referring the company to a government minister during the pandemic.

Asked in December 2020 about reports she was linked to the company, Baroness Mone's lawyers told BBC News she "had no role or function in PPE Medpro, nor in the process by which contracts were awarded to PPE Medpro".

Due diligence

The Department of Health said: "Due diligence was carried out on all companies that were referred to the department and every company was subjected to the same checks.

"We acted swiftly to procure PPE at the height of the pandemic, competing in an overheated global market where demand massively outstripped supply."

The department is currently in mediation with PPE Medpro over what it has described as an "underperforming contract" and said it was unable to comment on specifics.

Separately, Matt Hancock has accused Baroness Mone of being aggressive and threatening when trying to secure another government contract for Covid tests.

In his book, Pandemic Diaries, Mr Hancock claimed she had demanded "urgent help" to secure contracts in an email in June 2021, when he was health secretary.

Mr Hancock did not name the company.

He said he was later told the tests had not won any contracts because they had not passed the standards required and he chose not to reply to the "extraordinarily aggressive email".