Michael Gove has named 11 firms who have so far refused to sign a contract to repair homes with safety risks exposed by the Grenfell Tower fire.
He said 39 firms had signed the contract, which would see them spending £2bn to pay for repairs to buildings with unsafe cladding and other issues.

But, the levelling up secretary told MPs: "Some regrettably have not".

He said they had a week to do so or face being banned from building new homes in England.

"Those companies will be out of the housebuilding business in England entirely unless and until they change their course. Next week I will publish key features of our new 'responsible actors' scheme," he said in a Commons statement.

He said this scheme was a way of "ensuring that only those committed to building safety will be allowed to build in the future".

'Significant intervention'

"Those developers that we've invited to sign the remediation contract who have not agreed to live up to their responsibilities will not be eligible to join the responsible actors scheme.

"They will not be able to commence new developments in England or receive building control approval for work that is already under way.

"The companies invited to sign the remediation contract who have not yet lived up to their responsibilities are: Abbey Developments, Avant, Ballymore, Dandara, Emerson Group - Jones Homes, Galliard Homes, Inland Homes, Lendlease, London Square, Rydon Homes and Telford Homes."

The government has also published a list of the companies that have signed the contract and those who have not so far agreed.

Mr Gove claimed this was a "significant intervention in the market" but added: "The magnitude of the crisis that we face and the depth of the suffering for all those affected has clearly justified a radical approach".

Mr Gove had given developers until 13 March to sign up to the agreement - but he hoped more would come on board over the next week.

His officials were in talks with several of the companies "who are making progress towards signing", he told MPs.

'Trapped too long'

The scheme is aimed at helping leaseholders who live in buildings between 11m and 18.5m high, who are facing large bills for the removal of dangerous cladding. It means those leaseholders will not have to pay for the cladding's removal.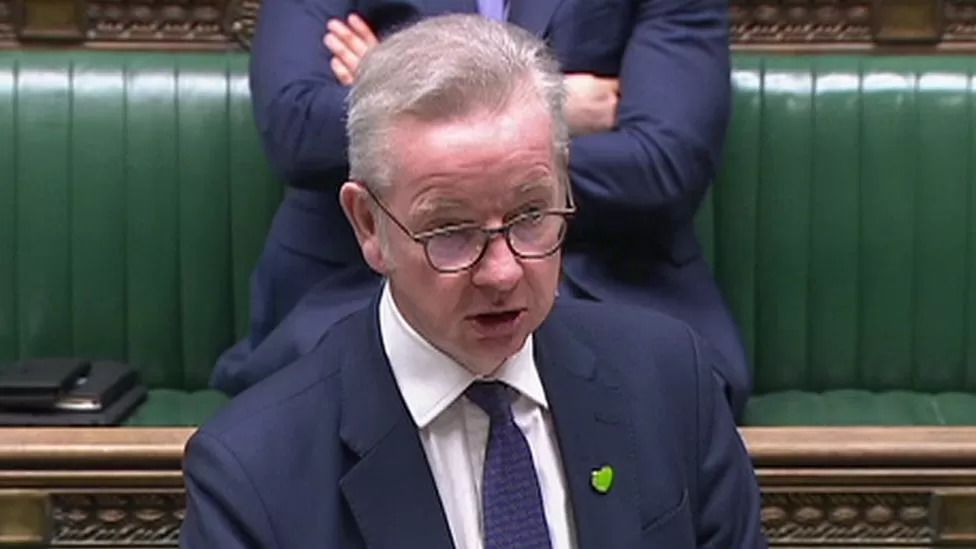 Michael Gove says several firms are close to signing the contract

Labour's shadow levelling up secretary Lisa Nandy backed the government action - but said it only covered a "fraction of the problem".

"We want to see every developer sign the remediation contract and urgently move to fix the unsafe buildings and free leaseholders who've been trapped for too long."

But she said the government's contract only covered 1,100 buildings, when Mr Gove's own department had said there are "between 6,000 and 9,000 unsafe 11-18m buildings alone".

She also asked Mr Gove how he planned to help leaseholders in buildings with defects outside of the scope of the contract.

Mr Gove replied: "It is the case with buildings under 11m there are some fire safety issues but we have to look at these on a case-by-case basis."

Once signed, the contract makes commitments signed by developers in a public pledge last year legally binding.

Inland Homes, which previously signed the pledge, has requested an extension due to recent changes to its board of directors, a spokeswoman said.

The BBC understands that one of the companies, Avant, is hoping to be able to sign the contract soon.

It is understood that Ballymore is finalising remaining details and will sign soon.

A spokesman for Telford Homes said it has had "constructive discussions" with the government, adding: "We are completing the process of evaluating the terms and conditions of the proposed agreement."

Meanwhile Lendlease said it was continuing to work through the detail of the contract and "expect our governance processes will allow us to confirm our position by early April".

"As a responsible global developer and investor, we firmly believe companies should only be held accountable when they've acted irresponsibly; and we've been in frequent conversations with the UK government on these issues both through the Home Builders Federation and directly," it added.

The remaining companies have been approached for comment.