The Duke of York has been banned from using his suite of rooms at Buckingham Palace and will never return, a new report claims.
Prince Andrew is said to have brought model girlfriends back to the digs and slept with a teddy bear collection when there – 'which had to be arranged in a certain way on his bed'.

But the cuddly toys, along with other possessions, have 'been moved out of Chamber Floor' as the palace undergoes a £369 million renovation.

There is said to be no hope of return as King Charles has 'made it clear that Buckingham Palace is no place for Prince Andrew'.

The monarch is believed to be open to allowing his brother to sleep in other royal buildings when he's in London – with St James' Palace a 'possible option' as a replacement. Andrew is also predicted to keep his 31-room mansion Royal Lodge in Windsor.

It comes nearly a year after the duke reached an out-of-court settlement worth as much as £12 million with accuser Virginia Giuffre to avoid going to trial.

The royal was accused of sexually abusing the American woman three times when she was just 17, and while she was the victim of a trafficking ring orchestrated by billionaire paedophile Jeffry Epstein. He strongly denied all allegations.

Andrew was reportedly booted out of his palace office last year and told not use the London property as an address for correspondence.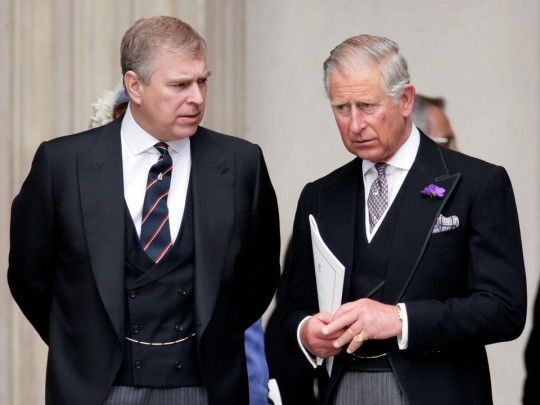 King Charles has 'made it clear that Buckingham Palace is no place for Prince Andrew', a report claims
A source is said to have told The Sun: 'First his office closed last year and now his sleeping quarters.
'Andrew loved having a suite at Buckingham Palace where he was not only set up for marital life with Sarah Ferguson but used it as a bachelor's pad after his divorce.
'He brought back a string of new girlfriends to his home in the Palace — even model Caprice. A bachelor's flat in St James's Palace doesn't have the same allure for a single man.'
Yet, reports suggest the duke believes his reputation could be restored next month.
Details 'are about to be made public which will change people's perceptions of him', it's claimed.
Last year, palace insiders claimed the dad-of-two would throw a tantrum if his stuffed animals were not set out in the specific positions he wanted them in his bed.
A sketch shows exactly where a teddy bear holding a heart, two hippos, a black panther, a fur and three cushions with 'Daddy', 'Ducks' and 'Prince' on allegedly had to be placed.
Buckingham Palace and representatives for Andrew have been contacted for comment. A palace spokesperson declined to comment when approached by The Sun.